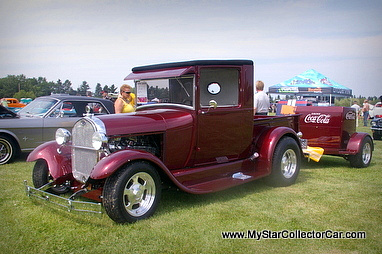 This '28 Ford truck stood out on its own merit at a car show last summer but the rolling Coke cooler behind it added to the picture.
Most car guys admitted that you'd be the hit of the party at any car guy gathering but few would ever expect to buy it based on angelic intervention.
Patsy and Ivan Kachanoski bought this beauty last year based on a number as Patsy explained, "It had my exact birthday on the Good Guys sticker so I didn't buy it, the angels bought it. That was clearly a sign".
The other sign was the price as she admitted, "They were just giving it away. We couldn't turn it down. There's no question we stole this one".
Patsy and Ivan bought it it with full expectations that this classic old rod was going to be a driver, not a trailer queen. So far that hasn't been a problem as they explained, "There hasn't been an ounce of trouble with this rod".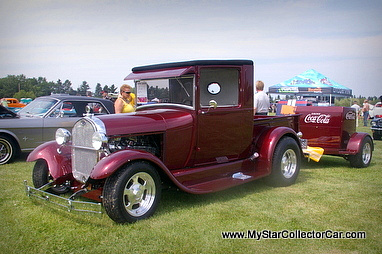 Patsy explained the daily driver side of this truck, "She's my little rip into town as soon as they take the gravel off the roads. She's been 1500 miles so far this year alone plus she doesn't leak or mark her territory. It fits like a glove behind the wheel".
Ivan dug into the technical side of this old rod, " It's got an independent front suspension with a ladder bar with coil over rear end, boxed in frame 350 Chevy with a 400 transmission".
He added, "They really thought this one out because you can jump this thing really easy they way they set up the battery posts plus everything is hidden".
The attention to detail on this '28 Ford is very clear when the interior is exposed because everything fits plus it has creature comforts like power windows, tilt steering and brakes. There's a minimalist style to this rod but under the surface is a very well planned custom.
For example, the Coke cooler isn't a simple base for hauling beer to a tailgate party because this old unit is full of customized storage space, electronics, parts and tools. It's a practical look at nostalgia.
This '28 Ford is notable for several reasons because it underscores the idea that an affordable custom ride is a phone call away. Patsy concedes that luck was on their side with this classic old truck because they had a motivated seller.
That's basically the moral of the story because Patsy and Ivan are on the car show circuit with a winning ride but they get to live the car guy dream on a daily basis every time they turn the key in this old Ford.
The Kachamoskis are practical people with an old car habit-that's a combination that rarely works out in the real world. In their case, this '28 Ford pickup came as an affordable, fun, well-built, reliable, show-winning, custom ride that is at home on a grocery run or as a serious competitor at a car show.
That's either copy for the world's best classic iron advertisement…or simply angelic intervention
Jerry Sutherland