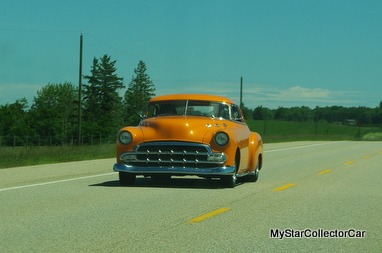 Troy Tanner is a disciple of the George Barris School of Car Customizing.
'He is absolutely an old school guy when it comes to building a car. This 52 Chevy is an incredible example of how dedication, hard work, talent and almost 2 decades can produce a show-stopping car.'
The Chevy's body was literally pulled out of a flowing stream while the frame sat for years on the river bank.
The owner didn't want to sell but in a typical husband-wife-old car scenario, the wife overruled and the car was suddenly for sale. Troy spotted the body sitting on a Blazer frame-way above the stock ride height for a 52 Businessman's coupe. This is the kind of car bastardization that should be followed by hard prison time but Troy was undeterred-the car wasn't even bolted down so…
He grabbed the body and frame from this would-be Chip Foose and put the whole package in his garage- for 14 years. This project is a tribute to the forgotten magic of building art from junkyard supplies like the '63 Mercury instrument panel scrounged from a donor sedan.
Troy liked the way it looked so after extending the dash to make it fit, the panel looks like a factory fit. The front seats are from the legendary Hyundai Scoupe –not a high water mark for custom car ideas but this old school project is just that, old school. He really liked the way the seats felt, they were cheap and he could make them fit. That's how it used to work- you shopped at an auto wreckers, not via an online catalog.
Troy's vision for the car was to make it look fast while standing still. He talks constantly about the flow of the lines as a tribute to the George Barris philosophy where every panel has to be modified in pursuit of a common theme.  His attention to detail is amazing down to the installation of a chopped (4½" front, 3½" rear) hardtop roof to replace the original sedan lid with custom-made slide-out rear windows.
This is Troy's first full season with this amazing car-he drives the wheels off it in any weather because this is the anti-trailer queen. He had to quell some IHRA skeptics at the first car show when they doubted that the car had any "go" to offset the "show". His first smoke show cost him 2 tires but the point was made with his 300-dollar mid-60s Chevy 396 (he built that too). In fact, the whole car was done in his garage.
The final tribute for this car came when a money guy with no soul but a great line of credit tried to buy Troy's car. The answer was a simple but polite no because in reality there are things that money can't buy.
That's a true MyStarCollectorCar.com kind of guy.
Jerry Sutherland
CLICK HERE to Like us on Facebook
CLICK HERE to Follow us on Twitter
CLICK HERE to Follow us on Pinterest
*Re-post if you like this MSCC article…thanks.