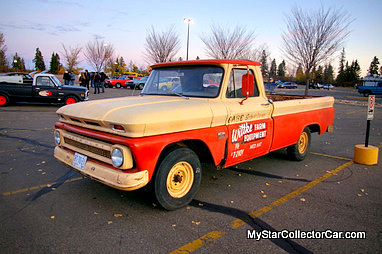 This well-used 1966 Chevrolet pickup arrived late in the car show season in 2011, but it made quite an impression when it pulled into the parking lot.
It had an unusual beige and orange paint scheme and 'Wittke Farm Equipment' signs on the door.
The truck is a true survivor and shows signs of its working heritage but it is still on the road. We are not sure about the farm equipment business. Clearly this truck was purchased for one purpose-business.
There's little doubt that this truck was an extremely welcome sight during harvest season when the old tractor quit at the peak of harvest in the 1960s. Parts in the truck bed could mean the difference between success or failure in a weather driven business like farming.
Even now this truck conveys a hard working business-like aura.
Currently, the Chevy's new owner is Jeremy Werschke, and he is a young guy with big future plans for his truck, including a 468 big block under the hood.
Speaking of that hood, it was difficult to miss the fact that the factory marks from the GM factory were still very visible on its underside.
This 1966 Chevy truck has been around for the past 45 years as a quietly dependable working truck that still has its original small block 283 heart. Jeremy's heart transplant will transform it into not-so-quiet street warrior but, for the time being, he is simply going to enjoy the ride in his colorful little Chevy pickup.
We at MSCC wish them both well on their future journeys together, especially the post big block transplant ones.
That will be a point when their adventures really begin in earnest.
Jim Sutherland
Follow us on Facebook-http://www.facebook.com/MyStarCollectorCar