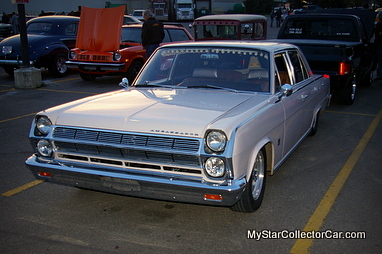 Two things spring to mind when you first see this car and Mike Lloyd, its owner:
One–this is a great looking example of a solid mid-60's sedan from an extinct car company.
Two-the young guy driving it obviously inherited Granddad's old Rambler and you hope it gets a better fate than being trashed by this punk after a lifetime of being coddled.
Nothing could be further from the truth.
Mike is the third owner and he's in his early 30s. He originally wanted a 60's Chevy sedan to turn into a low rider.Instead he found this mint condition survivor 1965 Ambassador and the rest is a Walt Disney story.
True car guys have a very basic philosophy that can be summed up in five words, "work with what you have". Mike is a true believer in that idea because he's relieved this isn't a Chevy. A '65 Rambler Ambassador is a much bolder, unique statement in the world of cars and Mike thrives on the attention. He runs a business that fits in well with his iconic car.
The AMC luxury barge been retrofitted with a major sound system that probably rocks the old Rambler a lot harder than Al Martino singing 'Blue Spanish Eyes' did back in the 60's but that's the 21st century. This is an era where you can fit more amplified audio firepower in a car than the Beatles had at Shea Stadium back in '65.
Mike hasn't converted this Rambler to flat black rat rod cool because he respects the integrity of this upper-end AMC ride.This car is a heartbeat away from stock without the air, wheels and monster sound system.
This Rambler has air suspension for the low ride but never fear because Mike looks after this orphan like it's his kid and it shows. This AMC is kept in mint, stock condition and Mike works hard to keep the detailing up at all times.
It's a show-stealer at the car events and Mike is proud to exhibit just how clean the motor is at all times. That's the kind of attention you'd expect from the original owner and Mike wants to continue the tradition.
Mike keeps the Ambassador spotless and has become an expert on Rambler iron from that era. He makes it to a ton of car meets and is always welcomed as the young guy with the Rambler.
He may not have inherited this car from his Grandfather but there's a good chance some future owner of Mike's is going to inherit a mint 1965 Rambler Ambassador.
That's an AMC legacy worth preserving.
Jim Sutherland