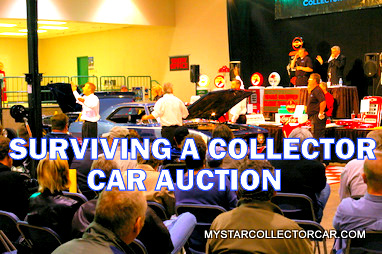 One of the most famous sources for collector vehicles is the auction.
The Barrett Jackson franchise is an important component of Speed TV as a major event on their calendar.
It is visual and it has an element of x factors that keep viewers interested in the auction game.
But what about an average car guy with just enough resources and spousal support to jump into the game? Can an average Joe win at a collector car auction?
The short answer is "maybe".
But you have to listen to Kenny Rogers and "know when to fold 'em", because you, my friend, are in a high stakes poker game at an auction.
Vintage rides end up in a collector auction for a couple of reasons. The first reason is that an owner has limited sales skills and stars in his eyes. An auction eliminates that nasty contact with tire-kickers who are looking to lower the owner's self- esteem and insult his car.
As much as the owner would like to introduce these cretins to his factory lug wrench, fear of prison life prevents this kind of reaction. So he throws his vintage car into an auction and put a human shield of auctioneers in front of him. They have been to this rodeo many times and carry no attachment to his car. It's clean, easy and they may even get his asking price.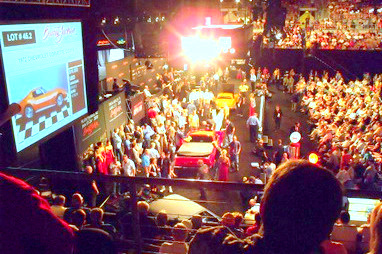 The first reason is a fairly valid reason to purchase a collector car if the price is right, but what about an ethically challenged seller in the second reason? His car may have the right amount of lipstick on a pig to sell it to an unsuspecting bidder.
A car at a typical auction will not be available for a road test, so a buyer has to rely upon a visual inspection. Most car guys can do a basic assessment of the vehicle, but they have to rely upon professionals to make an informed decision. Higher end auctions will offer a professional inspection, however a smaller auction will not have this service.
Prospective bidders would be wise to check the available history of the vehicle. A good seller will have more documentation than a government highway project with his vehicle. It helps sell the car at an auction.
It also helps the buyer understand his potential purchase and establish whether the seller is the best fiction writer since Stephen King-only with a better horror story.
Many sellers at auctions are serial buyers and sellers. They are also professionals. They want their vehicles to catch fire in a bidding war and they are willing to bet that this auction will be the right auction. They throw the dice and you might be a winning roll for them.
Conversely, a winning formula for an average Joe at an auction may be found in an unreserved bid early in the game. Most restoration/resto mod projects will never return an enormous investment of time- and especially money for an average seller.
The cost of materials and labor that are central to a good restoration are usually well beyond the vehicle's worth. Most sellers find out this fact the hard way when a new owner buys his ride at a fraction of the cost.
Even Kenny Rogers would approve of this hand for an average car guy at an auction.
Jim Sutherland

More car stories and advice at  https://www.mystarcollectorcar.com/
COMMENTS
DENNIS:"Yup. If you're really interested in losing money, restore a car. Model T's have a very low resale value because there are still so many of them around. I already have more money in mine that I could ever hope to get out of it.
ROBERT:"I tripped on a cloud and fell eight miles high, tore my mind on a jagged sky. I just dropped in to see what condition my condition was in. That's how I felt at my first Barrett Jackson auction".
REV:"Can an average guy get in the classic car game. Time and time again people will complain about the cost of restoring a classic car, or they might refer that some one is out of their mind to spend 2-3 times what it is worth! You can't argue those statements very much, but as a shop owner I sometimes feel that the people who bring cars back to life are looked at in a negative maner when restoration budgets are blown out of the sky. What I find funny is thousands of regular people across the world have no problem spending 20-30-50-grand on a brand new vehicle that loses 20% as soon as you screw on that licence plate! Then by the time it's paid off it worth next to nothing depending on how much gas is in the tank. What about the people that buy R.Vs ? My point is there are thousands of ways to lose money but if you lose money on a classic car some people question your sanity. Don't want to loose money on a classic car? Well, roll up those sleeves and learn how to do it your self. In the car comunnity there is never any shortage of advice when it comes to restoreing a car. I am always willing to share info and give advice because I am that "average Joe" that never was able to hire someone to build a kick ass classic. Even with today's high prices on project cars, it is still posible to create a real nice car for a few thousand dollars. Don't believe me? This summer I will be driving for the first time a sweet 61 Impala 4dr that I purchased a few years ago for a thousand bucks. It was purchased as a parts car at that time, it took two years just to find fenders that were repairable. It's sporting a low buck econo paint job that looks great from a few feet away, YES the classic car game can be played by the average Joe! The average Joe just has to get his hands dirty, which is a lot more fun anyway!–Rev