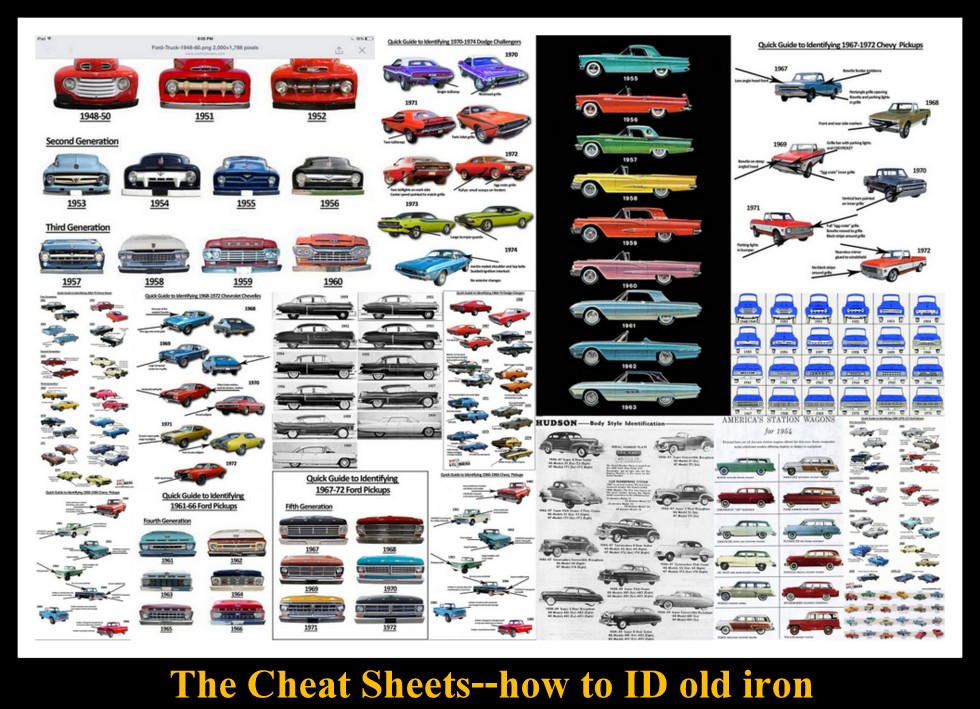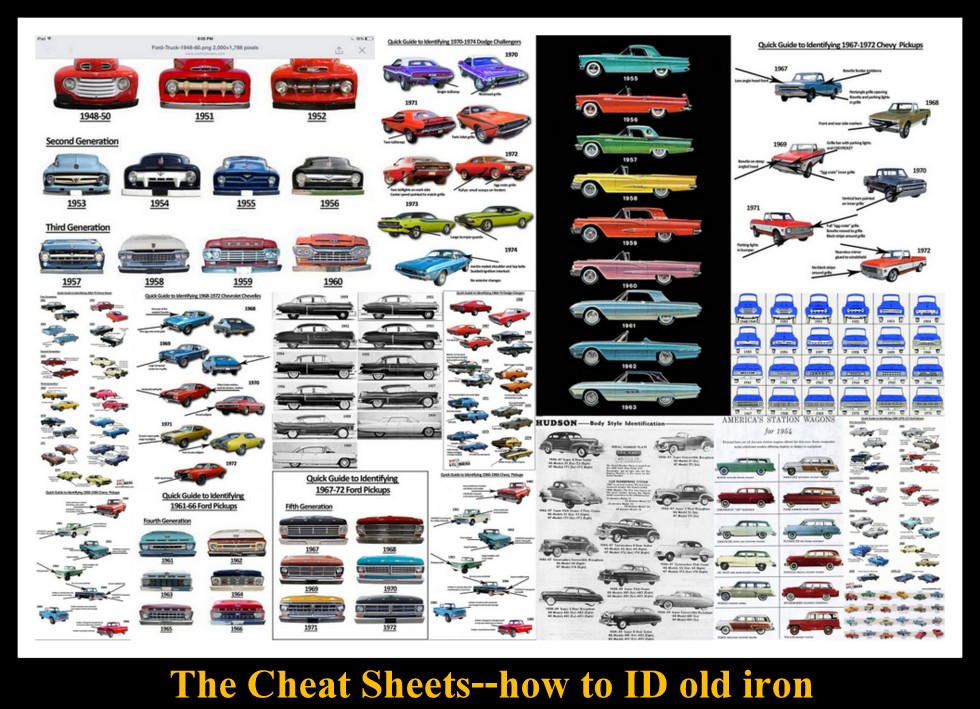 I'm pretty good at identifying old cars and trucks—within a certain range.
I can I.D. most old cars between 1955 and 1970 because they changed every year and that gave me a racer's edge—it had nothing to do with sheer intellect.
Some guys are human Googles on virtually every car ever made since 1905 but most use cheat sheets to make us look a lot smarter—I'm definitely a cheat sheet guy.
Cheat sheets come in many forms. The old fashioned version of a cheat sheet came in the form of massive, heavy coffee table books that doubled as resistance training tools when you wanted to do a few arm curls.
Now it's a quick online search to find the answer if the question is about a '29 Hupmobile or you can use any one of many available charts. I've always had a little trouble identifying a '67 Charger over a '66 so this chart tells me it comes down to simple little details like the signal lights on the front fenders.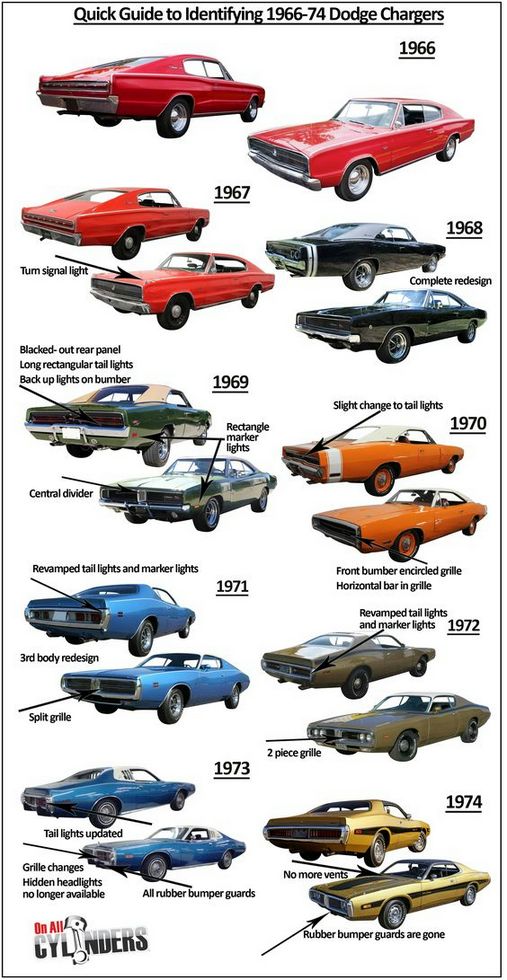 The '71 and '72 Chevy trucks are almost clones but there are little details. For example, the rear view mirror position is a big clue and this chart points it out so you don't even need to commit it to memory—just commit this chart to your computer's memory.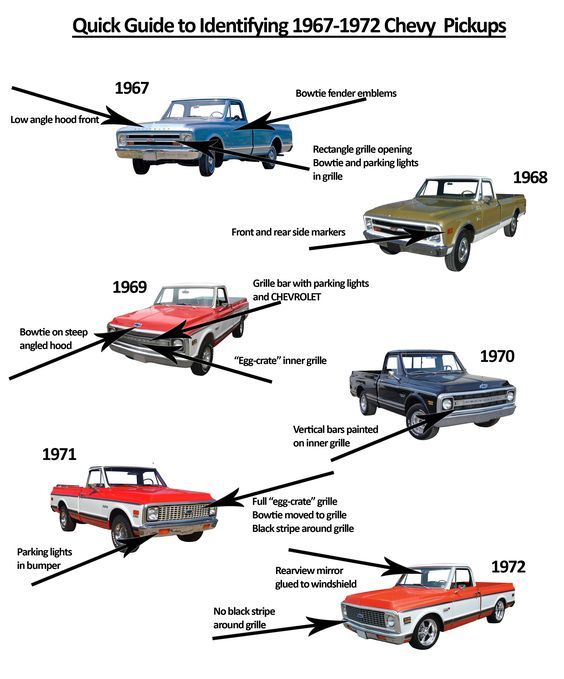 First Gen Challengers have always been a mystery to me—I can recognize the difference between a '71 and a '73 by the grille but the subtleties in the '70-'72 era escape me. I like to refer to this chart because it simplifies things and I'm a pretty simple guy.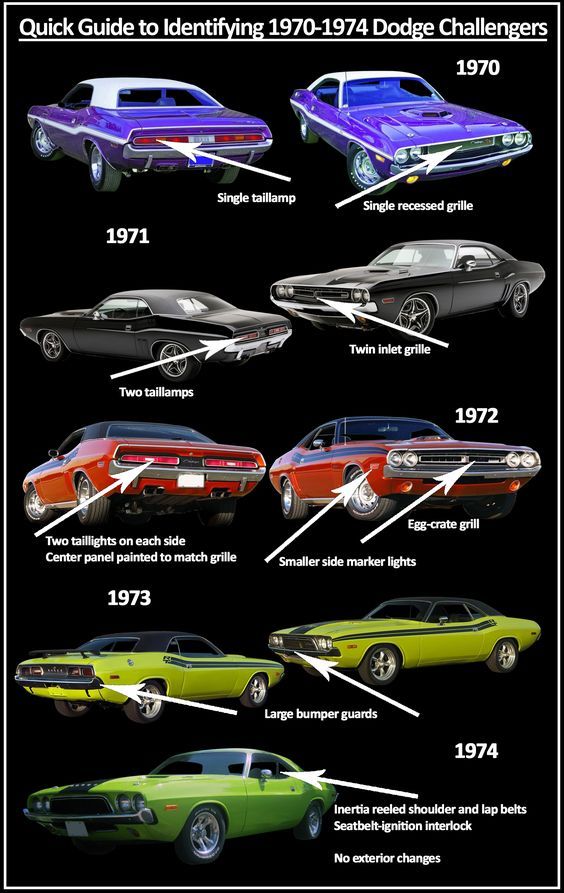 Ford trucks from the early to mid-1950s are classics in many ways but every year was slightly different. That's too much information for me—I have trouble with a 3-item grocery list so this chart is definitely on file.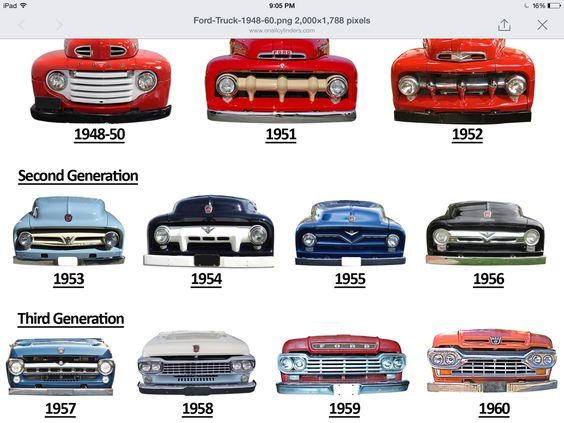 Late 60s and early 70s Chevelles have tripped me up a few times—particularly the 70s era so this chart has always made me a little smarter.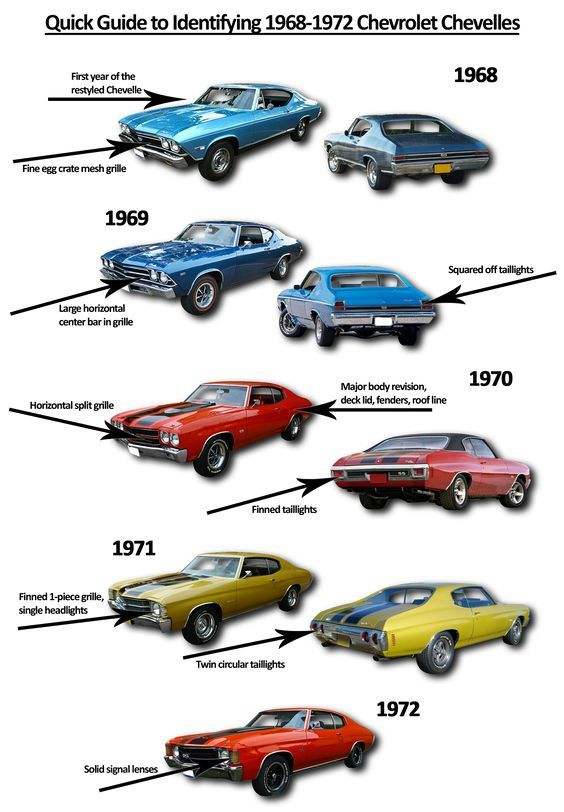 Squarebird ('58-60) and Bulletbird ('61-'63) Thunderbirds are easily identified as a group but within that group I need a little help. This chart is a big help.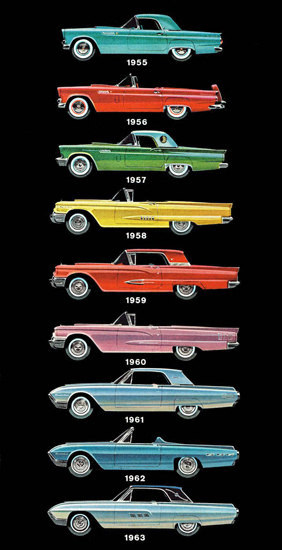 Ford Falcons were lower-end cars so the changes were subtle over a few years. I struggle with the 1960-62 era so this cheat sheet has always been a life raft for me.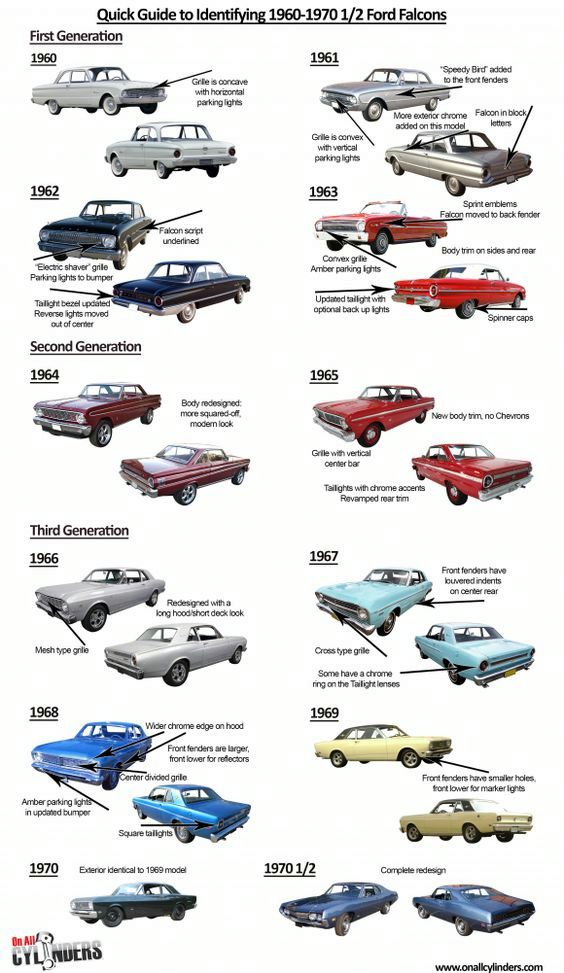 The Ford pickups of the 1960s had their own styling cues but some years were exceptionally subtle—too subtle for a shallow thinker like me. This chart is like a life raft in an angry ocean.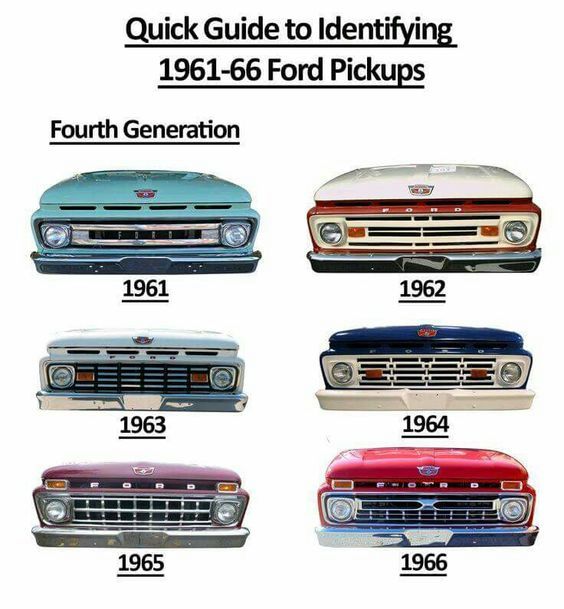 Chevy trucks from the same 60s era also had their own set of styling cues but you're going to need help if you retain information like you I do—I lose it faster than air out of a leaky tire.  Charts like this one are the only answer.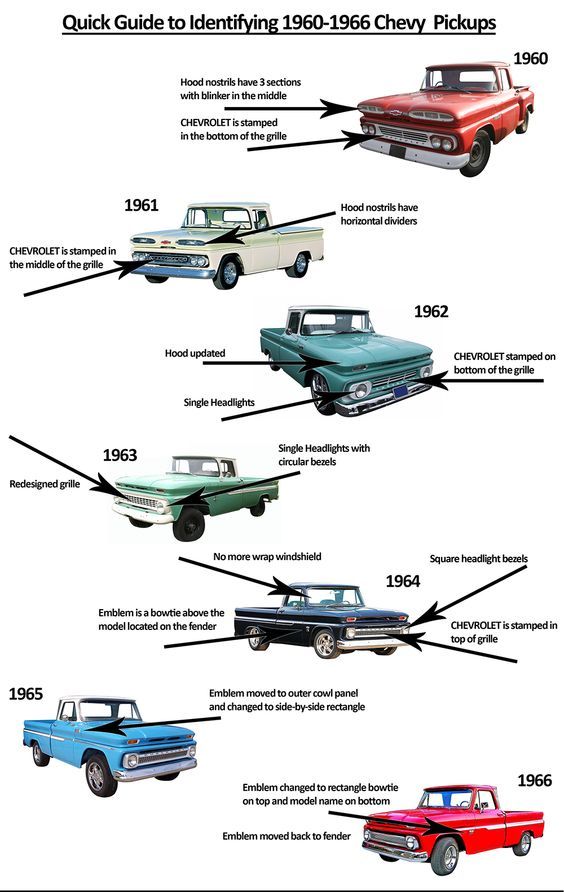 Cadillacs from the golden era of the 1950s demonstrated how the fin evolved over the decade. Sure there's on obvious difference between 1950 and 1960 but you're going to need this chart to see the evolution unfold over ten model years.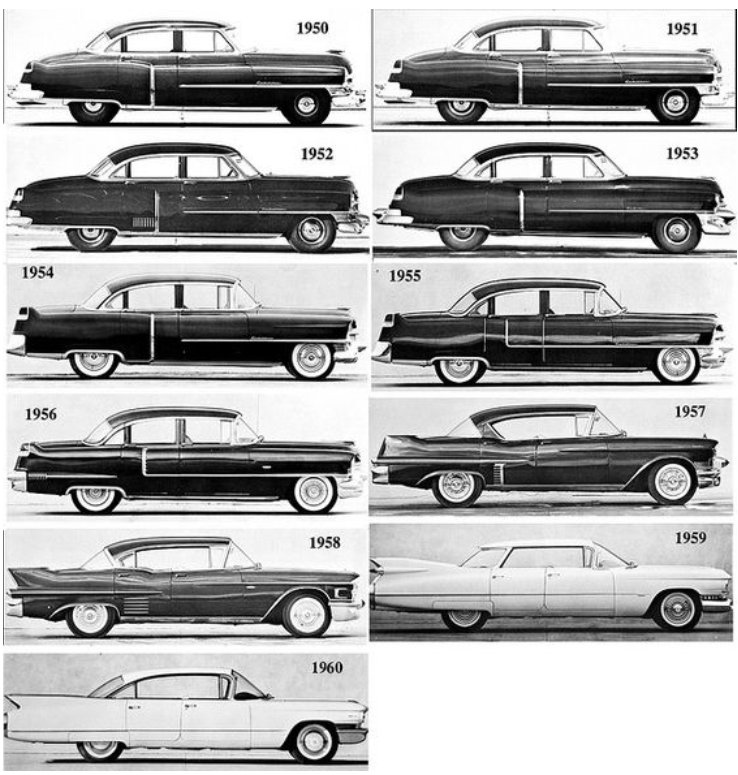 There's a life lesson in this—you couldn't use a cheat sheet in high school but once you hit the real world it's going to be the only thing that separates you from a long pause and a blank look if someone hits you with a tough question.  
By: Jerry Sutherland
Jerry Sutherland is a veteran automotive writer with a primary focus on the collector car hobby. His work has been published in many outlets and publications, including the National Post, Calgary Herald, Edmonton Journal, Ottawa Citizen, Montreal Gazette, Saskatoon StarPhoenix, Regina Leader-Post,  Vancouver Sun and The Truth About Cars. He is also a regular contributor to Auto Roundup Publications.
Please re-post this if you like this article.