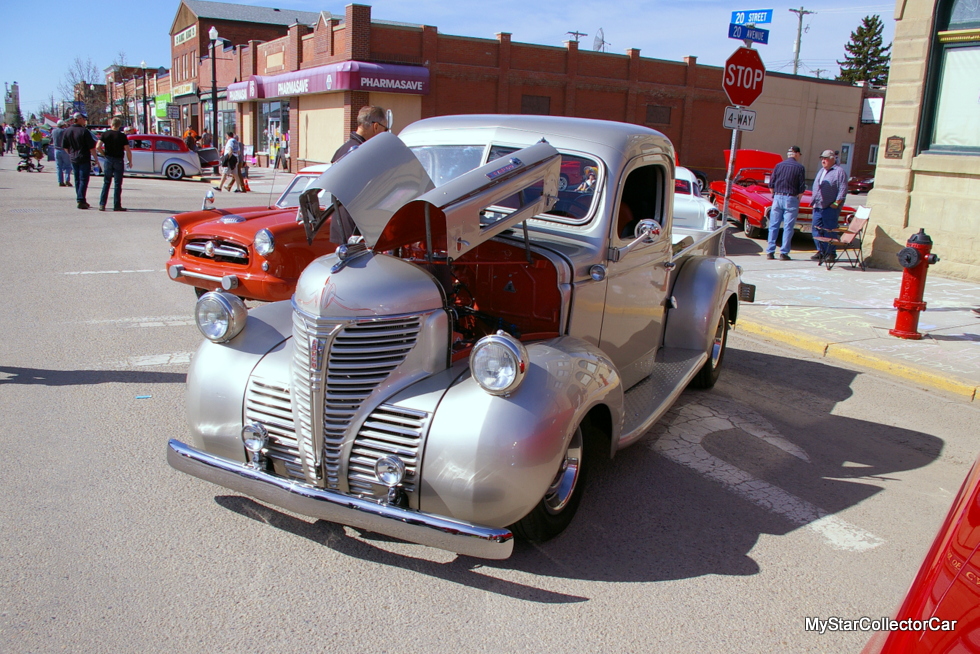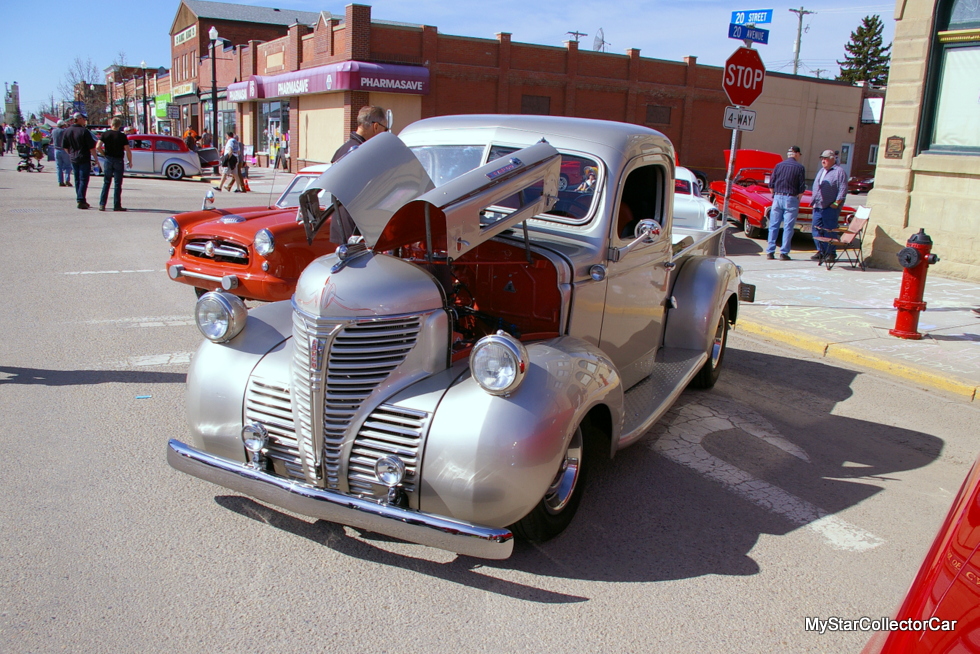 A  Fargo truck was primarily built as a Canadian version of the Dodge truck and it was sold by Plymouth dealers in Canada until 1972. 
The legacy of the Fargo trucks continues in the hobby and MyStarCollectorCar encountered a 1941 Fargo resto mod at a spring show.
Owner Andrew Brown was well-versed in the history of his truck and told MSCC that he prefers "orphan vehicles" (extinct brands of cars or trucks) and his '41 Fargo pickup most certainly fell into the orphan category.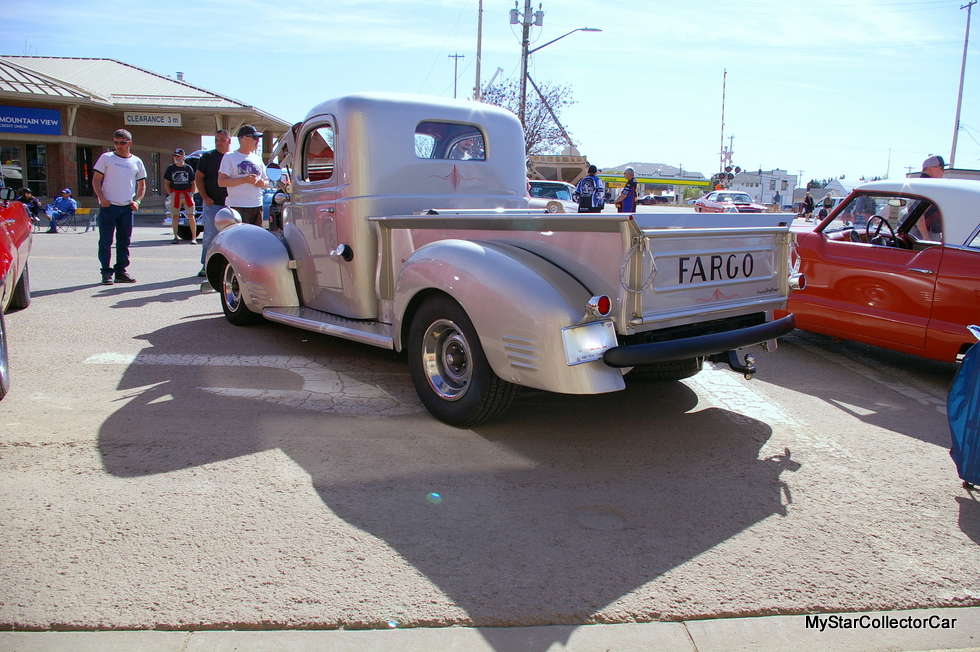 The Fargo was in many pieces when Andrew bought it in 2016 and he was faced with a major Humpty-Dumpty- after-the-fall problem because the truck was parked and dismantled in 1982.  The only upside to the situation was the lack of rust on the pieces after its long storage.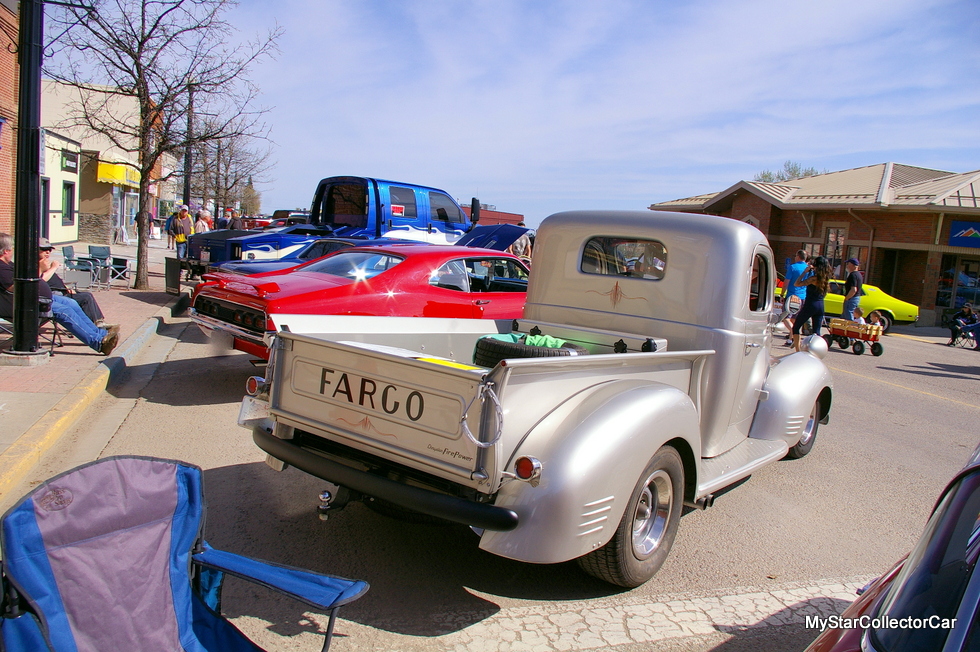 His Fargo did not have a power train so Andrew was able to free wheel in this department. He chose a legendary 1956 Chrysler 354 Hemi for a replacement engine. He bolted up his Hemi to a GM 700R 4-speed automatic and a 9-inch locker rear end with a 3:89 to 1 ratio.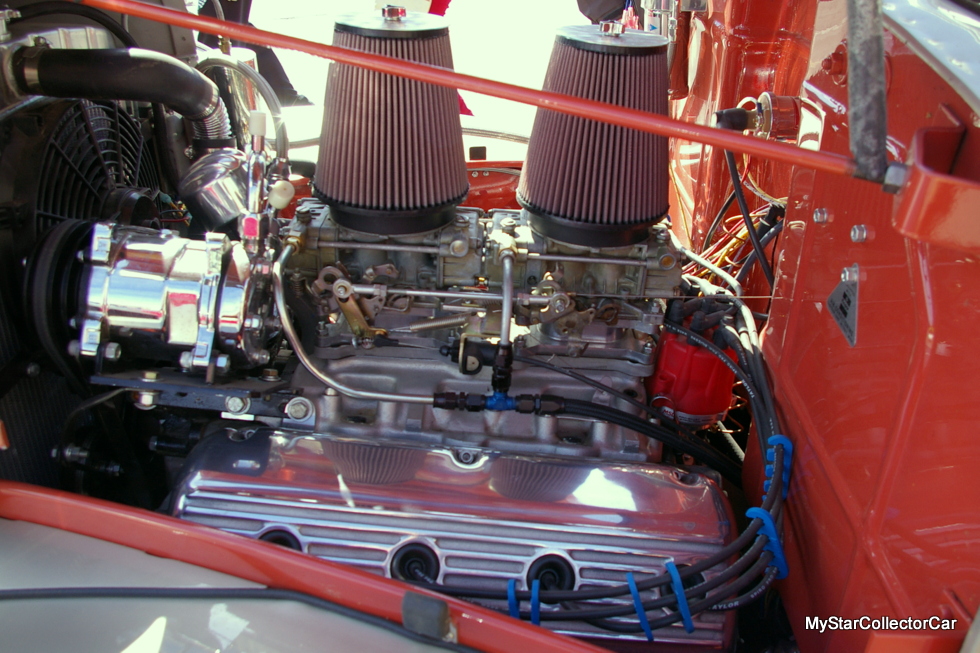 The Fargo is a creative blend of custom and factory so Andrew took MSCC on a tour of his very cool truck.

The truck now sports air conditioning, power brakes, power seats-but no power steering. Andrew told MyStar that he simply ran out of room under the hood and had to forget about the power steering angle because of the space limitations.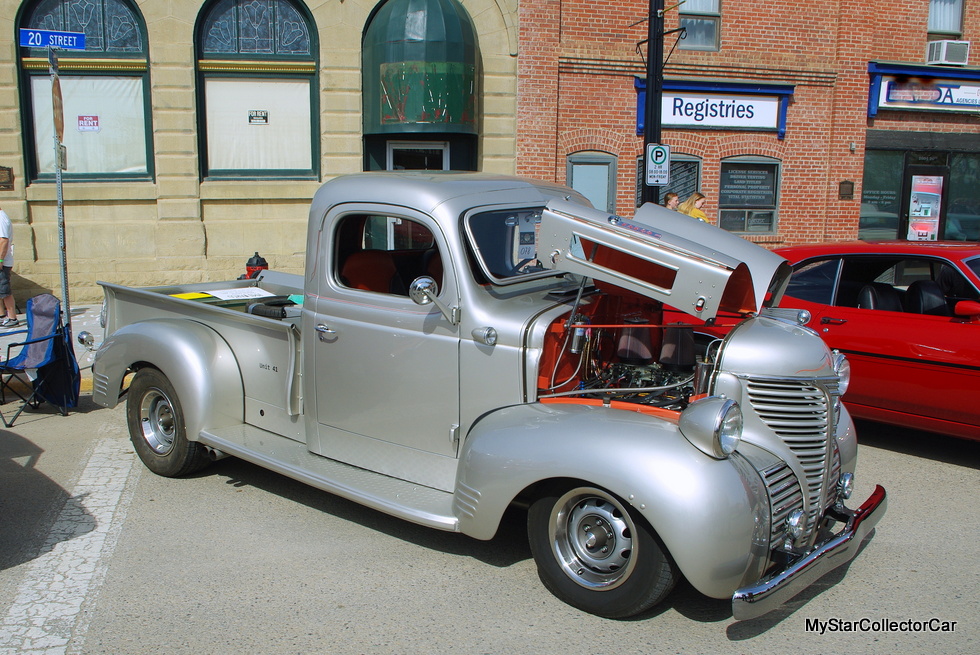 The truck also has a 1962 Chrysler tilt steering column so Andrew could leave his ignition in the truck's dash. It also has a stylish shifter that was meant for a Chrysler B body (GTX, Roadrunner, Super Bee, R/T, etc,)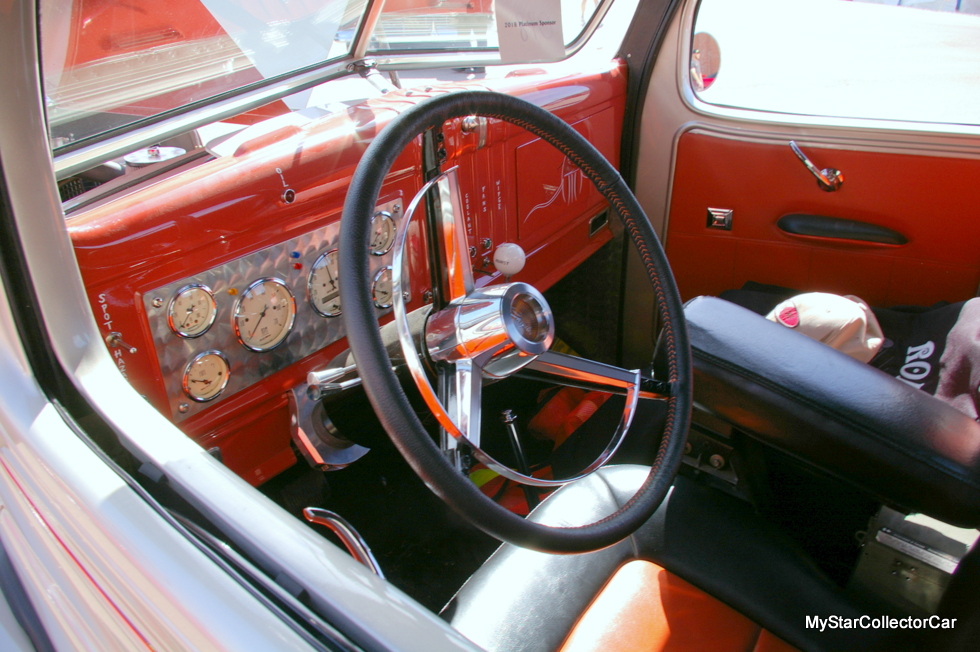 The Fargo also has a modern coil-over suspension, along with rack and pinion steering to enhance the driving experience in the 77-year-old pickup. In fact Andrew "really enjoys driving it", in his words, and that's the primary reason to own it (driving it)".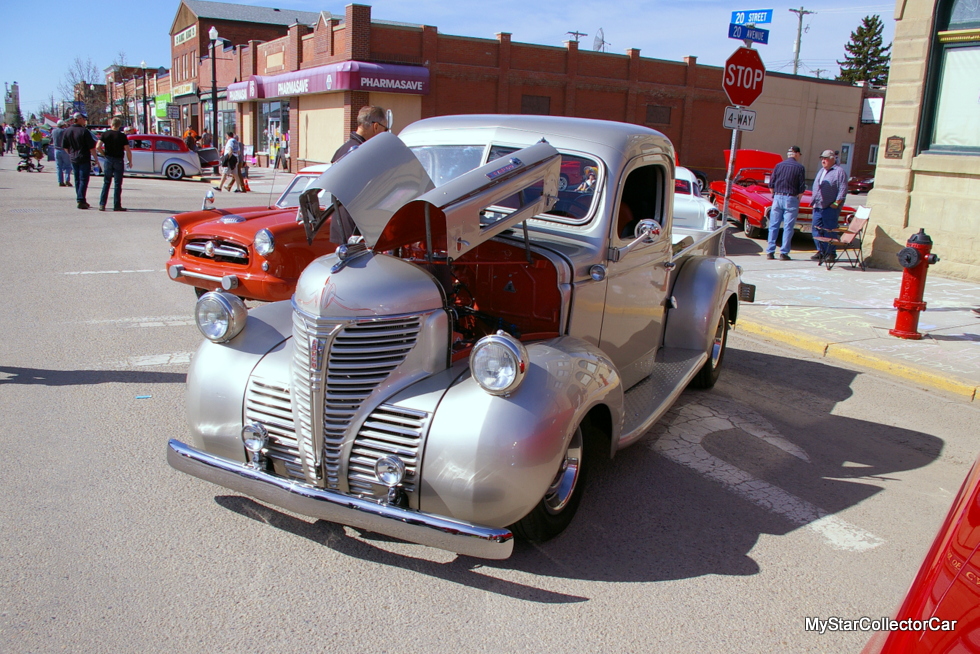 The truck was also lowered about 10 inches to enhance its new look and take full advantage of its new performance upgrades.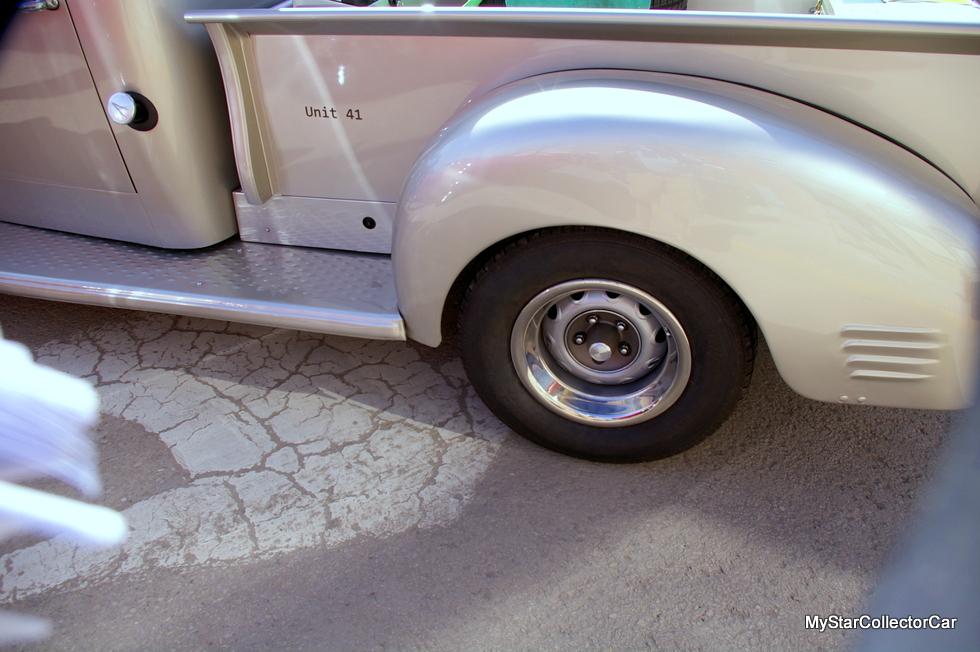 The comfortable seats in the Fargo were donated by a 2002 Durango and are "pleather (fake leather)", according to Andrew.
Andrew's truck still has its original roll-out windshield and he had an adventure with his Fargo because the higher speeds combined with the closed windows to blow open the doors. Andrew learned very quickly that he had to change his game plan with the vintage transplanted Hemi under the hood.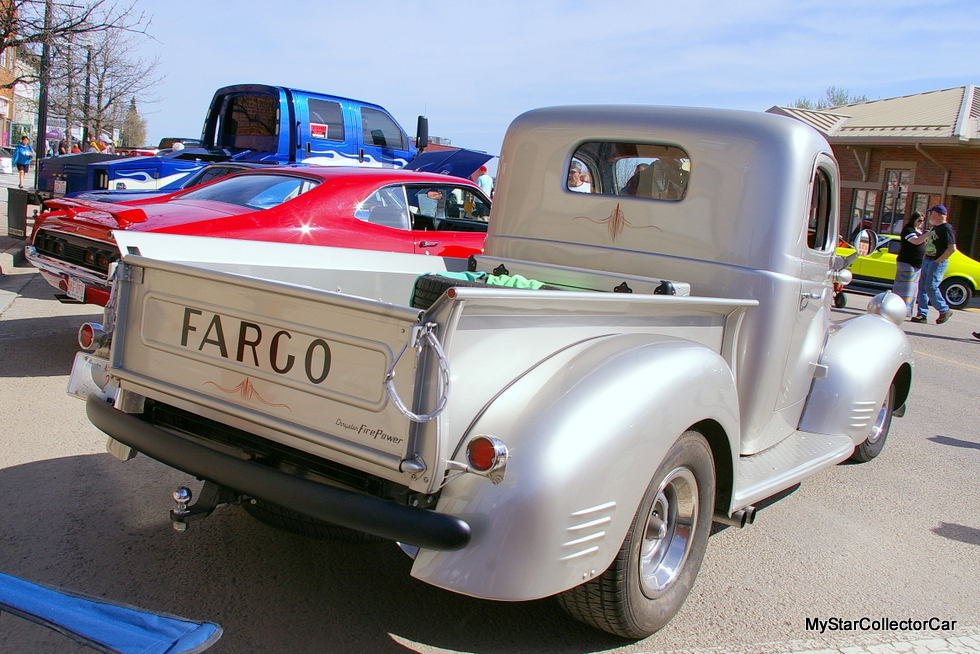 The truck also has a modern brake light/signal light alteration to handle modern traffic conditions. Andrew also added custom lights to the ends of the round support rails on the truck's bed to provide even more rear lighting for his Fargo.
Subtle custom touches on the Fargo include cab floor badges that were found on a 2017 Chrysler and a gas cap cover that was originally part of a 1957 Fargo horn button.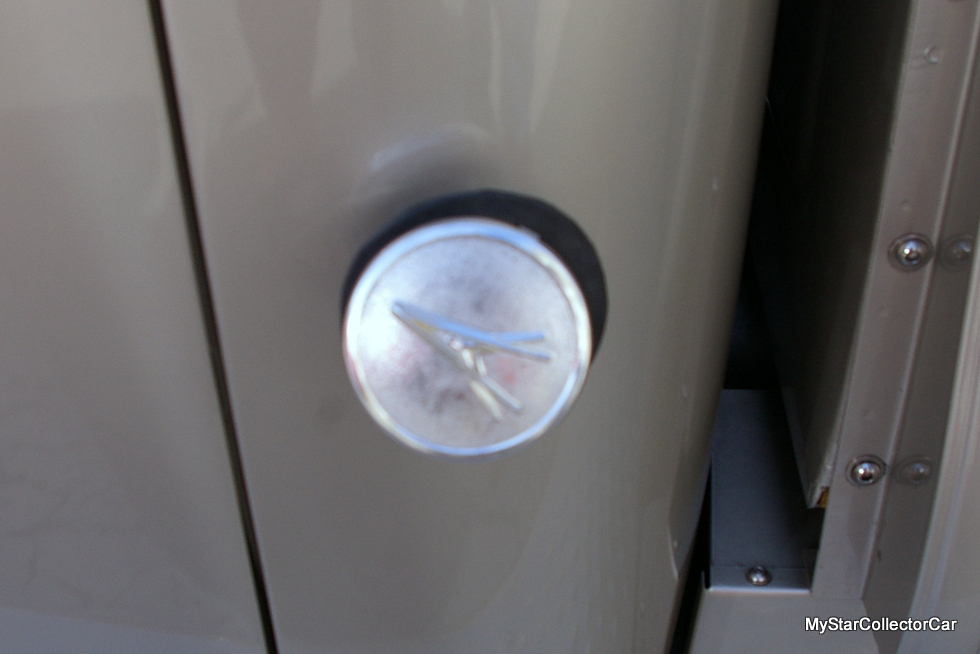 This Humpty Dumpty story had a happy ending because of Andrew and now he gets to enjoy time behind the wheel of his very cool 1941 Fargo truck with a creative resto mod flair. 
BY: Jim Sutherland
Jim Sutherland is a veteran automotive writer whose work has been published by many major print and online publications. The list includes Calgary Herald, The Truth About Cars, Red Deer Advocate, RPM Magazine, Edmonton Journal, Montreal Gazette, Windsor Star, Vancouver Province, and Post Media Wheels Section.