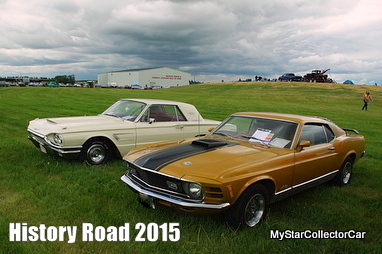 The annual Reynolds Museum car show in Wetaskiwin, Alberta is one of our favorites at MSCC.
Reynolds has a world class automotive collection that began with its colorful founder Stan Reynolds, a man who was well-known in both aviation and car circles.
We concentrate on his automotive hobby when we visit his museum during the Reynolds' History Road event every June and watch automotive history come alive on the grounds.
The entries are a mix of Reynolds vehicles and private owner rides that are displayed and driven around a track for the large crowds of admirers at the event.
The weather in Alberta during the month of June is a gamble because it is known for its unsettled weather-good for grain crops and ducks-not so much for car shows and weddings.
The Reynolds show is a June tradition and less-than-perfect weather is a constant concern, but it does not seem to dampen the spirits of anyone who attends this amazing show.
Reynolds 2015 fought weather issues on both days of their show this year, but few complained about the windy and cool temperatures because this was History Mile– and it only comes around once a year-same program as Christmas.
The first thing we noticed at this year's show was a collection of vintage military vehicles. The military vehicle hobby has grown tremendously over the years and draws a lot of attention at shows.
We like to interview their owners because these guys are very well-versed in the history of their vehicles, even though the vehicles can be a little light on information due to their role as military equipment.
One of the vehicles that caught our attention was a World War Two command vehicle built on a 1943 Dodge chassis. The front end was a classic power wagon style, but the rest of the vehicle was built with the intention of a tough but reasonably comfortable ride for a higher ranking military officer during the war.
The owner was a fountain of information when it came to his unique ride and we will feature the command vehicle's story in a future MSCC article. Stay tuned-you will not be disappointed with this old war pony.
Another ride that grabbed our attention was a 1949 Chevy truck with a custom trailer. The influence of a father on his son was a key component of this stunning ride because the truck owner was a gearhead from an early age because of his father.
You will thoroughly enjoy this future father/son MSCC story.
A late father's influence on his son was also the reason for the preservation of a 1976 Ford Elite and you will not be disappointed with the story behind this car when you read it in a future MSCC article.
This story gets better because the 1976 Ford owner has a young son who will soon be the proud owner of a 1975 Ford.
There is one rule that applies when you see a 1957 Oldsmobile four-door hardtop at a car show: get the story.
We did and you will be able to read its story in a future MSCC article.
We would like to thank the people from the Reynolds Museum for their annual History Mile show.
You have given us a good reason to count down the days to your show every year.
Jim Sutherland
CLICK HERE to Like us on Facebook
CLICK HERE to Follow us on Twitter
CLICK HERE to Follow us on Pinterest
Please re-post this if you like this article.