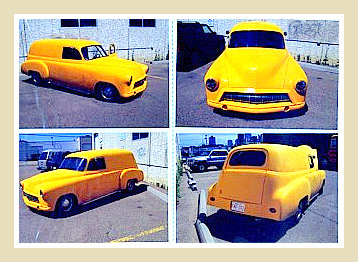 HELP FIND A STOLEN 1952 CHEVY PANEL- HAS ANYONE SEEN THIS CAR?
Every car guy on the planet can feel this one-it was stolen in Edmonton Alberta Canada.
This one shouldn't be hard to spot so if you see it the Edmonton Police Service contact information is below.
thanks
Subject: Fw: 1952 Chevy, Sedan , delivery truck file 11-105620 Stolen
Can you fan this out please ? It was stolen over the weekend
Thanks
Cst.Mike Wynnyk
Edmonton Police Service
Southeast Division Sq. 3
ph. 780.920-1005
The corresponding plate for the vehicle is FNU203… should be easy to spot. Taken from 105 St/110 Av Edmonton Alta area.
This very distinctive car was stolen from 10544 110st..1952 Chevy, Sedan , delivery truck. I included the file number.