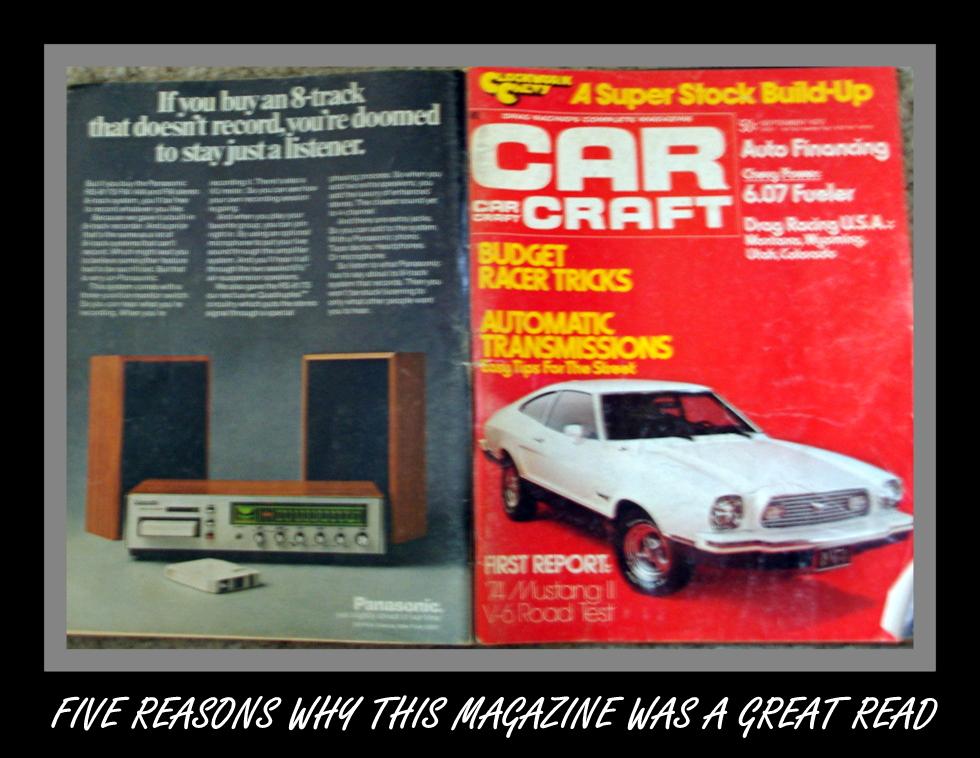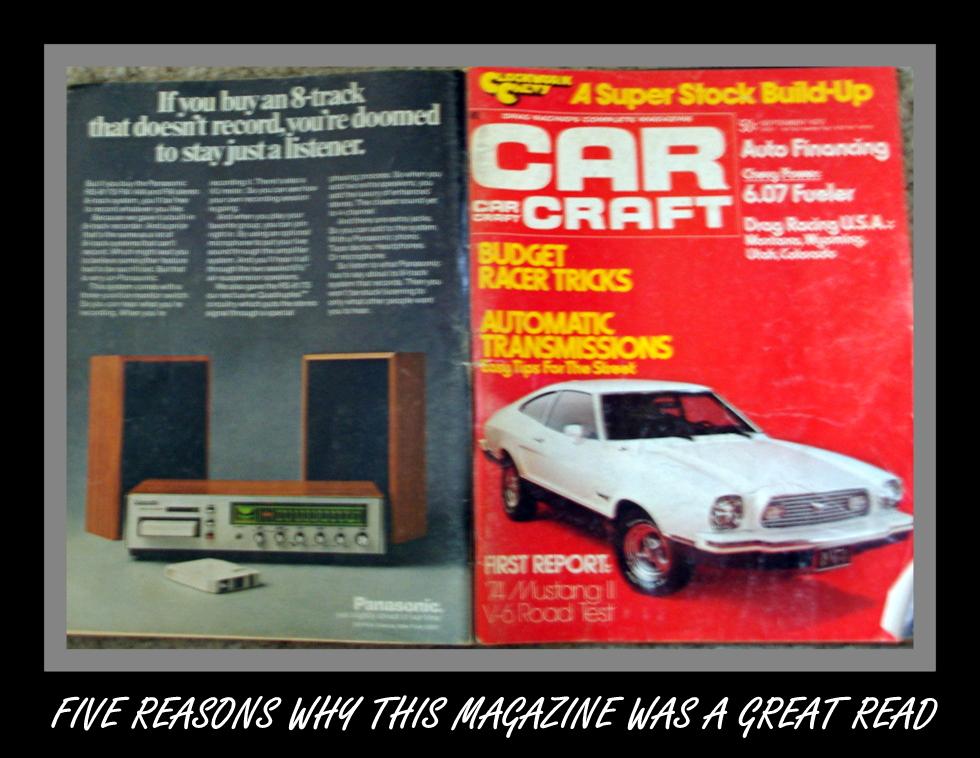 It has been many years since MyStarCollectorCar inherited a collection of old car magazines because of a series of events that started with a disgruntled bride who told her husband the old magazines were no longer welcome in their house.
We were happy to get the magazines because they covered the Seventies very well in an automotive sense, so MyStarCollectorCar was able to re-visit a decade when car performance was thought to be an afterthought.
The cats at Car Craft magazine respectfully disagreed; even though their September, 1973 edition was published during an era when car manufacturers were choked with regulations and unable to react in time for the changes.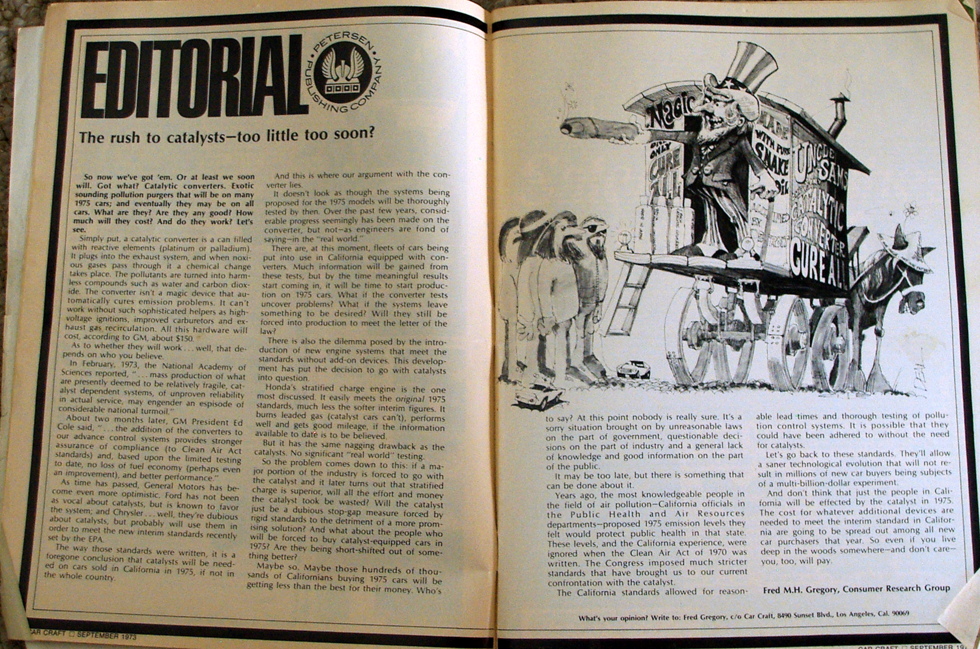 Car Craft was not in love with the legislation, but their writers and editors were able to find a silver lining in that cloud.

MyStarCollectorCar read the entire September, 1973 issue and found five ways that Car Craft fought the good fight 44 years ago.
The first highlight was the front cover of the magazine. The new 1974 Mustang II was on the front page and its bold downsized style was not an immediate hit with the public. Perhaps the Mustang II label was too much to handle for the Mustang fans, or maybe it was a part of a world where V-8 brutes were no longer an option on the new Mustang versions.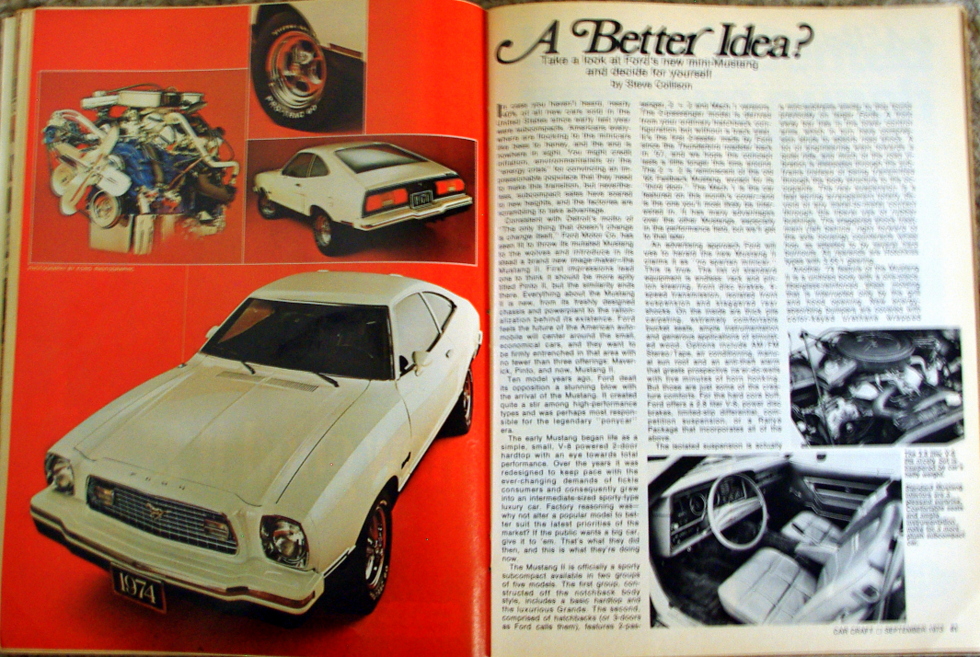 The second highlight was the review of the Mustang II because the writer was a good example of the overall reaction to the new cars showcase during an era when the Big Three was under siege by legislators.
Writer Steve Collison titled his piece "A Better Idea?" and took dead aim at the Mustang II because it was no longer a beast on the road. His piece included a woeful ¼ mile time of 18.2 seconds at 72 mph. Collison noted that "we've (Car and Craft) tested 2 liter Pintos that were quicker".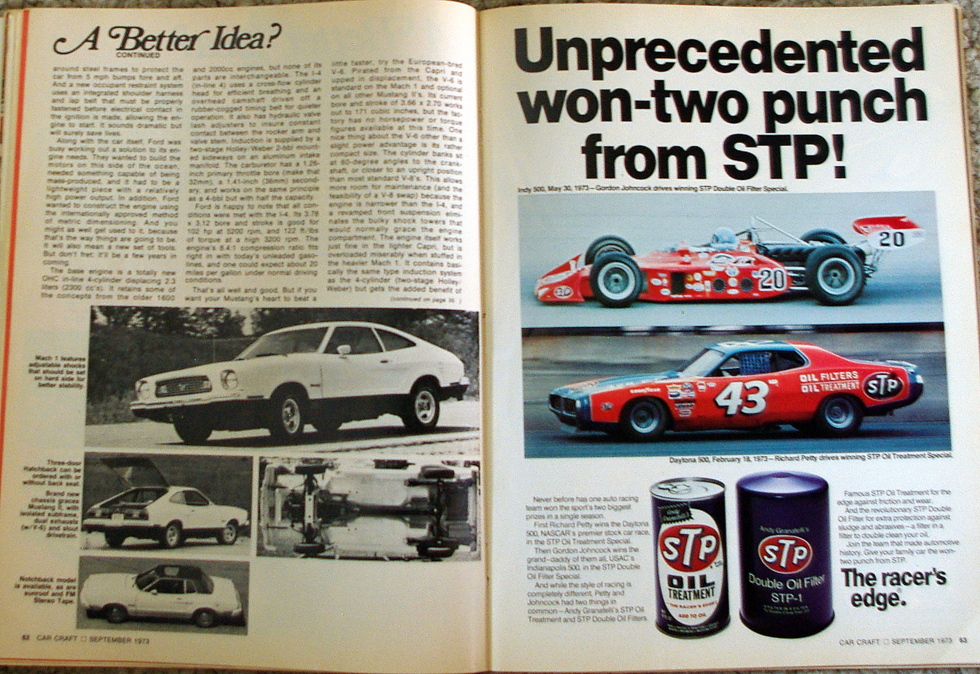 The Mustang II would eventually return to its V-8 beast mode-but not by the time Car and Craft tested it as a first year model in 1973.
The third highlight was a final installment of a 1973 Camaro project that Car Craft transformed from "moderately quick smog controlled '73 car (their words) into an emissions legal near-super-car (again, their words)".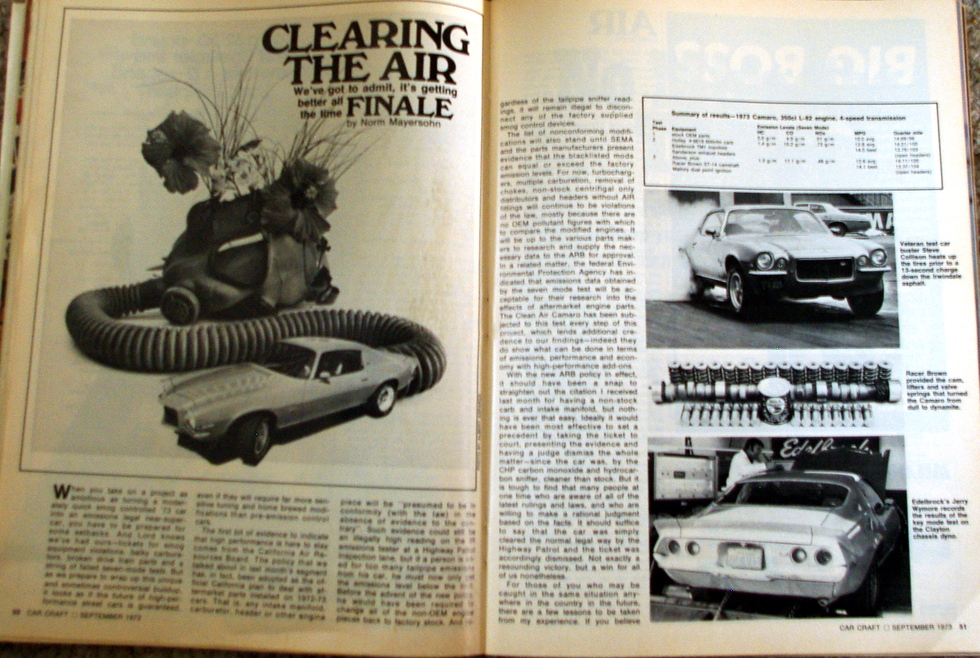 The boys at Car Craft encountered some rough waters along the way, including several California tickets for clean air violations, along with mechanical obstacles, as they built the Camaro into a 13.37 second 104 mph quarter mile monster.  
Their beefed-up Camaro was indeed a track superstar in 1973.
The fourth highlight of the September, 1973 issue was a 1957 Chevy project that was at the start line for a hot rod project. They wanted to use a 283 Chevy engine in the car and make it into a 12-second track car.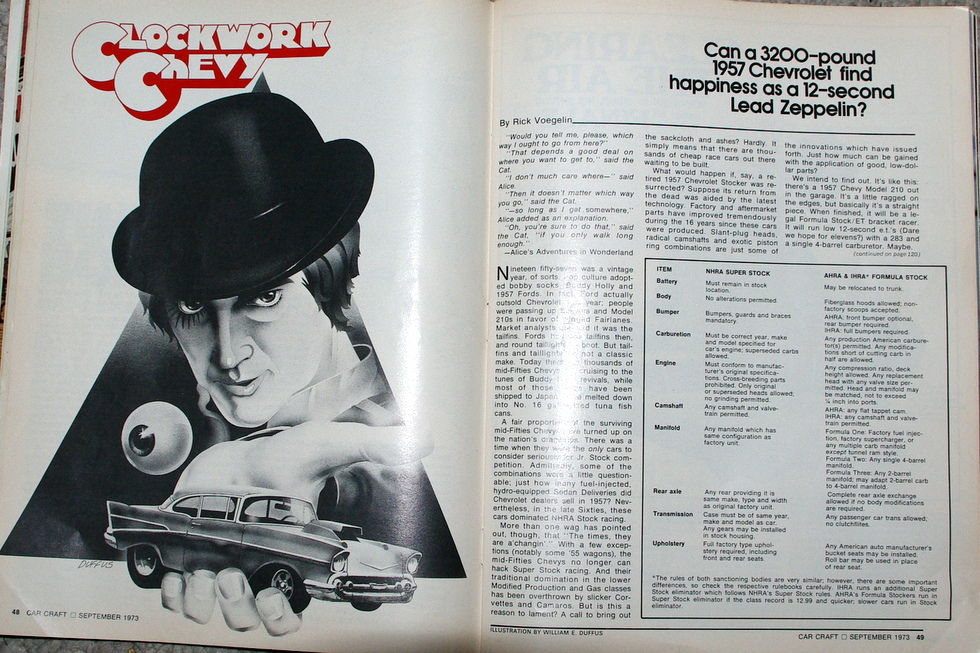 Car Craft had a lofty goal because their car was supposed to compete in a Formula Stock class back in '73, so the weight of a '57 Chevy had to be factored into their equation.
The fifth and final highlight of this 44-year-old magazine was a cigar ad that stars a young Farrah Fawcett in it. Tobacco ads are gone, Farrah Fawcett was still a few years away from poster stardom but sadly, she's also gone from us.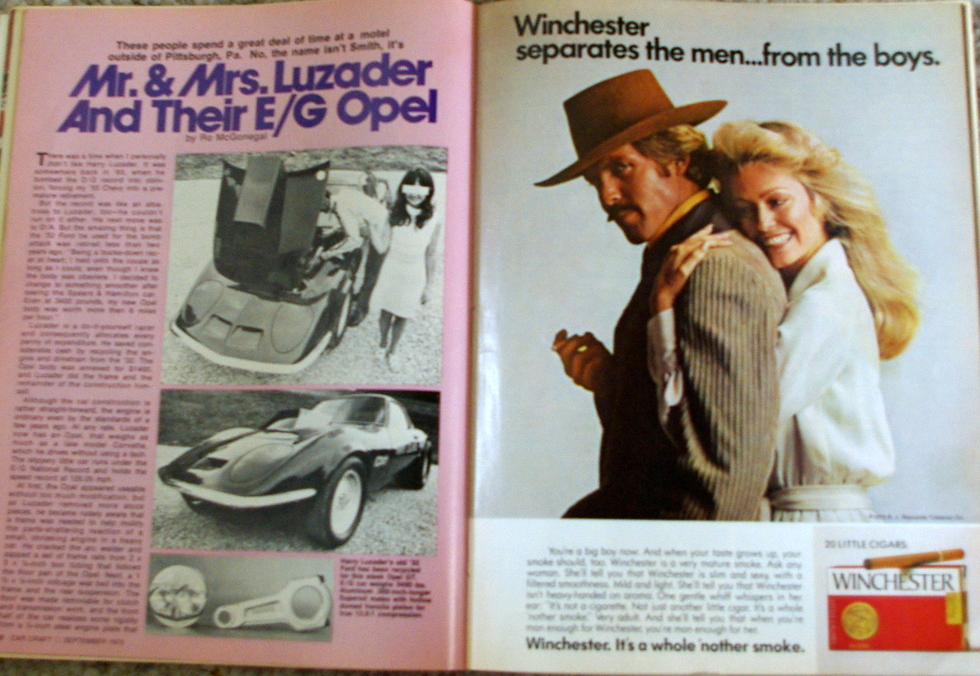 We really don't care about the cowboy in the old ad.      
BY: Jim Sutherland
Jim Sutherland is a veteran automotive writer whose work has been published by many major print and online publications. The list includes Calgary Herald, The Truth About Cars, Red Deer Advocate, RPM Magazine, Edmonton Journal, Montreal Gazette, Windsor Star, Vancouver Province, and Post Media Wheels Section.  
CLICK HERE to Like us on Facebook
CLICK HERE to Follow us on Twitter
CLICK HERE to Follow us on Pinterest