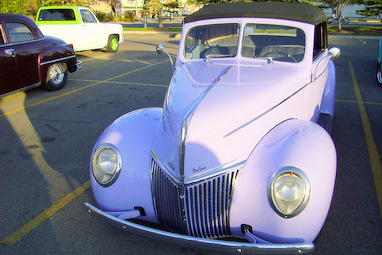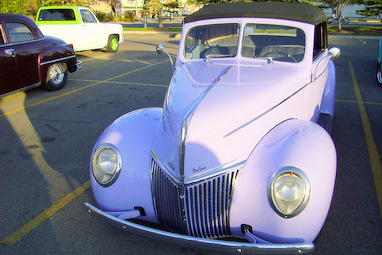 Jim Savage has a custom plate on his 1939 Ford that says ' FIRST LOVE'.
Bear in mind Jim has been happily married for a long time.
But he has also owned his 1939 for a very long time, and the plate is for his car.
Jim's wife understands though-the car has been with him longer than her. Jim has owned his 1939 Ford since he was a 19-year-old in 1969.
The 1939 Ford was the last of the rumble seat models, so Jim has a rare kind of automotive history with his Ford. However, Jim modified his Ford's personal history over the years.
His Ford has a little help from the General with a 350 Chevy motor that has pulled Jim over 60,000 miles during the past several years.
The car was a resto-mod complete rebuild that added creature comforts like a/c so Jim's very cool ride could be very cool on the inside during the hot summer months when Jim and his Ford hit the road together. He also dropped the front axle and added power steering and front discs into the mix.
The purple paint job was added in 1996 because Jim needed to tweak the car a little and he always loved the color. There was a guy in Jim's high school that splashed his 1949 Ford in purple and the color always appealed to him.
Jim says there are probably only about 200 of these Fords left on the road in the world in either modified or original form. But he has absolutely no plans to sell his Ford because, to him, his first love is priceless.
Besides, he has already promised his beloved ride to his granddaughter, so the future of his Ford will always be in the family history.
That is some serious first love in our opinion.
Jim Sutherland