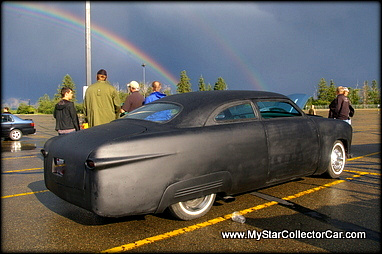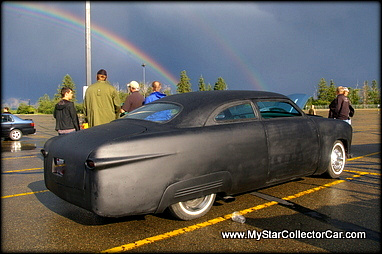 I was at a car show last summer that came with the standard equipment heavy downpour when I watched a very sharp 1951 Ford rat rod pull into the show.
The car had been chopped and lowered by its young owner and I was happy to see that he was not afraid to drive his Ford in wet weather.
I was also happy when he let me sit in the car and take notes while he stood outside and gave me the story of his Ford.
The car was a rat rod and the underlying principle behind the rat rods is a tough no-frills approach that does not include wimps and its owner Joel Henry was simply living the basic philosophy.
Eventually the clouds cleared and the car was given a free wash by the monsoon, but a flat black car is not a huge beneficiary of the clean look. The rat rods are all about attitude and Joel's Ford has plenty of attitude to spare with his design.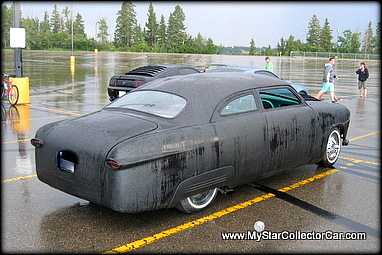 Joel has owned the Ford for about 5 years but only got serious about it about 5 months before it hit the street. Joel and his fiancée Dana had spent the previous winter cutting and grinding on the car to produce its lowered roofline and stance.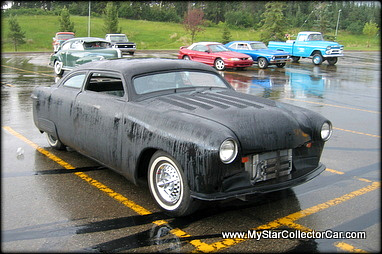 You know that you are about to marry the right girl when she is willing to jump right into the game and do the hard work on a custom car project. Dana is that kind of girl and truly defines the female version of a car guy.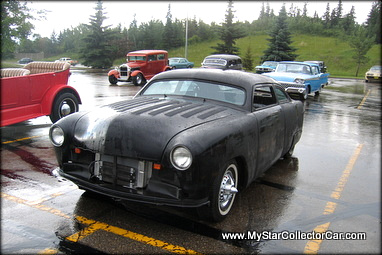 The Ford has been given a louvered hood to add to the custom look sought by Joel when he began his rat rod project. It was also given a 350 Chevy heart transplant, including a Turbo 350 transmission to transmit power to the rear wheels.
Joel comes by his auto body talents via genetics because his father pounded on medal for many decades in the auto body trade. Joel is not afraid of a hands-on approach that includes the sizable task of refitting the roof when you chop a top.
The net result is a very cool Ford rat rod that performs very well on the road. In fact, Joel and Dana relocated from their West Coast home to their current central Alberta Canada address by driving through the Rocky Mountains.
The two of them spend as much time as possible on the road with their cars and were frequent visitors to many summer car events in 2012. Joel's Ford attracted a lot of attention at shows because there is always room for a custom 1951 Ford rat rod that is pure attitude when you see the car live and up close.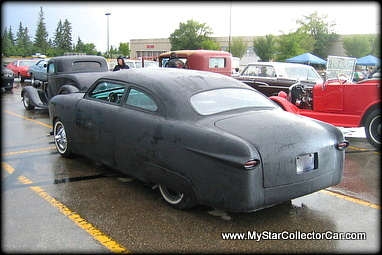 Obviously I liked this car and I liked the people who built this car because Joel was able to find something that most guys can only dream about: a future bride who loves the old car culture enough to commit her time and energy to the hobby.
Life simply does not get any better than that for car guys.
Jim Sutherland