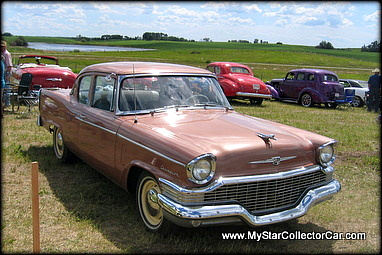 Studebaker was one of the most innovative manufacturers in American automotive history.
The company began operations as a horse-drawn wagon builder long before the advent of the internal combustion engine as a replacement for the nags.
The history of the Studebaker as a car maker always a David and Goliath story because they were not one of the big dogs in Detroit.
In fact this automotive David never even had a Detroit address because Studebaker was the pride and joy of South Bend, Indiana.
Studebaker operated on a very tight budget and had to make sure that their cars and light trucks were built with as much manufacturing versatility as possible for maximum return on their dollar. Studebakers shared platforms and utilized the same basic body for many years in an era when the Big Three made big sheet metal changes every year in the 50s and 60s.
For example, Studebaker simply bolted fins onto their cars when fins became the signature look of American cars and Francis Prefontaine's 1957 Studey is an excellent example of the just-add-fins-to-an-earlier-body-design method of innovation used by Studebaker to survive in the late 50s field of serious automotive sales competition.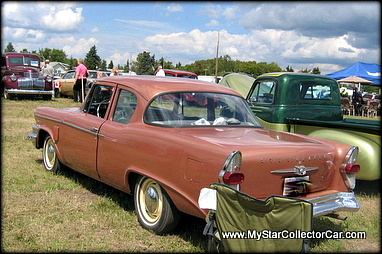 The scarcity of Studebakers is very clear at car shows because we do not see many of them amongst the thousands of other domestic makes and models we encounter every year. The Studebakers were not produced in numbers anywhere close to the big boys and they were not usually saved from the wrecker in great numbers.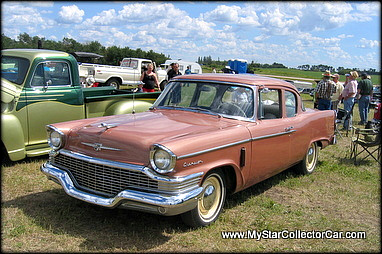 That's why we seize every opportunity to get a Studebaker story when we come across one at a car show. Francis surprised us when he claimed that there was "not much to tell" about his '57 Studebaker Champion, but its very existence was already a story.
Then Francis filled in the blanks when he discussed how he became the owner of the car and his story was also an interesting saga. His buddy John had made an impulse buy when he nabbed the Studebaker and then dropped it off with Francis in the dead of winter.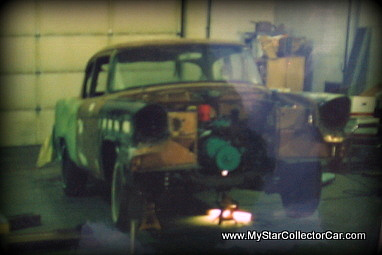 Spring came and John decided that "we should drive that car"; a decision that prompted an immediate "are you crazy?" response from Francis.
John hired a versatile retired body-man and swapped rent for his services to tackle the paint and bodywork. John also covered the upholstery and parts tab for the Studebaker. Eventually the project produced a nice driver that represented the Studebaker name very well in the 21st Century and almost 50 years since the last Stoody left the South Bend factory.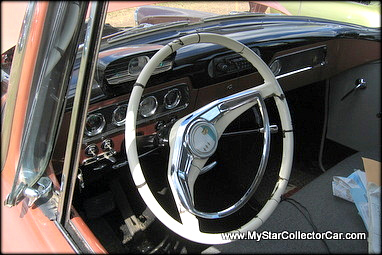 Francis certainly has the driver angle covered in his restored Studebaker because he has piloted the car many miles down the road, including a pilgrimage to South Bend to meet other members of the Stoody brotherhood.
Francis told us that his car will get 30 mpg at 60 mph, so he gets to travel in economic style. He owes his numbers to caution because he says that his Studebaker's negative caster causes a not-so-good vibration above 60 mph.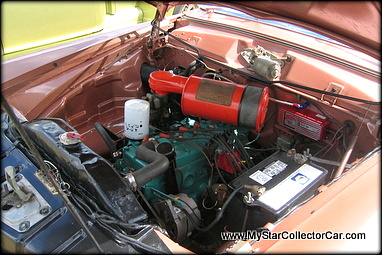 The car's economy is largely due to its overdrive transmission that drops the rpms down to a livable number at modest speeds.
We would like to thank Francis for his story because he had a lot to say about a car that had "nothing much to tell" in his opinion.
He was wrong.
Jim Sutherland
*If you like this story you might want to read this February 2010 MSCC story about a '57 Studebaker Golden Hawk.