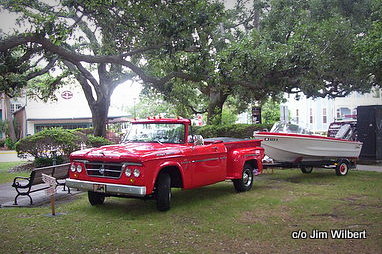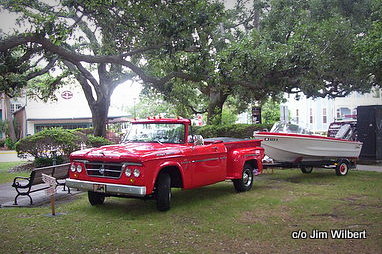 Dodge trucks from the 1960s have a cult following thanks to the passage of time.
They were working machines fifty years ago so there was no glamour in a Dodge truck because they were built for the heavy load-not the country club.
Fifty years later they're still not seen at the country club but gearheads love these old Dodges.
Jim Wilbert fell into his relationship with his '63 Dodge truck many years ago as he recalled: "I was not really looking for any projects in March of 1988, but someone put this truck next to the road and I stopped. It did not have a "for sale" sign on it but a deal was made. The truck was painted white, but I believe it had lime green and before that Industrial yellow under the white".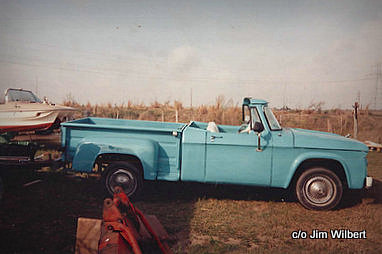 Jim took inventory of his project: "The truck is a 1963 Dodge ½ ton, regular cab, (originally 8 ft. box) currently a 6 ft. box. It came with a 6 cylinder, 4-speed. No power anything. It had a bad rear-end, so that was my first order, I replaced it with a newer style mid seventies rear out of a car".
This truck saw more changes: "Later I found and installed a 2:91 posi rear-end. I added more leaf springs as I hauled horse feed for several years and would fill the box with feed".
Even more changes came: "I drove the truck for 8 months and felt a V-8 would be better, I think I paid 300 for a 400 engine and transmission out of a '74 Chrysler that the junk man said "came in from Miami last night" Funny it did not have any wheels on it and was just inside the gate. I remember the motor was very hard to pull with the car on the ground, no help from the yard. It was a great motor; I drove that for two years, and then wanted to build a small block for it".
This most obvious alteration came at this point: "It was at this time I decided to cut the top. I like convertibles and thought I would keep it longer if I kept working on it. I painted the truck Turquoise, and built a top for rain. I also installed a 6 ft bed and stretched the cab, put jumper seats in back for the kids. People said the truck body would not stay straight without the top… they were wrong".
Jim's engineering was put to the test in a big way: "I was hit by a drunk driver (whole other story) and the truck was totaled, I decided it was not and started to straighten it out. This took a few months and I wanted to change colors for the truck".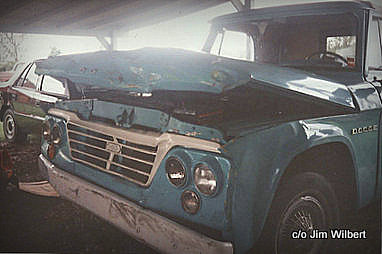 More tweaks followed: "I found a 318 in a '70 Plymouth, however, block numbers showed it to be a '78 motor. I rebuilt it with a mild cam and four barrel, put a A-833 4-speed behind this, I think with the high gears it was not as strong as I thought it should be. It was fun to drive with the four speed, after about a year my knee did not like pushing the clutch".
The road adventures continued: "I was on the road in Virginia and a person fell asleep at the wheel and rear ended the truck, he had set his cruise at 80 and I was doing 55, sooo the truck was totaled again, I decided to make some changes".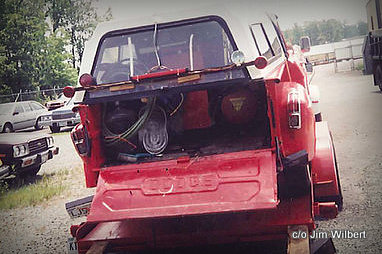 This was simply another opportunity for Jim: "I pulled the 4-speed and installed a 727, rebuilt. I did paint the truck Viper red, as it is now. I also installed a 1962 Chrysler dash and taillights, This engine and transmission lasted 15 years, still running good".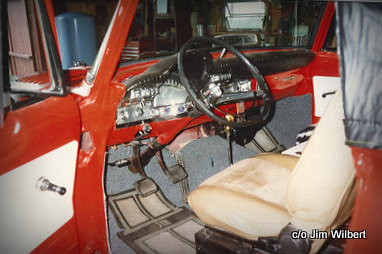 More changes are in the future: "Recently I thought I would like to update the engine, I bought a '96 dodge truck engine, 360 with a 4-speed automatic.. It has the computer and fuel injection. While the engine runs great, I seem to have a problem with the shifting… second goes in and out of 3rd, it is better when I lock out overdrive, and shifts fine when I shift manually. I think it may be the high gears or a shift sensor. The 360 has a better throaty sound than the 318. Not sure about gas mileage, I know this combination will out drive the limits of design for the truck, which still has front axle setup".
Jim drives his '63 Dodge enough to make it a road warrior: "I drive the truck about 3000 miles a year… so not a lot. It is fun; I have shown it and did have a boat behind it for a while".
There is a classic car guy philosophy behind this custom ride:
"Is it Perfect? Absolutely not, this truck has many flaws; this is a very low budget project… my "Topless Dodge".
Jerry Sutherland
CLICK HERE to Like us on Facebook
CLICK HERE to Follow us on Twitter
CLICK HERE to Follow us on Pinterest
Please re-post this if you like this article.