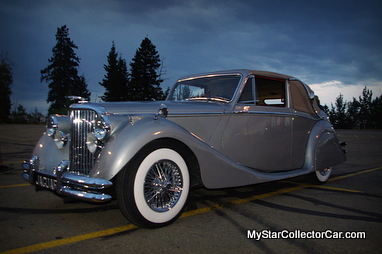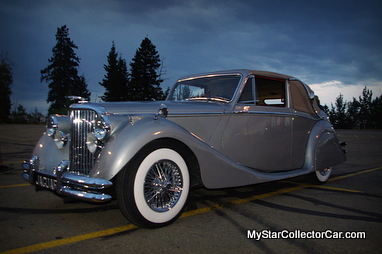 MyStarCollectorCar was founded on the belief there's a story behind every car.
Typically, the story behind the car is based on a very personal link to the vehicle but occasionally an owner will inherit the narrative found in classic iron.
This 1950 Jaguar Mark V is a classic example of how a story can transfer along with the title to an old ride.
Devon Swainson is a devout Jaguar disciple in a world where classic Detroit muscle dominates the local car scene. He's owned and built some very cool domestic rides over the years but the Jags reached him in a big way.
Devon lives in an area where oil is king and money flows so there are some incredible local collections that feature everything Chevy, Ford and Mopar built during the 60s and 70s street wars. He's undaunted by the fact that his Jags make up a fraction of any car show so he proudly drives them to any local show he can fit into a busy schedule.
This '50 Jaguar Mark V three position drophead coupe is one of his most unique cars based on its scarcity and owner history.
Devon explained how he found the car, "There was a guy in Texas who owned it and he didn't know anything about the car. He bought it because he liked the looks of it but it didn't fit in with his collection of American iron".
That was the opening Devon needed because he did know what this car "was all about" so he bought it and brought it back north. Devon's been in the Jag world for awhile and he realized there was something familiar about the history behind this car.
Devon found out it was owned by Adolph Charles Rosner JR-better known as Ace Rosner. Ace led the equivalent of three lifetimes because he was a decorated war hero and a highly-recognized CIA agent. Rosner was a real-life James Bond who loved fast cars, women and everything that came with a secret agent playboy lifestyle.
He was partial to exotic convertibles and racing but this '50 Jag was his signature car in Washington DC. Devon is incredibly proud to own this legendary car on its own merit even without the celebrated history but the narrative behind the car is priceless.
This Jag is a rock star on four wheels.
Devon is a Jaguar veteran so he's had many side of the road adventures with various forms of the famous British icon. This car was been relatively painless but he does admit to one problem," I stopped for gas and put premium in it and it started running rough but it's been pretty good".
Devon likes to literally get his hands dirty with every car he owns and this Jag was no exception as he explained, " I had to get it ready for the wedding so I did a lot of work on the brakes plus there was stuff like hinges and electrical so I played around with that".
He's an extremely busy guy with his electrical business but Devon likes to drive what he owns so he'll occasionally take the car to work. He admitted, "It's funny because when I drive it around for work they all tell me I'm making too much money".
Devon likes to get a real feel for his cars from behind the wheel but he's also very realistic about 60-year-old technology, " The '49 Mark V was the first one with hydraulic brakes and it's got torsion bar suspension. It drives nice around town but you sure feel those lever shocks".
Estimated top speed and reality are two different concepts as Devon explained, "It's doing 3200 rpm at 60 miles per hour and it red lines at 4500 so I don't think it will hit 100 like they say".
Despite that non-threatening top end Devon is incredibly proud of his storied and rare Jaguar. He is the ultimate "hang onto it" guy so this Mark V is going to stay in his hands for the foreseeable future.
It just won't have James Bond for an owner.
Jerry Sutherland