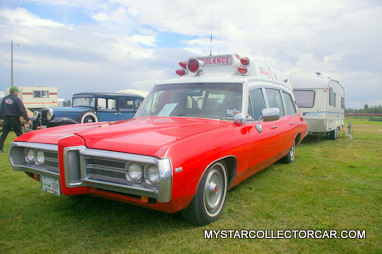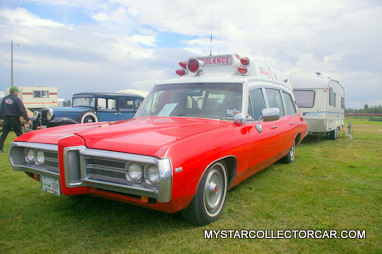 Fraser Field spent 30 years as a Paramedic so he's no stranger to driving an ambulance.
The "strange" enters into the equation when he's still found behind the wheel of an ambulance-a 1969 Pontiac Bonneville ambulance.
But it all starts to make sense when Fraser discloses that he was the tour coordinator (Wagon Master) for the 2010 Coasters tour.
This is Fraser and Dorothy Field's 2nd trip across Canada and he's truly enjoyed every mile-as he points out, "the big Pontiac is really comfortable to drive". The car has been relatively trouble-free with a coil problem and a separated tire being the two biggest issues.
That's not a bad record for a 41-year-old (in 2010) vehicle because these Coasters have to make daily deadlines and destinations. Nobody knows that better than Fraser because he was heavily involved in the logistics planning of the tour. That meant that his ride had to be the equal or better of any on the trip because The Coasters do like to poke fun at each other around the campfire.
This Bonneville has the monstrous 428 cubic inch motor. These old "pre-Paramedic" ambulances were known for their "snatch and go" strategy where high speed meant more than any kind of pre-transportation medical stabilizing. As Fraser pointed out "what they lacked in medical knowledge, they made up in horsepower".
The Pontiac has been upgraded with far more modern equipment so this ambulance doesn't reflect the bare bones lifesaving technology seen back in 1969. Fraser's favorite patient these days is a stuffed ape on the stretcher because as he explains, "it's a great patient because it doesn't complain too much".
Actually the most common occupant in the patient area is Fraser's grandson. As Fraser pointed out, "he lives back there with all that room, and we barely see him". If harried parents hear that it might start a spike in used ambulance prices.
When it's not doing cross-country touring, the Pontiac ambulance is used as a PR vehicle at car shows and parades. That's not a stretch-the big red Pontiac with all the emergency equipment could probably be spotted from space.
Dorothy Field is a willing participant in both Coasters tours (2000 and 2010). She describes it as "an awesome experience" and the people involved have been "truly wonderful". She happily points out "that wherever you are in Canada you're among friends because somebody on the tour is from that hometown area".
Car guys take note-pitching the significant investment in a classic vehicle to a wife is easy if you can point out the light at the end of the tunnel-this incredible road trip across one of the most beautiful countries in the world.
Needless to say-Fraser will have no trouble convincing Dorothy that the Pontiac should stick around for another 7 years-the 50th anniversary of the first Coasters Tour.
For more of an insight into the Coasters Tour please follow this link http://www.coasters2010.com/
Jerry Sutherland @mystarcollectorcar.com