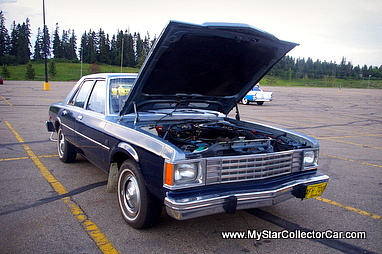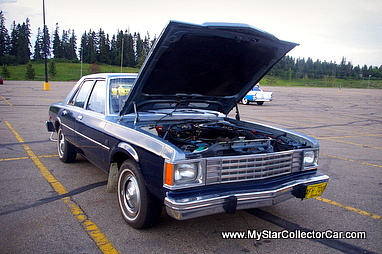 The Dodge Aspen and Plymouth Volare came to bury the Dart and Valiant–not praise them.
The four of them shared the American Bicentennial in 1976 but only two were around to clean up after the party in 1977.
Chrysler Corporation decided to go in a different direction in '77 when they cut Dart and Valiant from the team.
The Volare and Aspen were the new kids on the block and they had a five year run as the flagship vehicles for Mopar.
The cars were available in four door sedan and two-door coupe models. The two door T-Top models were late 70s eye candy for Mopar while the four door models were eye candy for drunks flagging them down for a cab ride home during thus era.
They served a flashier life as police cars in their four door versions, but they were never destined to be full-on babe magnet cars. The Volare and Aspen four door cars were simply a practical car that served practical purposes during their heyday in the Mopar lineup.
They faded to black in 1980 and few people thought much about these four door workhorses after they were gone. My father's last car was a 1977 four door Aspen when he passed away in 1978 and he had intended to trade it in on a then-brand new model Omni of Horizon four door sedan.
He was a practical man and either car would have suited his motoring needs at that point in his life but he died as an Aspen owner, so I have always had a soft spot for these long forgotten four door sedans.
Last summer I spotted a pristine 1980 Dodge Aspen at a car show and knew I had to meet the owner. It turned out the owner was a very likable guy named Paul Ranger, the very same Paul Ranger I knew from my school days as a kid.
The Aspen only had 20,000 (36,000 km) miles on it and there was no disputing the fact this baby was original and so was the mileage. Paul has owned it for the past four years and he is very happy with the car.
Paul pointed to a back seat that had never even had one passenger in 33 years. The original owner walked to work and rarely even drove the Aspen. It had not endured the rigors of winter in our area because it was not used in the winter-or any other months for all intents and purposes.
Paul is the second owner of the Aspen and he is the right owner of this survivor because he respects the unique nature of this low mileage blast from the past. He pampers his car and does not drive it hard down the road.
He has no plans to change anything about his Aspen because he realizes there are not many of these cars that survived into 2013, let alone an ultra-low mileage car. Paul has a car with a special history to get this far with its same youthful looks and he will not alter that fact.
MSCC salutes Paul because he has exactly the right approach to his car: Let it Be-just like the Beatles song.
Jim Sutherland