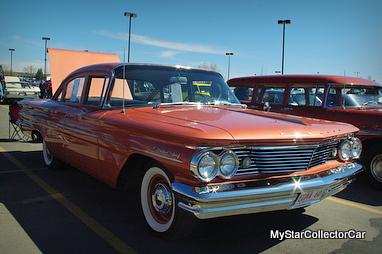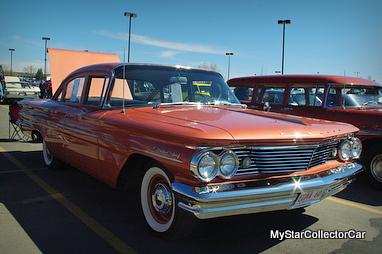 Our earliest car show of the 2015 season provided us with an unusual star.
We noticed a curious crowd of onlookers around a 1960 Pontiac Strato Chief four door sedan and decided to find out more about the unlikely car show rock star.
Owner Jake Bourrier filled in the blanks on his Poncho and most of it was based upon the car's history in his family.
His grandparents purchased the Pontiac new from the dealership in August 1960 and the car has remained in Jake's family since that day.
This Pontiac even has its original sales sheet that lists off its options and features that range from a padded dash, 2 speed automatic transmission, driver's fender mirror, rear arm rests, along with a full tank of gas.
The history of the car includes Jake because he became the Pontiac's owner in 1974 and used it as a daily driver. Jake took it through the Rocky Mountains on a road trip in the late 70s and put a "quick splash job" (cheap paint job) on it in the mid-80s before it was retired from the road for several years.
Jake retired from his regular job in 2013 and then took on the complete restoration of the Strato Chief as his new job, one that came with no wages and lots of hours. The original 261 cubic inch six-cylinder engine was overdue for a complete rebuild so that process was on Jake's list.
Jake wanted to restore the family heirloom back to its original specs, just like the day it left the dealership with his grandparents, thus he needed to keep the original powertrain in the car.
This car had survived the decades with minimal rust issues but Jake was careful about the body restoration and now the car looks better than factory. In fact, his attention to detail was one of the reasons people crowded around the Pontiac to get a better look at it.
Add in the fact that 1960 Pontiacs of any kind are not common at car shows.
This restoration actually only took about a year but remember Jake put on long hours on the Pontiac to get it finished for the show season. The result is a spectacular automotive tribute to his grandparents and even the car's name (Edna) honors his grandmother.
Jake can now enjoy his retirement for many moreyears because he has gone from working on the car to driving the car and that is the best part of the Pontiac Strato Chief game plan for him. It only has 64,000 miles on it, but we are sure it will get some more miles during the summer months on Jake's watch.
Jake told us the car is comfortable at 60 mph (100 km/h) on the highway and rolls down the road as nice as it ever did back in the early 60s when it was a brand new car.
We like a story where a car guy decides to save a four-door sedan with strong family connections and gets to drive down the road with all of those memories riding shotgun.
It does not get better than that in our opinion.
Jim Sutherland
CLICK HERE to Like us on Facebook
CLICK HERE to Follow us on Twitter
CLICK HERE to Follow us on Pinterest
Please re-post this if you like this article.