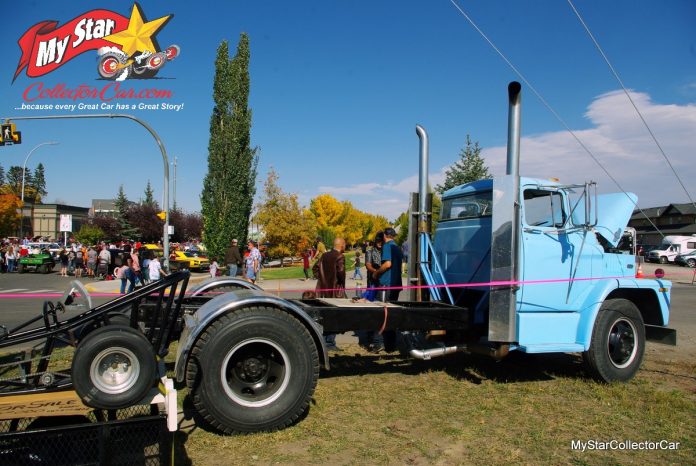 Impulse buys are the heart and soul of the car hobby because emotion triumphs over logic in a lot of car project purchases–there are hordes of wives who agree.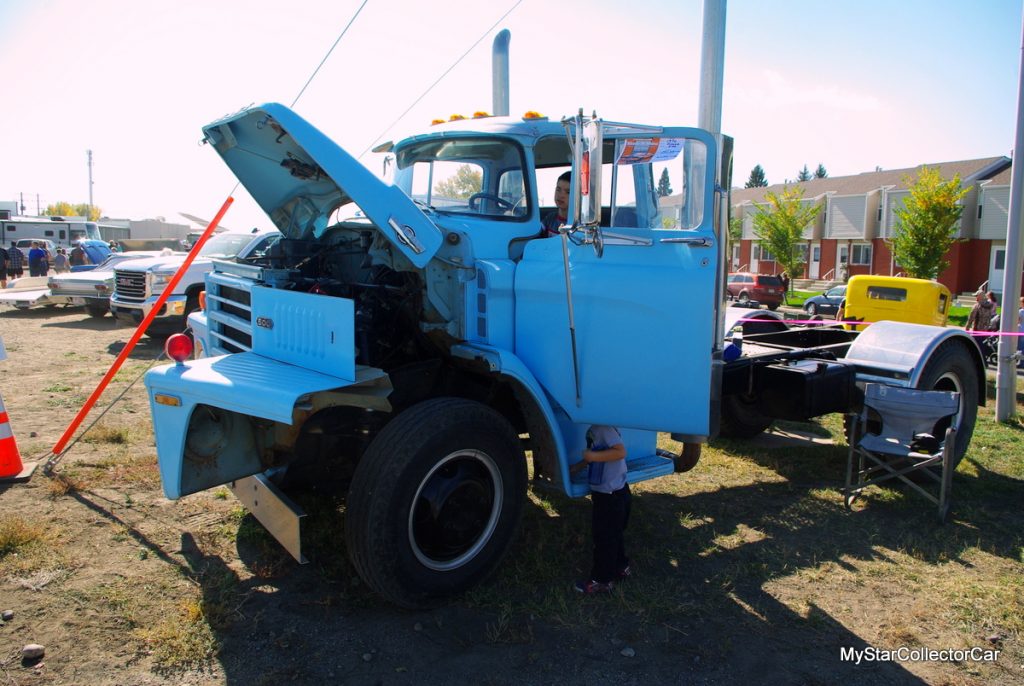 Mel Weston was a long-haul trucker for years and he covered many miles in the US and Canada. One of his jobs took him to Montana–that's where he spotted this low-mileage 1970 Dodge D500 for sale. It had 60,000 original miles on it and this D500 was used as a fuel truck at an airport. This was extremely light duty for a heavy-duty truck because vehicles like this were typically run into oblivion after years of abuse.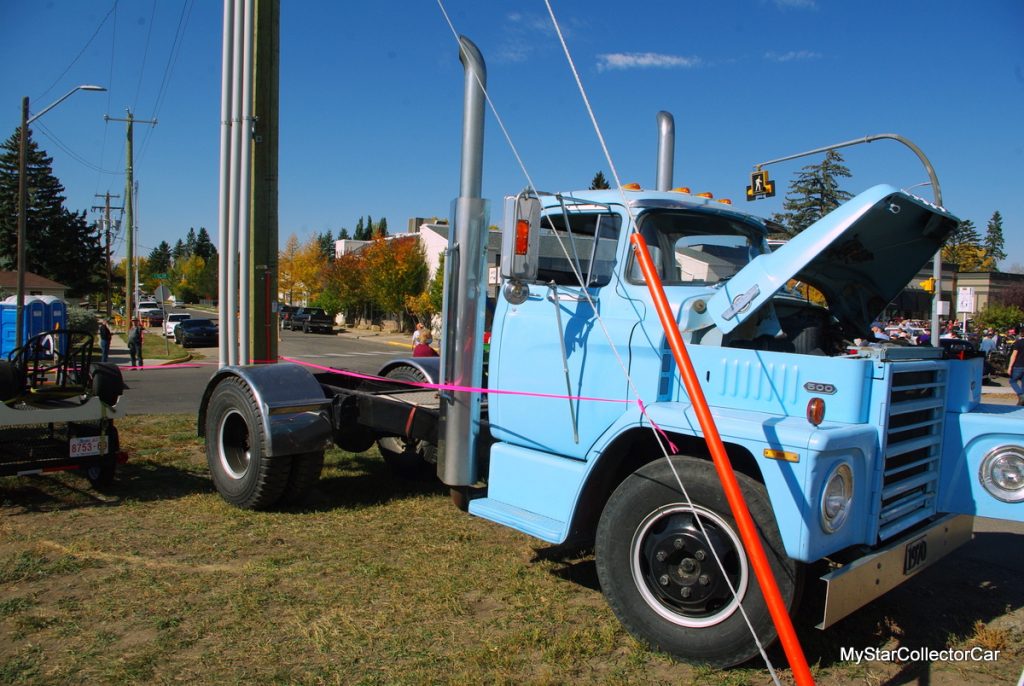 The big truck came with the 361 cubic inch V-8 and split-axle rear end, so it was all about work, but in this case the work was a short trip down the runway at an airport. Mel was impressed enough to ask what the price was–it was 1200 dollars so Mel couldn't walk away.

Mel and his son Dave picked the truck up a few weeks later and brought the truck back to Canada. Dave said the crossing was relatively uneventful because the paperwork was in order, but the truck was subjected to a thorough investigation by drug-sniffing dogs. Fortunately, it was clean, so they got the D500 home.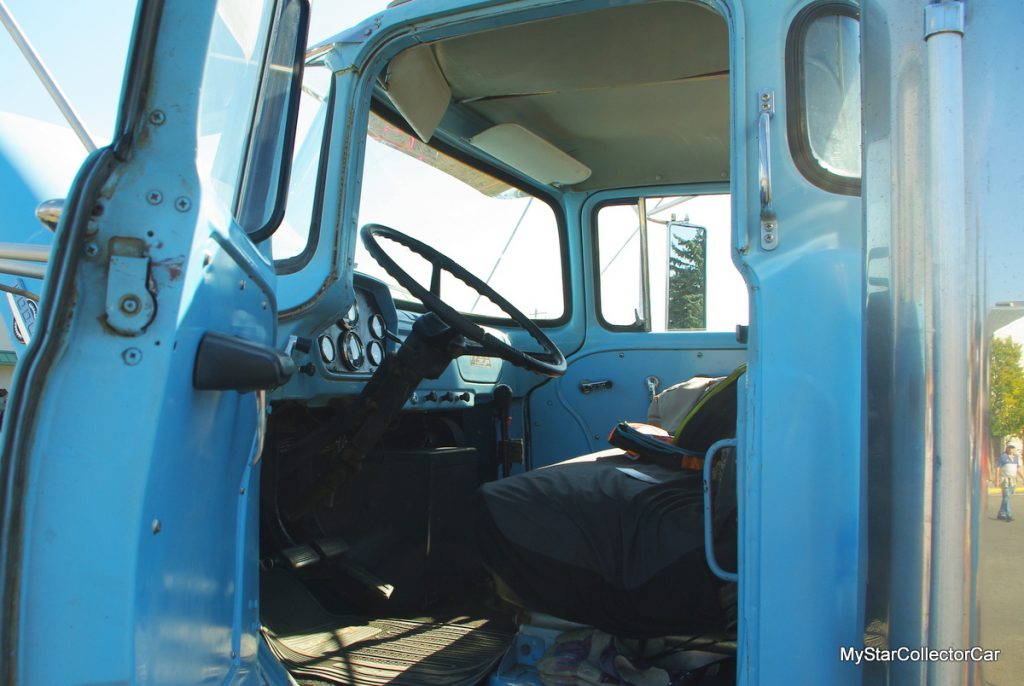 Mel mapped out a game plan for the truck, but Dave thought his dad was only "half-serious" about the project until they got into it. The 361 was the first casualty because Mel wanted more power to haul his fifth wheel holiday trailer and the 52-year-old engine wouldn't handle it at highway speed.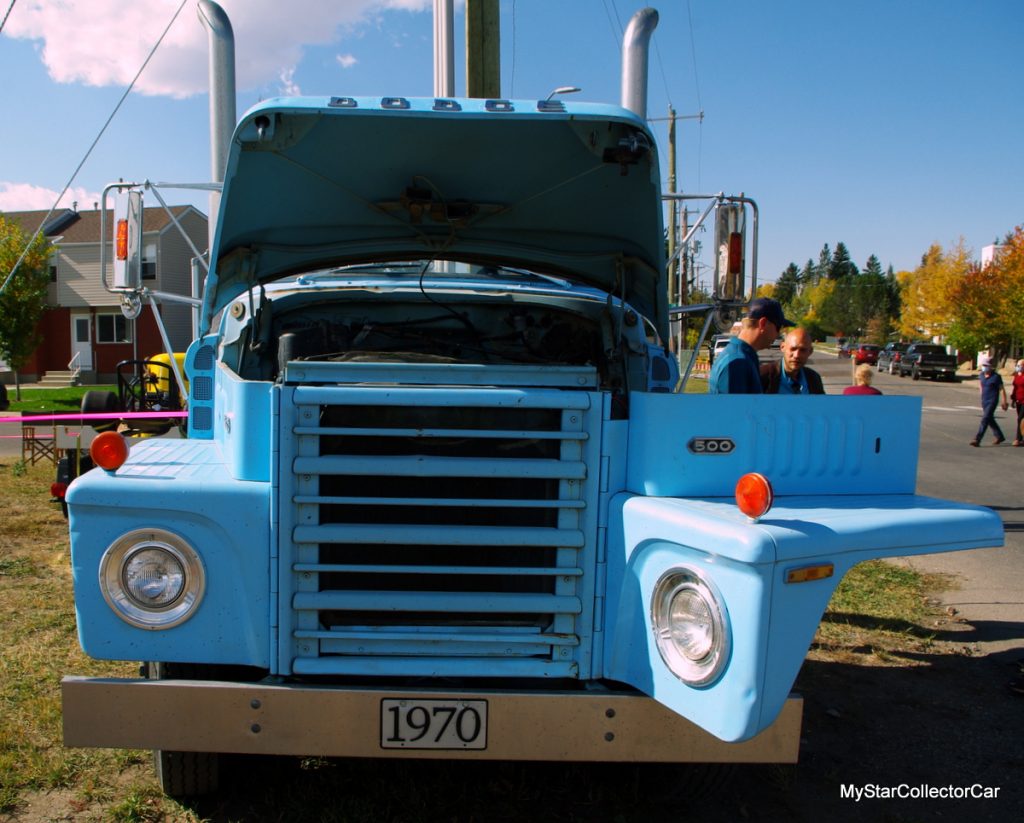 The donor vehicle was a 1995 Dodge ¾-ton with a 12-valve Cummins 5.9 diesel. It was an automatic, but the Westons sourced out a donor 5-speed manual transmission. Dave is an auto tech and he wanted something more compatible with the Cummins. The split-axle rear end was retained, so this truck became far more flexible for its trailer duty.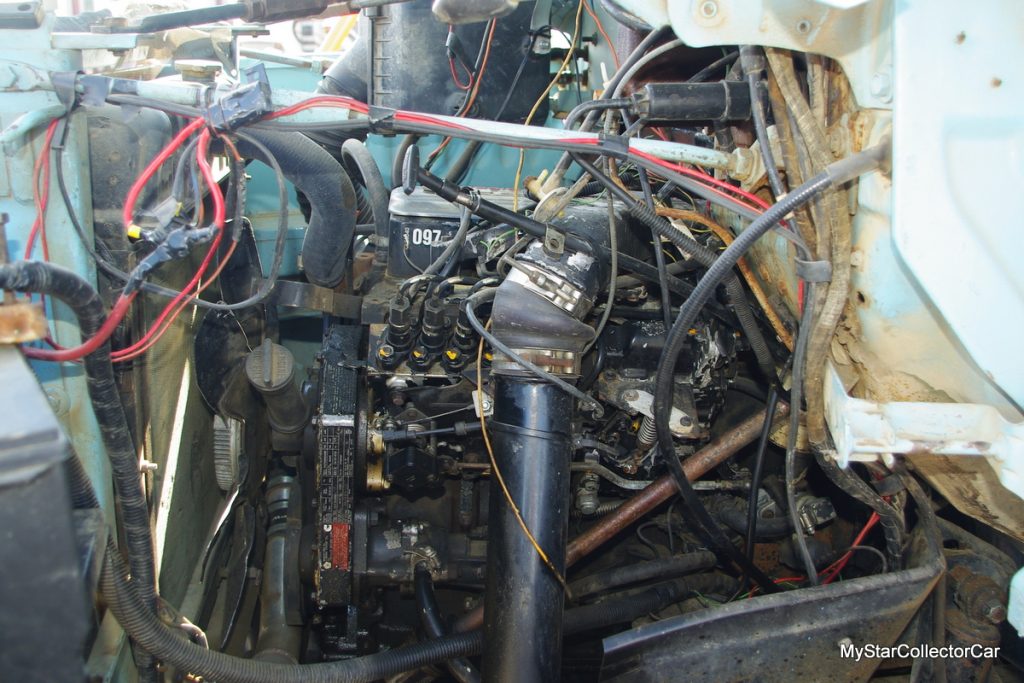 The process took only six months of work at a very leisurely pace because Mel and Dave only worked on it when it was convenient. Dave said the only serious modification was an engine mount, so the Cummins was a fairly easy swap. The stacks came from an IHC donor truck and Dave said the old Cummins can really pump out the smoke so there's a very visual side to this D500.
Dave said the truck rides great for a 62-year-old 5-ton truck without a load. The ride is still a work in progress because the weight of the trailer may help the ride feel less light at the back end, but generally the truck is ready to go. At this point, Mel and Dave are happy with the transformation of this D500.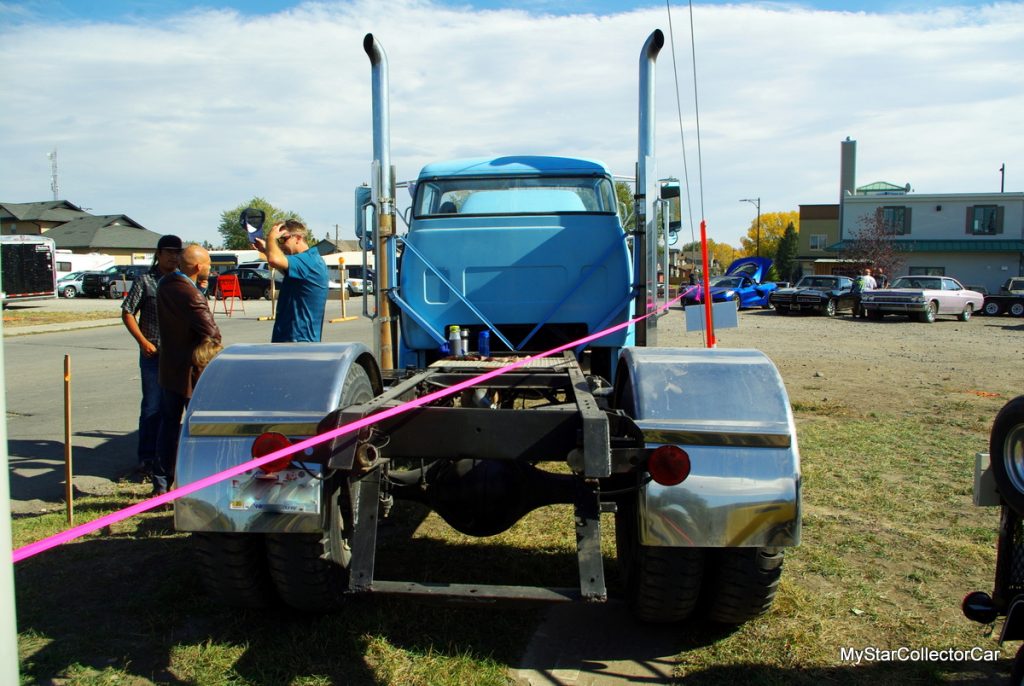 The game plan is simple. Mel is a huge Mopar guy, so he wants to retain the original blue paint because it reminds him of the legendary Richard Petty Plymouth Blue.
Mel also has his first road trip planned for the truck and trailer–he's going to drive it through the Rocky Mountains of British Columbia to see his daughter.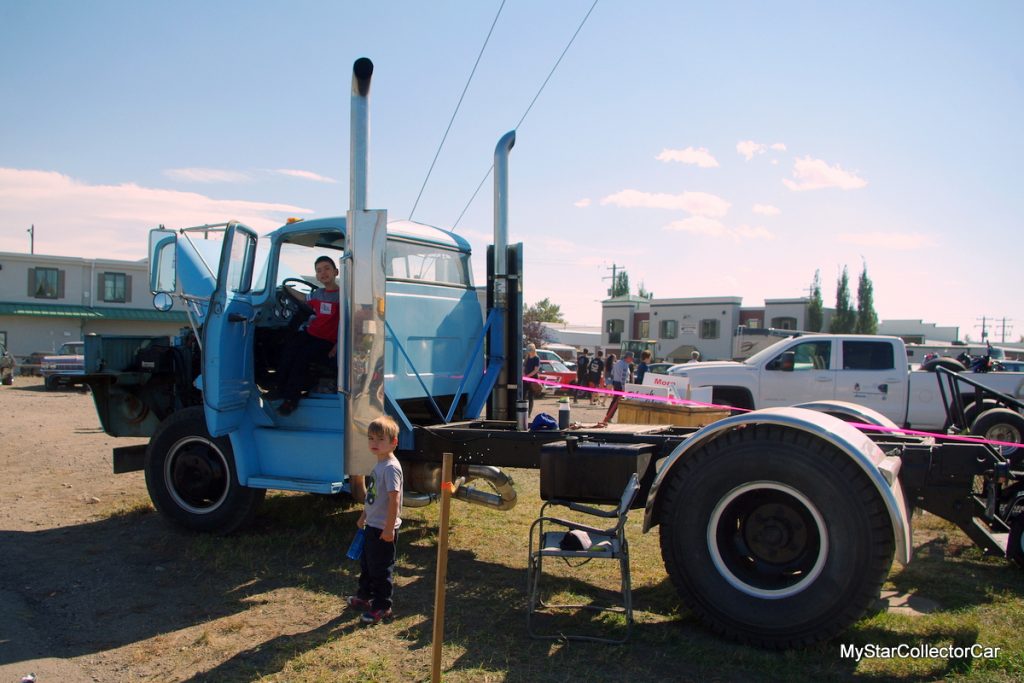 Jerry Sutherland
Jerry Sutherland is a veteran automotive writer with a primary focus on the collector car hobby. His work has been published in many outlets and publications, including the National Post, Calgary Herald, Edmonton Journal, Ottawa Citizen, Montreal Gazette, Saskatoon StarPhoenix, Regina Leader-Post, Vancouver Sun and The Truth About Cars. He is also a regular contributor to Auto Roundup Publications.
Please re-post this if you like this article.