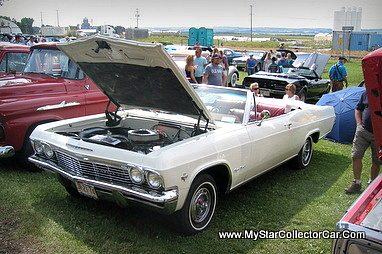 Those of us from a certain age remember a golden era of TV that included 'Bonanza' in the Sunday night lineup.
The Cartwright boys were the toast of Virginia City and rode into town from their sprawling Ponderosa Ranch many times over their long TV run.
They rode magnificent horses during the series, including a beautiful pinto owned by hot-headed Little Joe Cartwright.
There was one time the Cartwright boys showed up with a few TV friends like Samantha (Bewitched) Stevens and Napoleon (Man from UNCLE) Solo in frontier Virginia City with a different kind of transportation: the 1965 model lineup from Chevrolet.
Joe was behind the wheel of the '65 Impala during that commercial and the car was a striking as his horse in 1965. Some of us were young kids who were a little shocked to see cars on the streets of one of our favorite TV western's streets, but it was a very effective commercial for the Bowtie Boys.
We never forgot the sight of the cars in an Old West town and we never forgot the cars themselves in that setting.
The sight of an incredibly well-restored 1965 Impala SS convertible definitely got our attention at a summer car show. The owner was Brian Temmerman and he did a complete frame-off eight year restoration on his Impala.
The car was completely dismantled and blasted before Brian began his restoration of the Chevy. It was a painstakingly slow process that spared no attention to detail during the rebuild process. Brian is a retired body-man who decided to devote his spare time to the ultimate project for his retirement years.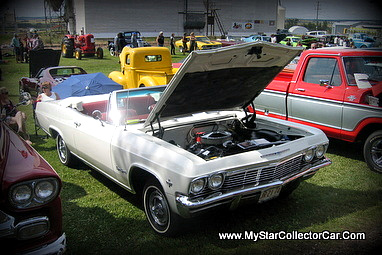 The original 283 engine was swapped out for a 327 replacement so that Brian could put a little more "Super" in "Super Sport" after the restoration was completed to his satisfaction. The car actually had very little rust beyond some issues around the rear body mounts and it was pretty straight in its original condition.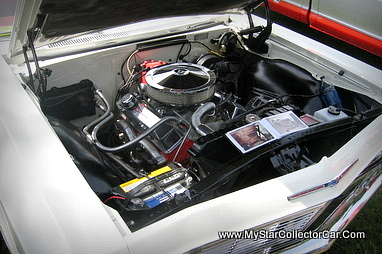 However, two donor cars were used during the restoration so that Brian's car would get back on the street as a new king of the road. Brian also added a brand new brake system, gas lines and a gas tank to his Chevy SS convertible restoration. The extra added touches include a rear speaker and a factory tissue dispenser.
The car has a complete factory gauge package that includes a manifold vacuum gauge in the mix. It even has a factory clock that Brian believed was also part of the SS package.
We discovered the car at a small town show that was very close to Brian's home. It turned out that the car only had 50 miles on it since the completion of the restoration and Brian was not likely to rack up a lot of future miles in it.
Brian was well aware of the time and expense that go into this level of restoration from a personal viewpoint and he was not eager to do any harm to his long term car project.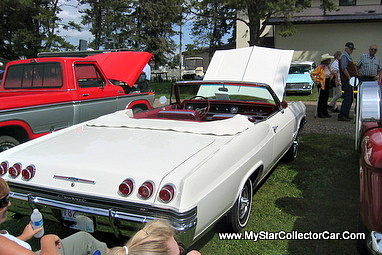 We consider ourselves very fortunate that we were around during one of its rare appearances because this 1965 Chevy SS convertible is a beauty.
Jim Sutherland