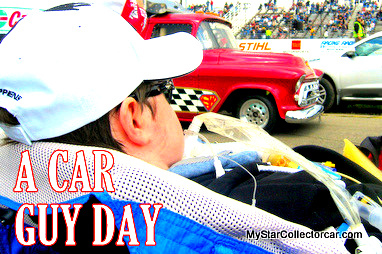 We have chronicled the car events in Aidan Fitzgerald's life since we met him last summer.
Aidan has Duchenne Muscular Dystrophy, so attendance at car events is pretty rare for him.
But a local racing legend and friend of Aidan's named 240 Gordie Bonin made it happen in a big way.
Gordie worked for several months with the CASTROL Raceway people near Edmonton Alberta Canada to get Aidan to his first Rocky Mountain National drag race.
The entire event hinged upon cooperation between race people and Aidan's care facility in Edmonton. Gordie collaborated with Aidan's parents (Alexandra and Rick) as the posse to make it happen for Aidan.
Aidan required a specialized medical aide and a wheel chair transportation vehicle to get to the races. He also required a big wild card from the weather because drag races do not take place on wet tracks.
Gordie worked with Aidan's parents and Rob Skaggs from Wakefield Canada to get the ground details arranged and prayed that the airborne details (very fickle June weather) cooperated for the Sunday races.
Let's just say that Sunday's weather cooperated enough to give Aidan his first taste of ¼ mile madness, complete with burnt rubber, crazy octane fuel and insane horsepower.
Aidan was also the guest of honor at the race, and an emotional 240 Gordie delivered his young friend's introduction to the race crowd.
We have mentioned that Aidan communicates with his eyes because his illness has taken away his ability to speak, but that is not a problem when you get to know him. He speaks volumes through his eyes and he was a chatter- box on Sunday.
The event was huge for a first time visitor to the track and Aidan's position near the start line gave him a close look at the pre-race burnouts and thunderous sounds of the drag track. One competitor blew a piston on his run and presented Aidan with it as a souvenir.
One of the basic elements of the car guy culture is its generous and giving nature. A car guy is a car guy, whether he is a car guy on a ¼ mile track, or at car shows with his beloved ride. Either way, the universal code is friendly competition and a willingness to help a brother car guy.
The events of Sunday June 26, 2011 were the result of serious cooperation between car guys and friends of Aidan. He is one of the car guy fraternity and they were more than willing to tackle the logistics of the event.
But it all started with four people: Aidan Fitzgerald, his mom and dad, and the dogged determination of 240 Gordie Bonin to make things happen over the winter. Aidan was determined to attend his first race and that was all they needed to run with the concept.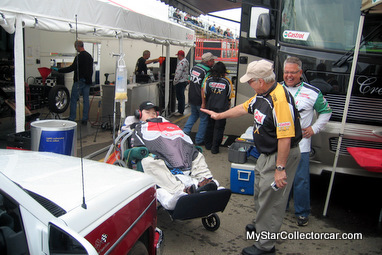 It's obvious that Aidan Fitzgerald and 240 Gordie Bonin have an incredibly strong common bond: they are both car guys constructed with a strong will to tackle problems that happen when a situation presents obstacles.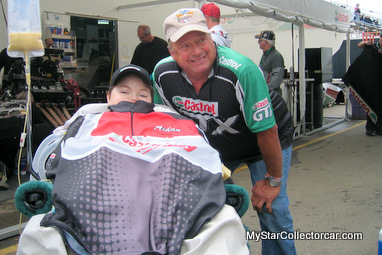 That common link gave both a chance to share a big moment at the track- and I think the two of them even scared off the rain that day.
Jim Sutherland

Jim can be reached at jim@mystarcollectorcar.com
COMMENTS
GERRY:"It was a wonderful day with wonderful people, Gordie went above and beyond for this and was rewarded big time, you could tell by the big grin on his face, Denise had a glow on her face and it was wonderful to see. What more can you say about Mom & Dad (Alex & Rick), the sacrifices they have had to do over the years, and get him there and were just overwhelmed, they deserve it, Jim & Jerry Sutherland for being there and putting such a great story about the event, Kudo's to Robert Skaggs and the Castrol Crew, anything they wanted or needed they were there instantly, anything. Sure makes a body feel good to see that kind of good happening to this young man and again WAY TO GO 240 GORDIE, LOVE YOU MAN.
TREV:"Aidan What a great story! Since I had the pleasure to meet him last fall, I always wondered how he is. So it was a great to see 240 Gordie and many other people put a plan together and make a great week end for this young man. As I have said before it is a absolute pleasure to be rubbing elbows with old school rodders (and new) who try to bring happyness to Aidan's life. Thanks to EVERY one involved, I am proud of all of you. Aidan, I am hoping for a medical miracle for you, your courage inspires all of us, young and old.You keep rockin' we all think of you often. Take care–The Rev
MY CLASSIC CAR:"That's great! It looks like Aidan had an awesome time. Thanks for sharing".
JOJI BARRIS:"That is truly amazing, what a day for him! God Bless you all"