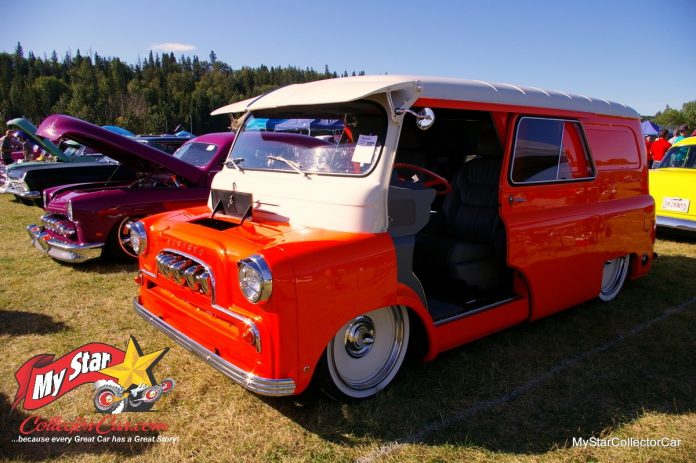 Peggy Vanhees is the proud owner of a very cool 1959 Bedford CA van that has undergone a major transformation from a mild-mannered little British delivery vehicle into a customized show-stealer.
The Bedford CA van was equipped with a modest little engine that delivered great gas mileage with very limited horsepower, two important factors that made it an ideal vehicle for urban use, along with its smallish size.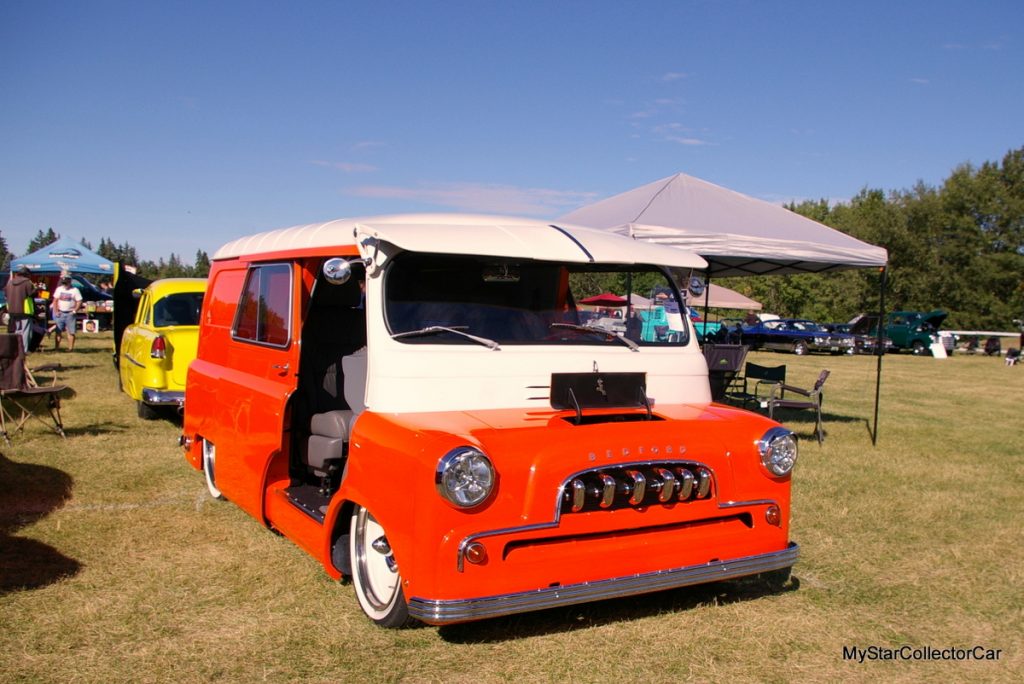 Peggy thought her left-hand drive Bedford was likely used as a milk delivery van in an urban Canadian environment where it could showcase its frugal gas consumption as a commercial vehicle. Those days of active service were well behind the Bedford by the time Peggy spotted it in a field and no longer in use.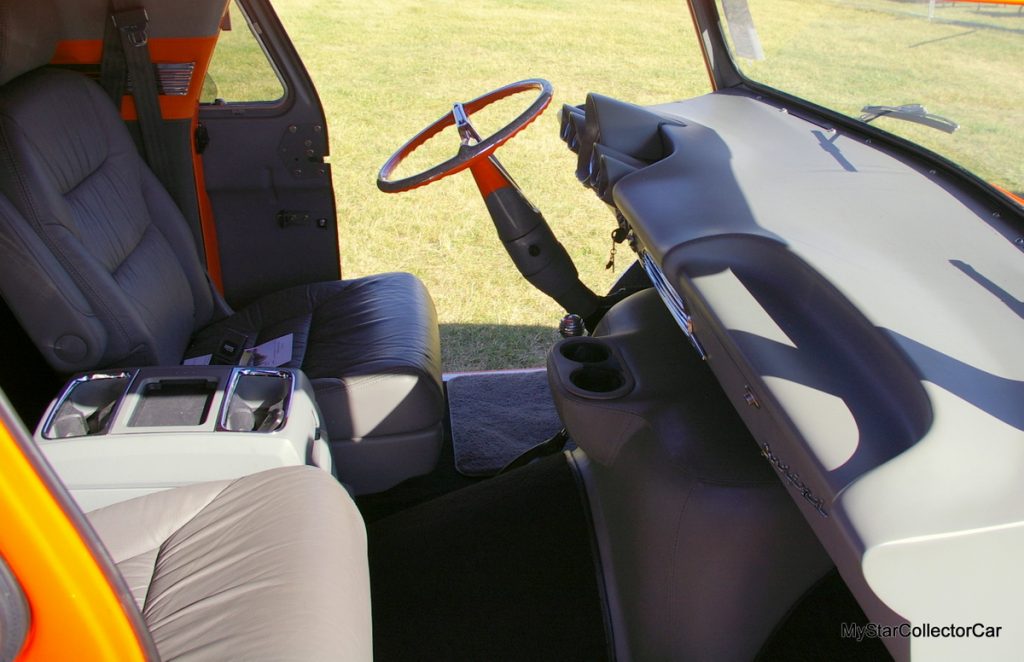 Peggy's reaction to the Bedford was instantaneous: "OMG it's cute!", a reaction to the van that was common for women, given its overall style. Peggy and her husband decided to buy the vehicle, although he drew the line at a pink paint job on the Bedford.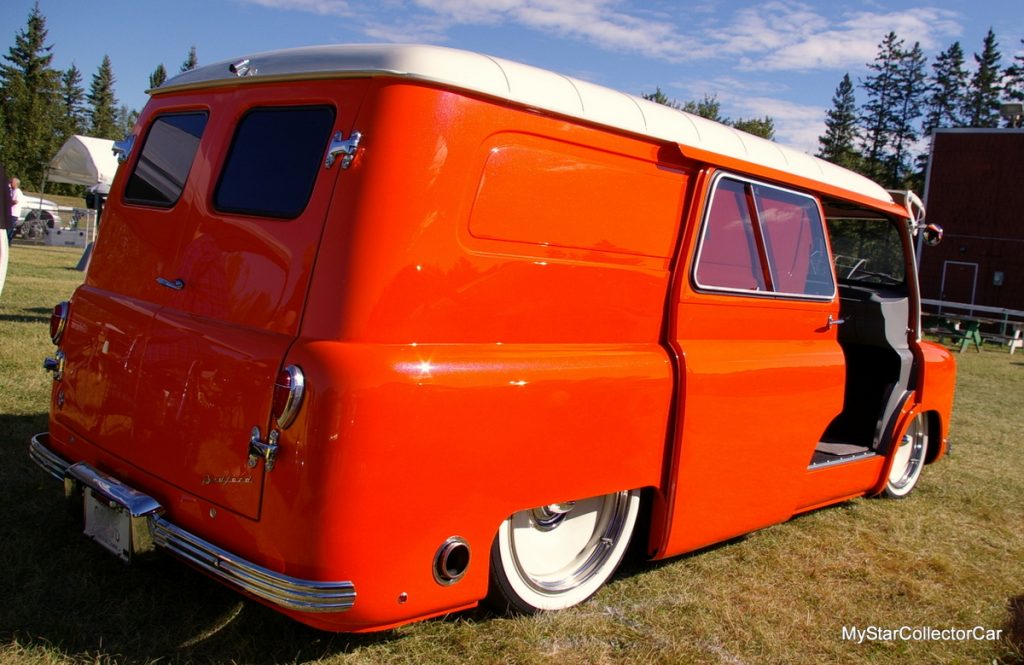 Instead, he reached a compromise with Peggy and included a subtle pink pearl fleck in its two-tone paint job. The rest of the build process was a radical departure from the Bedford's humble factory beginnings.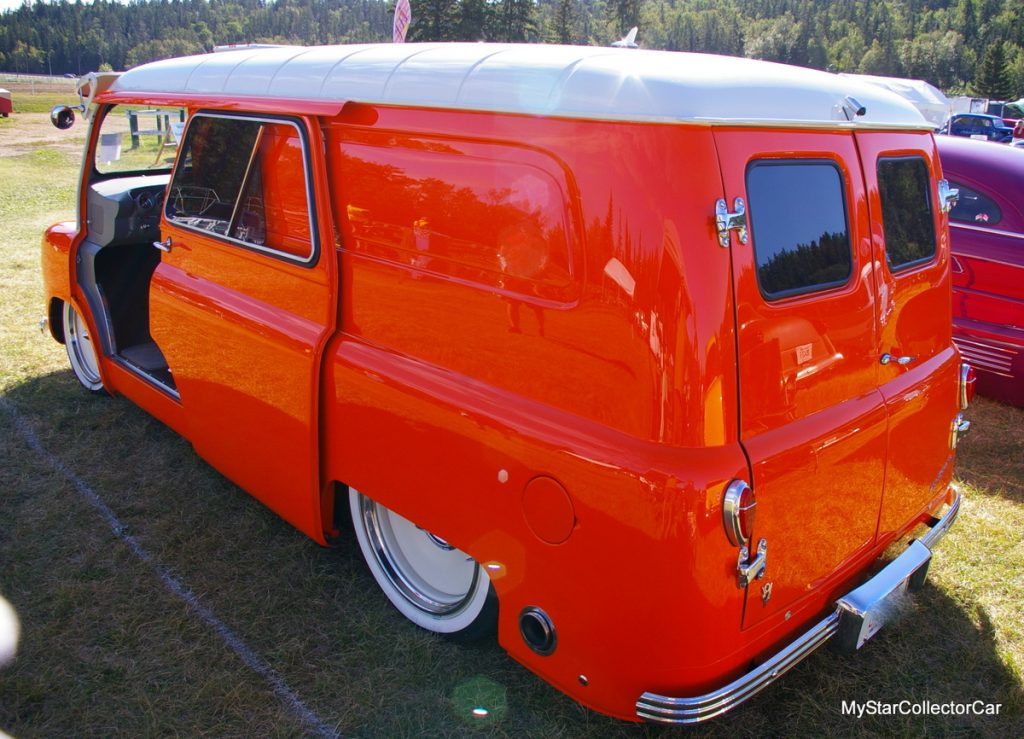 The Bedford has undergone a major heart transplant from its modest 4-cylinder engine to a beastly LS2 engine commonly found in 21st century GM performance vehicles. The new muscular engine is bolted to a 4-speed automatic that gives the Bedford a much higher rate of speed upon request.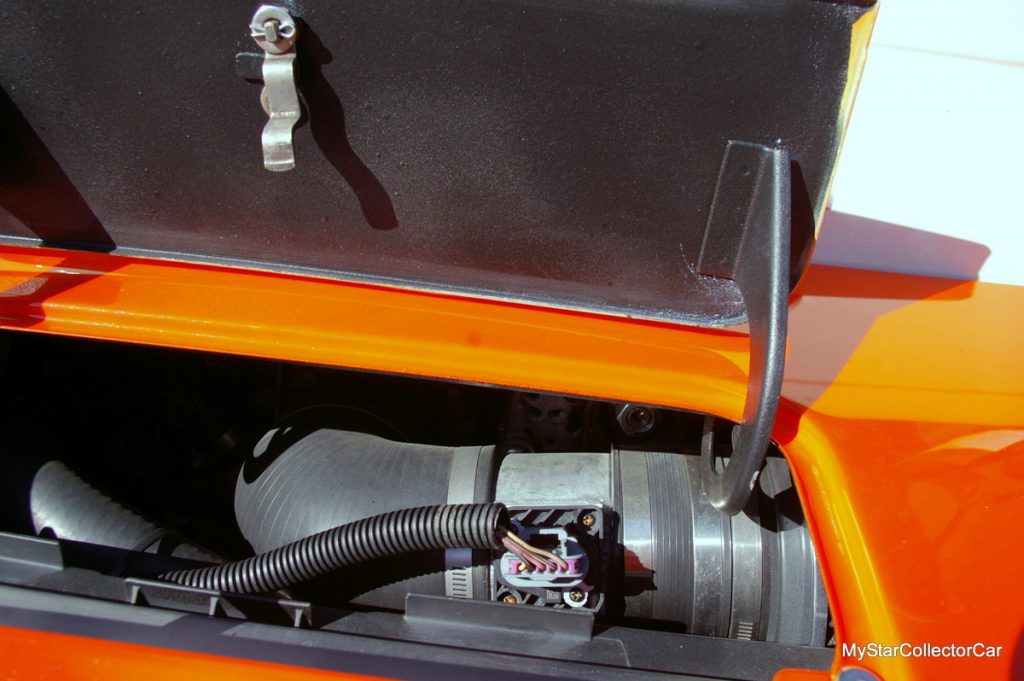 Peggy loves to drive the van and keeps a steady pace on the road behind the wheel. Sharp-eyed MyStarCollectorCar readers will notice the Bedford's instrument panel because it was donated by a 1959 Chevy and is a very cool custom touch in the van. It also sports a complete gauge package to monitor the LS2 engine's vital signs.

The Bedford can handle the new horses under its hood because it now has rack-and-pinion steering and a four-wheel disc brake system to harness the extra ponies.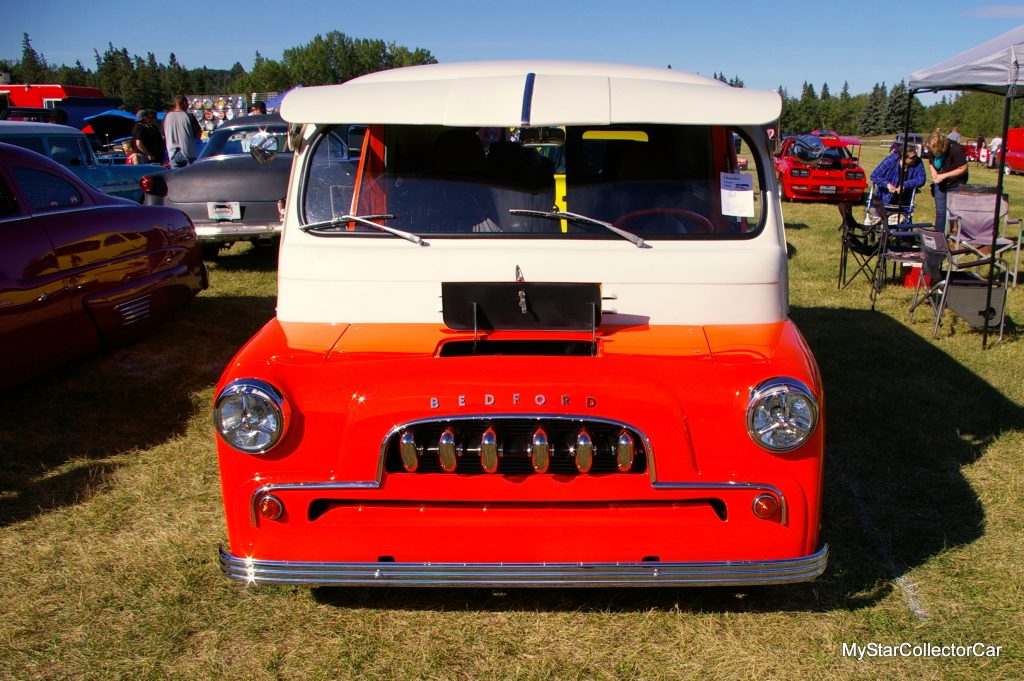 Peggy's Bedford van has also been upgraded with many creature comforts, including tilt steering, power brakes, power steering, air conditioning. The interior of the van is now passenger-friendly because it is no longer a simple milk truck, it's a people hauler in Peggy's world.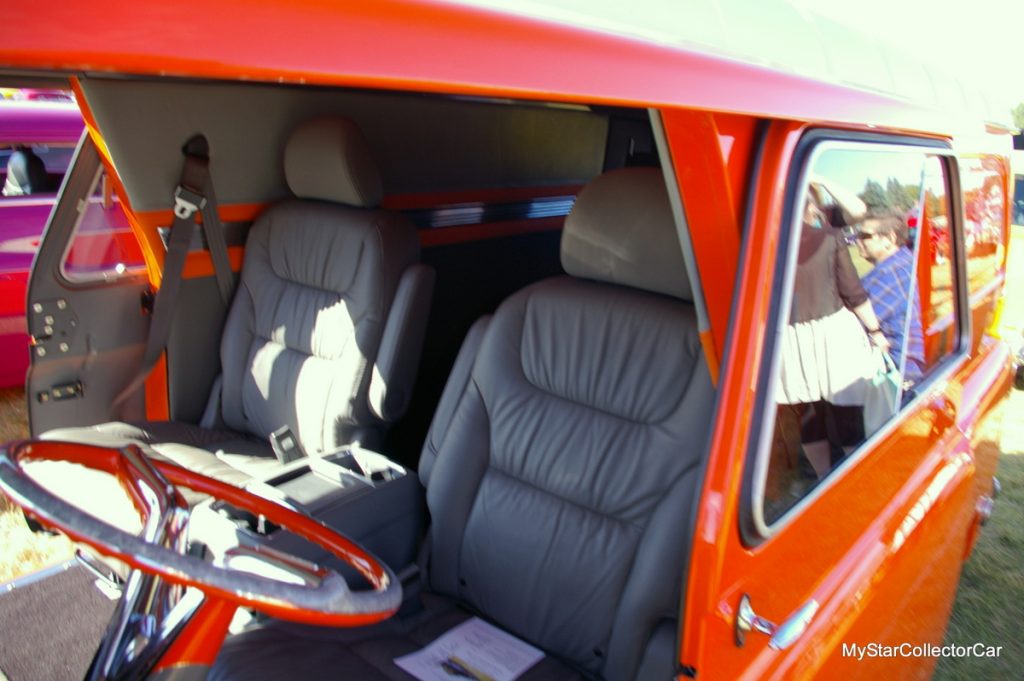 In fact, her Bedford's passenger list includes grandchildren who love rides in her van. The rear quarters of the van now have seats for her grandkids to enjoy the ride.
The driving experience in the resto mod Bedford is off the charts for Peggy. She told MyStarCollectorCar that her van is "Beautiful on the road-like a brand-new car", in Peggy's viewpoint.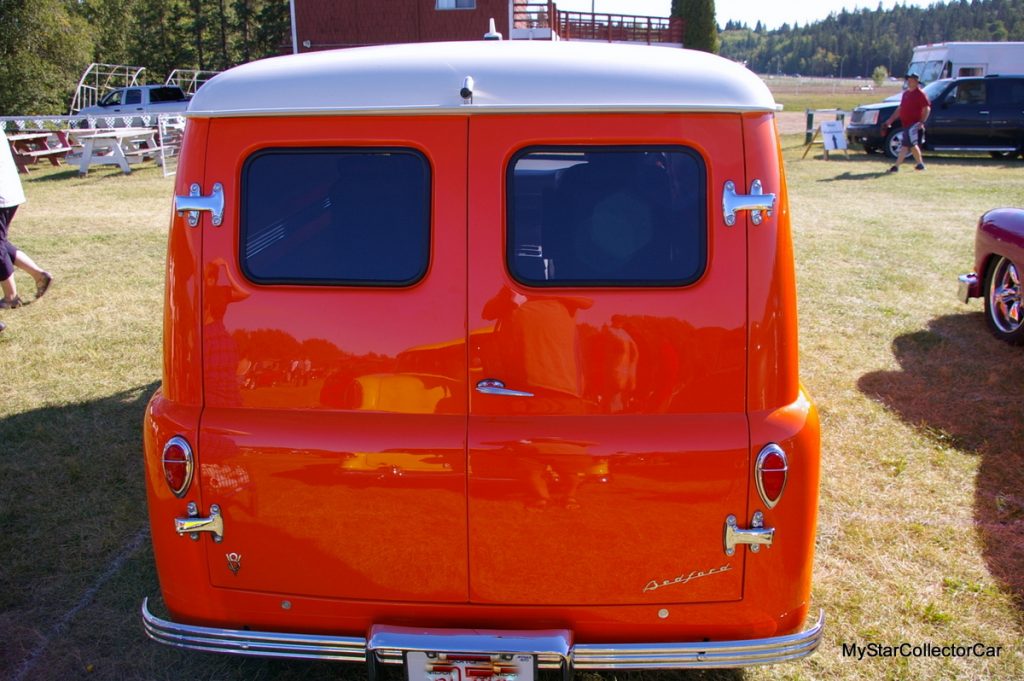 BY: Jim Sutherland
Jim Sutherland is a veteran automotive writer whose work has been published by many major print and online publications. The list includes Calgary Herald, The Truth About Cars, Red Deer Advocate, RPM Magazine, Edmonton Journal, Montreal Gazette, Windsor Star, Vancouver Province, and Post Media Wheels Section.