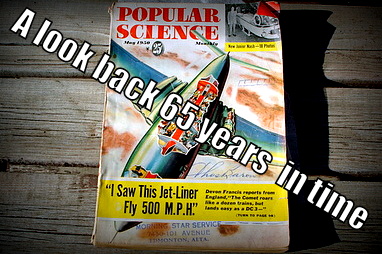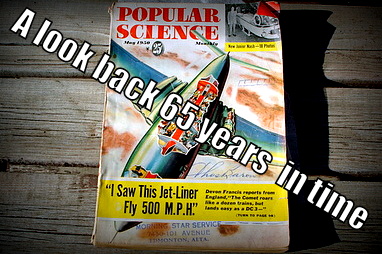 All things were possible in 1950 at the dawn of a new decade and most of the ideas hit the pages of Popular Science magazine.
Sure we are all still waiting for the anti-gravity cars, but the cover of the May 1950 Popular Science showed the future of air travel with a proto type passenger jet in an era of prop planes.
Truth be told, the two co-founders of MyStar were also a distant future concept in 1950, but we would become huge fans of Popular Science in the 60s when we acquired an ability to read in grade school and nurtured a huge interest in cars.
The basic format of the 1950 Popular Science magazine was still pretty familiar to us because this edition had a car test feature, Gus Wilson and car trouble-shooting tips.
All of these sections were still a part of the newer Popular Science magazines when we became fans.
The car in the May 1950 edition was a Nash Rambler, the unassuming little car from a soon-to-be-extinct American manufacturer. The article showed the practical side of Nash Ramblers and even put one on its roof to show its strength in a rollover scenario.
The car was neither fast nor furious, but it offered a durable and reliable choice for its target buyers; young families on a budget who needed a set of wheels.
The magazine did include a sporty limited edition car from Frank Kurtis. His cars were even fast by today's standards and hit a top speed of 142 mph (230 km/h) on the Bonneville Salt Flats. These rare sports cars command huge money in today's collector car auctions.
Our MSCC favorite was always Gus Wilson, the mechanic/detective who solved car problem mysteries in every issue of Popular Science from 1925 until 1969. Gus and his sleuth talents solved a brake problem for a guy who blew a stop sign and was issued a traffic ticket in the May 1950 Popular Science.
Gus pinpointed the problem as cheap brake fluid and warm brakes. He concluded that an unscrupulous mechanic used cheap fluid to save a few pennies during a brake repair. Gus warned about cut rate mechanical work and helped the guy beat the traffic ticket. A happy ending with a lecture: the very trademark of a Gus Wilson story.
One of the driving tips included in the magazine showed the perils and pitfalls of a 50s-era car towing a holiday trailer. The idea of a soft-sprung, under-powered car pulling a massive trailer on a bumper hitch is a horror story in 2015, but it was the norm in 1950.
Popular Science showed the proper way to tow a trailer in 1950 but, in reality, there was really no good way to tow a trailer 65 years ago if the method included a bumper hitch and drum brakes. The best case option was a fifth wheel hitch inside the trunk and over the rear axle, along with a do-it-yourself trailer brake hot-wired inside a coffee can.
Any of the options listed above ensured a 1950 summer holiday towing a trailer had the possibility of an Indiana Jones adventure on the road.
May 1950 was a time long before today's computer-controlled cars and offered an opportunity for people to work on their own vehicles. Popular Science had an automotive tips section where readers provided solutions to mechanical issues.
For example, a broken balance weight issue on an exhaust manifold was solved by a lead counter balance weight held in place by a plumber's strap in one helpful hint submission from a reader.
Another reader suggested phosphorescent paint above the ash tray to help smokers find it at night. It was a different time with fewer frills like ash tray lights in cars and lung cancer research.
We at MSCC enjoy these time portals to the past with vintage magazines like this May 1950 Popular Science when anything was indeed possible and the sky was the limit.
Stayed tuned for more of these retro magazine features in future MSCC articles.
Jim Sutherland
CLICK HERE to Like us on Facebook
CLICK HERE to Follow us on Twitter
CLICK HERE to Follow us on Pinterest
Please re-post this if you like this article.