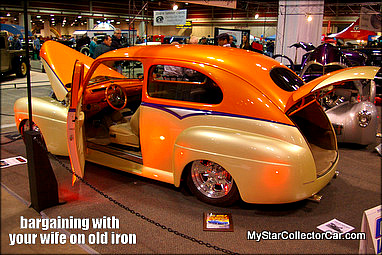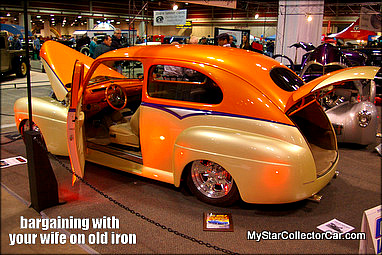 We have often mentioned the eternal struggle between wives and old cars faced by car guys when the concept of a vintage vehicle purchase hits the table for discussion.
The reception can be very chilly when these guys run headlong into the immovable barrier of a bride without a car guy's soul.
Sure we have endured the wrath of many women who are heart and soul car guys over the years, but the prevailing attitude still remains largely the same: old cars are not at the top of most household priority lists for wives.
We at MSCC do see the point put forth by reluctant brides when a choice between a four wheel disc brake package and a new washer are the points of debate. The daily function of a household is more dependent upon the washer than a retro-fit brake package on a vintage vehicle that gets driven maybe 20 times a year.
There is logic in the washer-first argument that even Mr. Spock would be unable to counter in his best days as a cold-blooded Vulcan. There will be a new Maytag long before those brakes are ever on the old car if the car guy wants to stay in a happy marriage.
However a conversation last week with an attractive woman gave me a new angle on domestic negotiations that had never occurred to me prior to that talk.
She had been married long enough to understand that marriage is a long series of negotiations and compromises, including the debate about priorities in matrimony.
The woman was very assertive and explained to me how things worked in her marriage when the issue of cars was presented to her. She wanted any custom body work to begin with her and thus reflect the wonders of modern cosmetic surgery for people, not old cars and trucks.
She explained the first priority was her body and, after that, her husband could invest in any old car or truck body that caught his interest. Quite frankly we at MSCC had always thought in terms of cosmetic upgrades to a house as a point of marital negotiation for car projects, but we are not marital experts- or even that bright for that matter.
But the attractive woman who enlightened me about this new-to-me marital twist to car guy negotiations was quite confident with her game plan for a successful outcome to the proceedings. I didn't have the nerve to ask her whether she had enhanced herself in the past and subsequently ended up with a restored old car in the family garage as part of the negotiations.
In hindsight, she probably would have told me.
Jim Sutherland
Follow us on Facebook at-http://www.facebook.com/MyStarCollectorCar
Follow us on Twitter at- https://twitter.com/#!/MyStarCollecto1