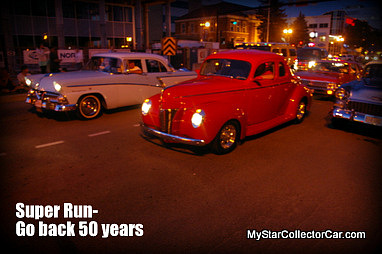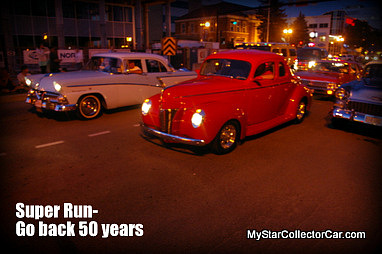 There's an ongoing scene in American Graffiti that really defined the automotive era back in 1962.
The movie revolved around an endless stream of classic old cars traveling up and down the "main drag" of a small California city set in the early 1960s.
This was a way of life for kids back in '62…when most of those old rides weren't old.
This endless parade of 1950s-60s sedans and hot rods represented two things to an 18-year-old in the early 1960s–freedom and a social connection.
There was no better way to see and be seen in 1962 than cruising the "main drag" in your car because Twitter and Facebook were almost 50 years away. Most observers, then and now, will agree that this automotive social network was a much cooler, far more visual strategy for social interaction.
Red Deer, Alberta, Canada hosts a car event that really recaptures the Spirit of 1962. It's called Super Run and this show happens every three years in this city of just over 90,000 people. They call it Rock'n Red Deer when it hits town.
Red Deer is the perfect location for this automotive event because the city has a huge gear head to citizen per capita as evidenced by the incredible turnouts for a regular Thursday night drop-in show at a local mall. This event attracts hundreds of cars on any given night and raises tens of thousands in sales at barbeques hosted by the local Food Bank.
Thursday Night Cruise organizer "Challenger Dave" has watched this drop-in show get bigger and bigger as it outgrows venue after venue. He fully expects the regular Thursday night show to shatter all records during the Super Run Week because the Super Run will attract well over a thousand cars over the course of the event. The Super Run culminates on the weekend as the show sets up on a huge parking lot at the local fairgrounds.
Red Deer starts turning back the clock on the streets earlier in the week during Super Run as more and more classic rides take to the road in scheduled and unscheduled runs but the biggest American Graffiti moment happens on Friday night in the heart of the city. This is like a time machine back to an era when you were clearly defined by your ride.
The real strength of American Graffiti was the accuracy found in the car scenes. This was unlike other movies that tried to capture a moment in time because George Lucas chose a cross section of cars to fill the streets of this "main drag". Other movies put everybody behind the wheel of a '32 Ford hot rod but this movie was far more real because you had Studebaker sedans next to Volkswagen Beetles stopped behind Edsels.
Sprinkle the occasional vintage police car in the mix and this movie could have been filmed in any town back in the Kennedy era…or 2012 Red Deer during a Super Run.
American Graffiti worked because older drivers in 1959 Plymouth sedans shared the road with younger guys in '58 Impalas.That's the way it really was back in '62. This was a time when a hot rod stood out in traffic like a neon sign because most of the iron on the streets was very mainstream.
You talked your Dad into handing over the keys to the family Bel Air wagon and hit the streets with your buddies in 1962 because the most important thing was to arrive — it wasn't how you arrived.
That's how downtown Red Deer looks during Super Run because this traffic jam is period correct –it's full of classic iron and vintage muscle but the movie fiction of American Graffiti will come alive 50 years later on the Friday night streets of this car-crazy little city.
This is a rolling car show that really encompasses the length and breadth of the hobby because anything from 1910 and newer will make a pass on the "main drag" in Red Deer. In this case, there are two main drags because Ross Street runs through the heart of the city center and Gaetz Avenue extends for miles from north to south.
These old classics take every potential parking space in downtown Red Deer on Friday night so hundreds of cars have to make pass after pass through the city but the mission is simple –see and be seen.
Just like it was in 1962.
Jerry Sutherland
Follow us on Facebook at-http://www.facebook.com/MyStarCollectorCar
Follow us on Twitter at- https://twitter.com/#!/MyStarCollecto1