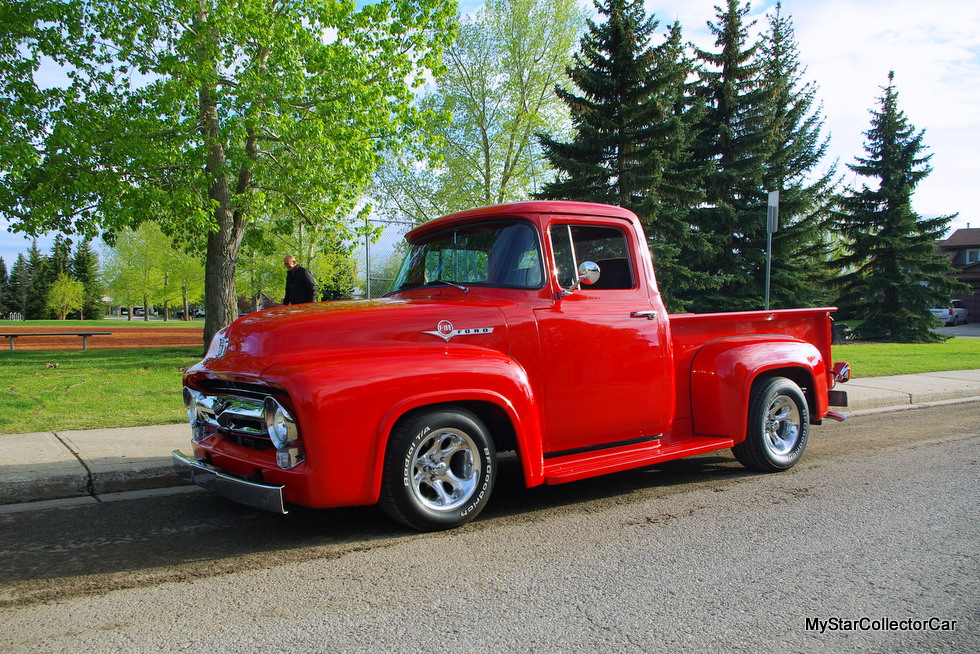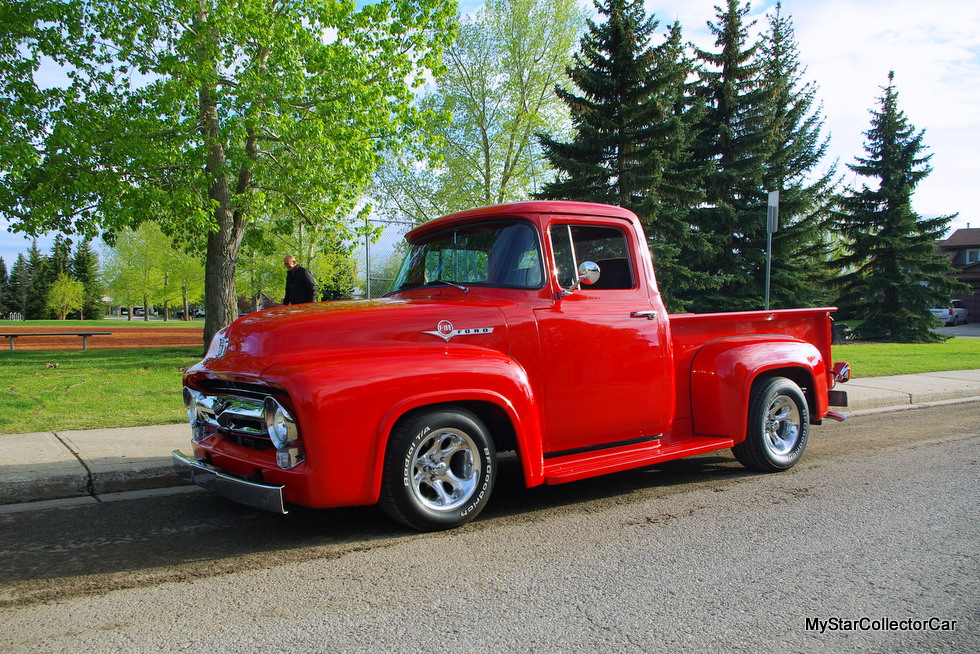 1956 Ford F-100s are even more popular in 2017 than they were 61 years ago when they were brand new.
The trucks were built for hard work and spent most of their time with blue collar owners on job sites and farms.
The years were not typically kind to the F-100 trucks because of their designed purpose to work until they were unable to handle the task.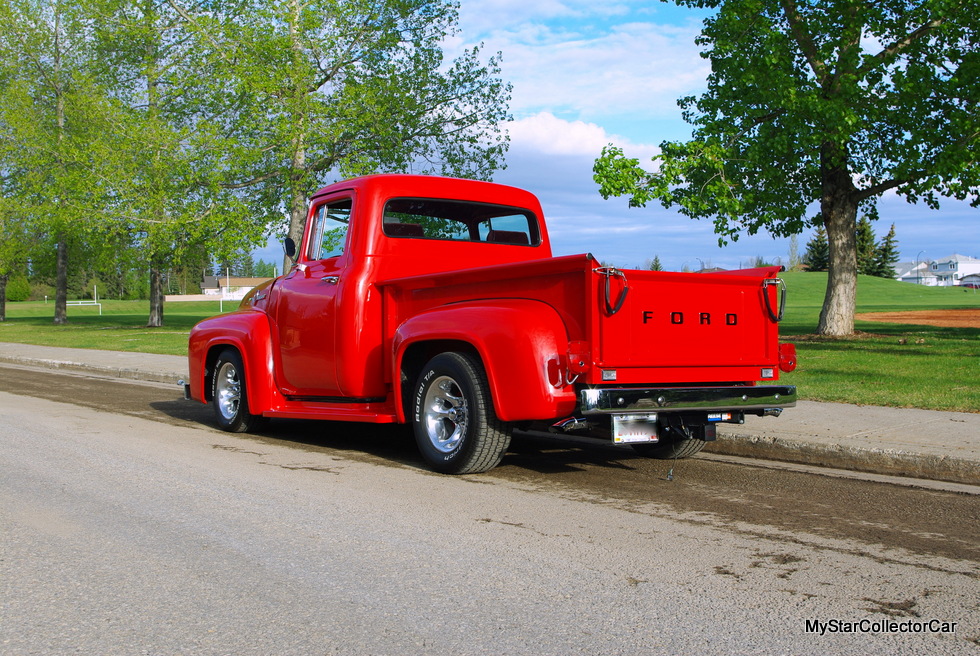 However their unique style has made them a very desirable ride in today's hobby where 50s-era F-100s have become rock stars at shows.
Darrell Kroetsch owns a 1956 F-100 that was formerly owned by his brother. Darrell's brother bought the truck about 26 years ago when he discovered it sitting in a field where it was left to rust in peace after it was used up on a farm.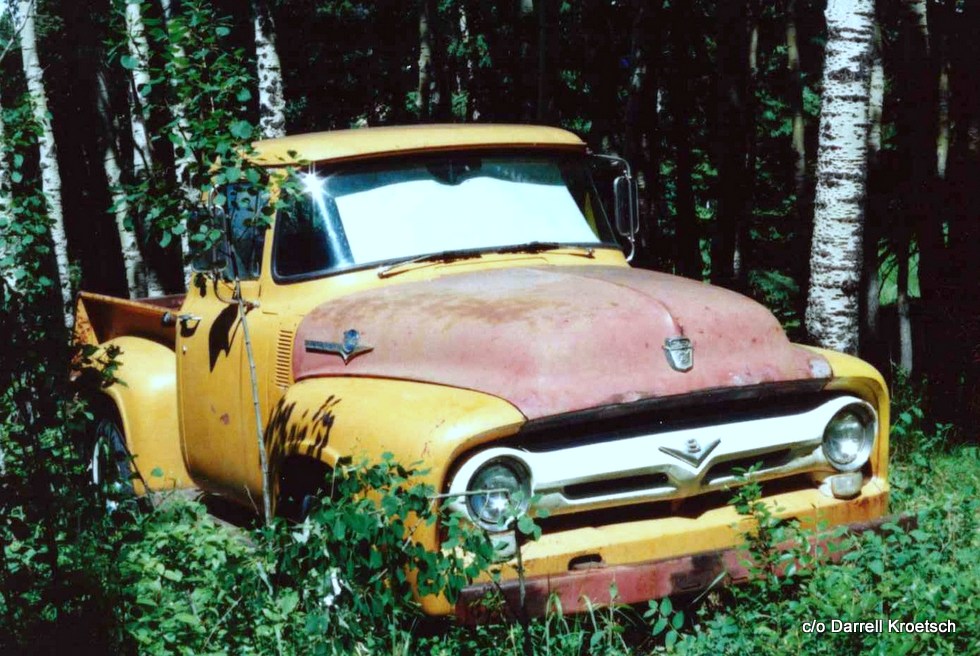 Darrell's brother was moving and had to get rid of the truck so Darrell was able to use his auto body talents and get the F-100 in exchange for a paint job on his brother's 70s-era pickup truck.
The F-100 was equipped with a factory 292 small block mated up to a three-on-the-tree manual transmission. The engine was tired so Darrell swapped it out for a 302 and automatic transmission.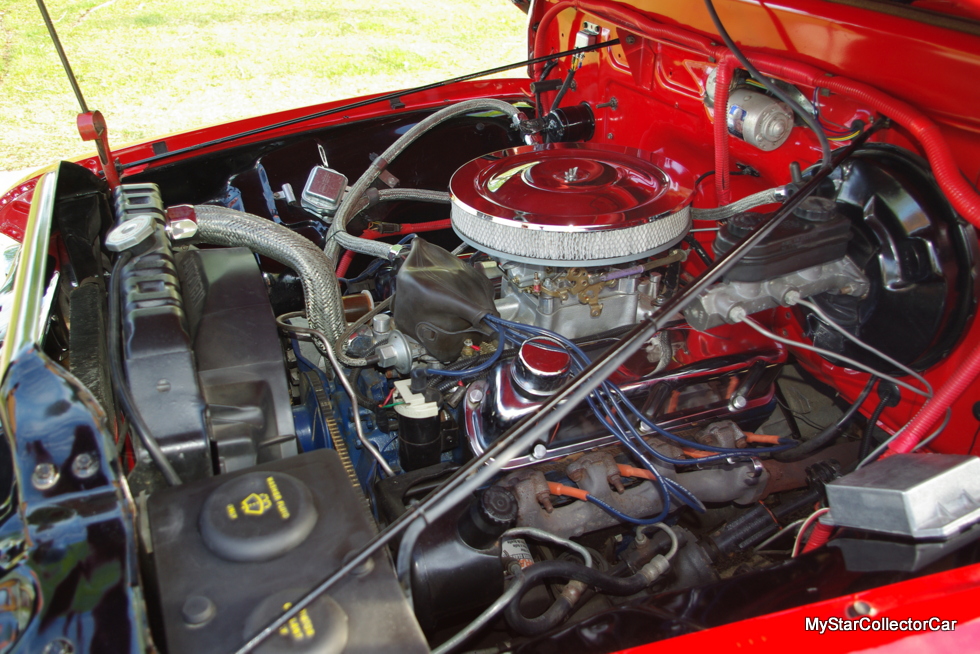 The truck has 3:75 gears that work the truck pretty hard at highway speeds so Darrell wants to change it back to an overdrive tranny in the future and drop the RPMs. Despite the low gears and non-overdrive transmission, Darrel is still able to run his truck at 65-70 mph on the road.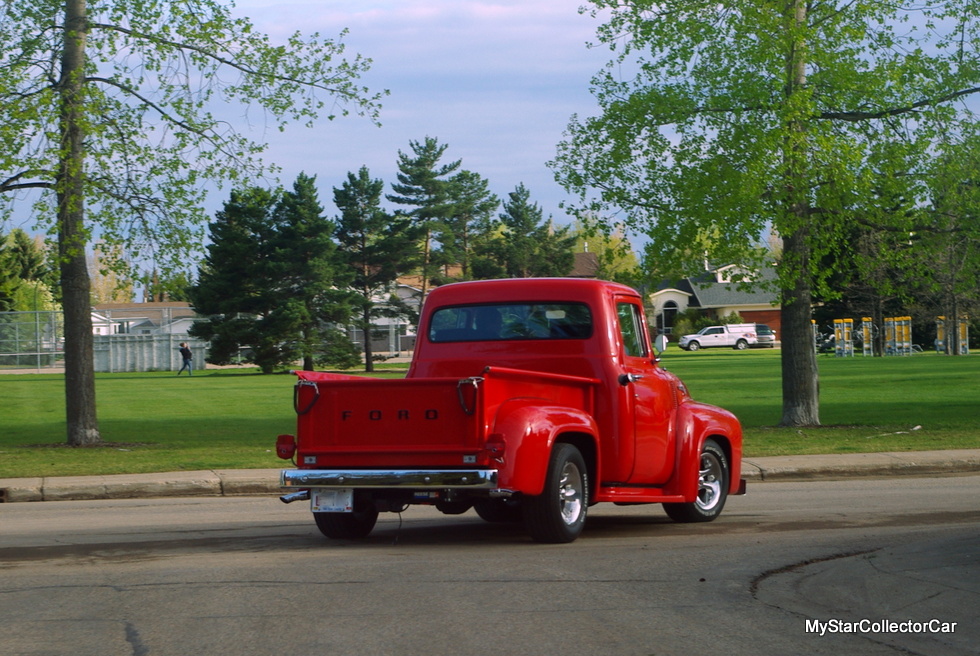 The front clip was donated by an early 80s Chrysler New Yorker and it's the same as the famous Volare clip used by hot rodders in the 80s. Darrell found the front clip swap to be pretty easy and was very happy with the ease of positioning the dual master cylinder in the truck in the original brake cylinder's spot. The New Yorker clip swap also added front discs to the F-100.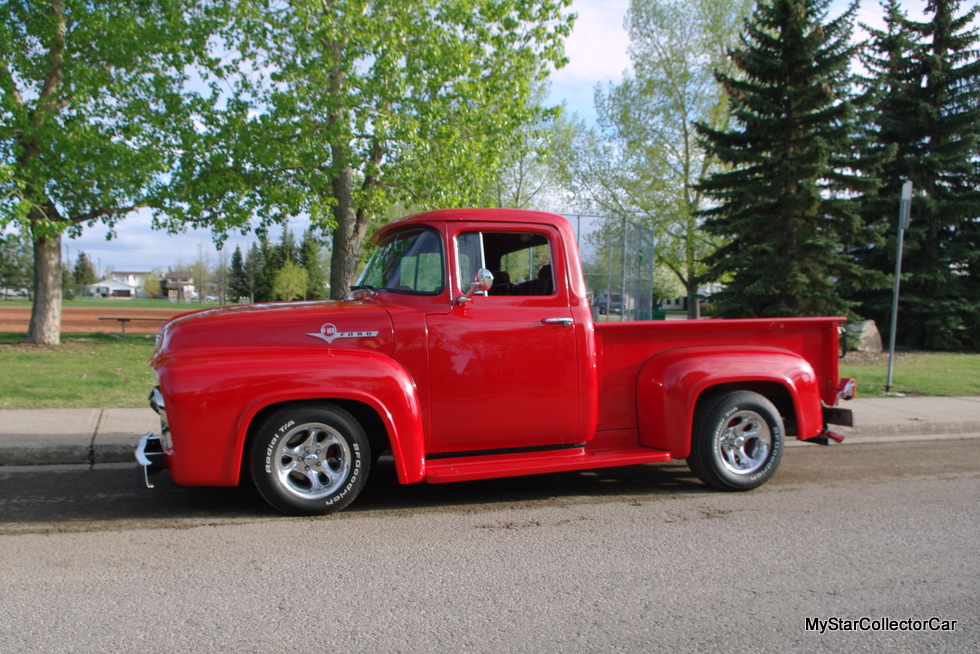 The stock front seat in the F-100 was replaced by a more comfortable power seat from an early 70s Olds Cutlass, while the steering column was donated by a 1976 T-Bird. One of the original features still on the truck is the back bumper which now sports a shiny chrome finish.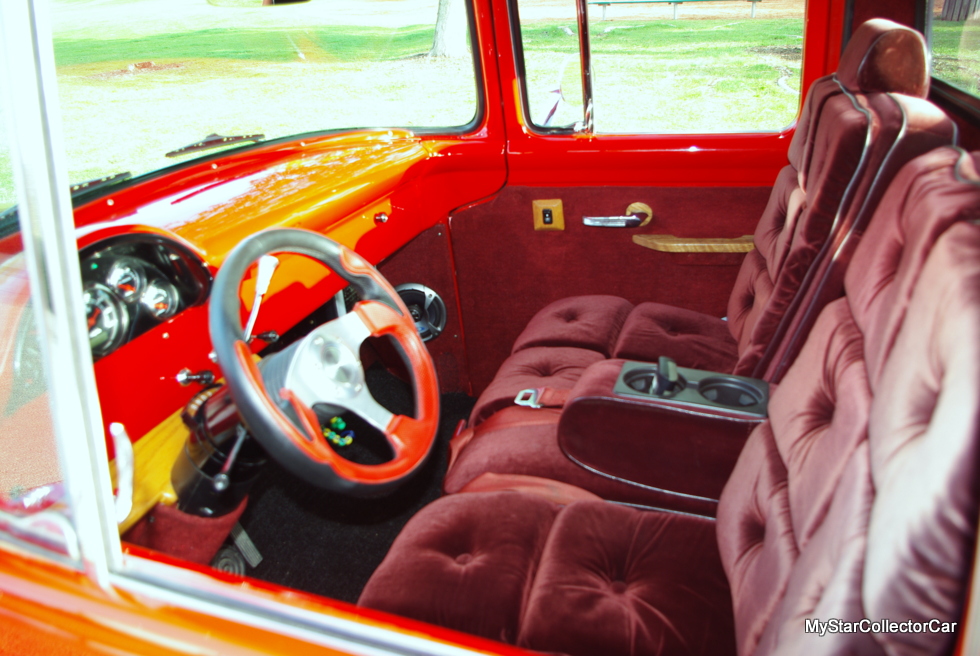 Darrell only attends a handful of car shows during the summer because he likes to go camping, fishing and water-skiing with his F-100. In fact, he uses the truck to tow an 18 ½ foot Bayliner ski boat and trailer.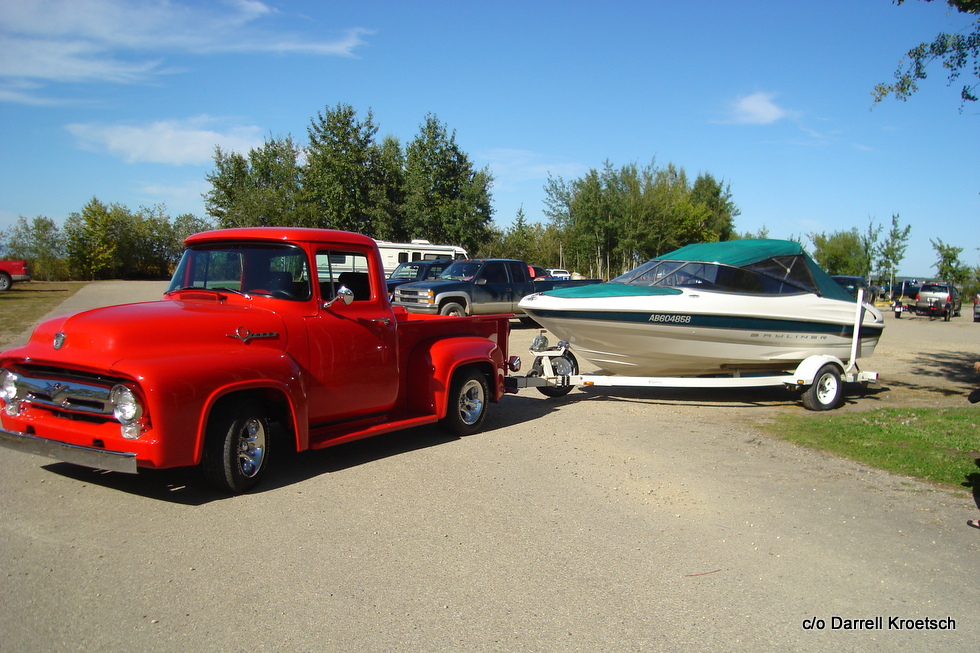 The truck has also been used for special occasions, including both of Darrell's sons' high school graduations-one of which included an impromptu race with a 454 Chevy truck. Darrell was not exactly thrilled with the race story but he was secretly happy his truck did very well in the showdown with the Chevy pickup.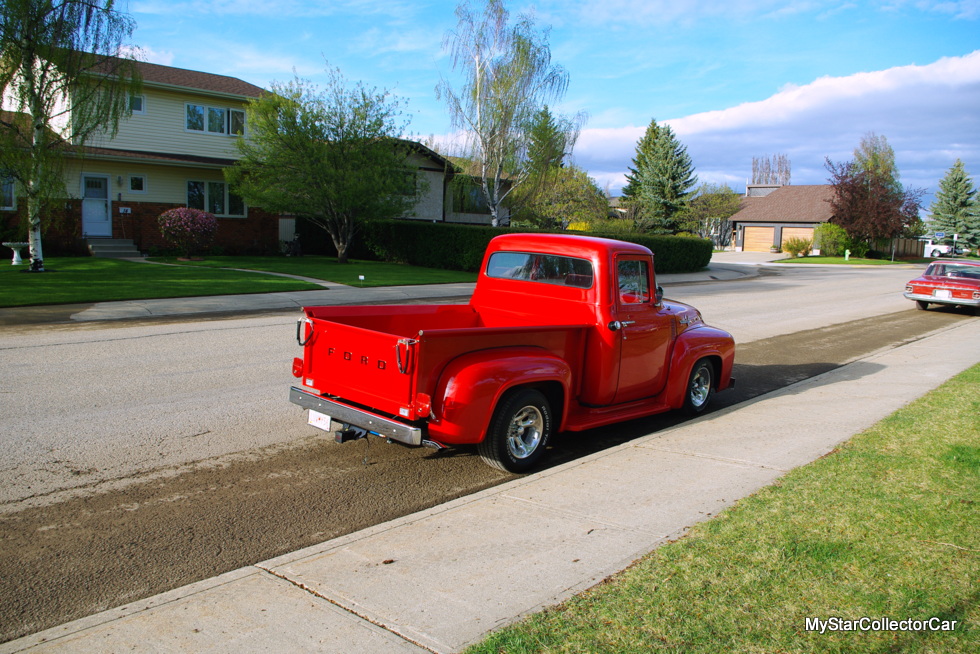 The truck has also done guest appearances at weddings where it fulfilled the "something borrowed" part of the bridal equation in spectacular fashion.

The truck's body work was completed in bright red by Darrell 25 years ago and still looks like it was completed last year. The truck enjoys winter hibernation every year and has been pampered by Darrell ever since he became the proud owner of the F-100.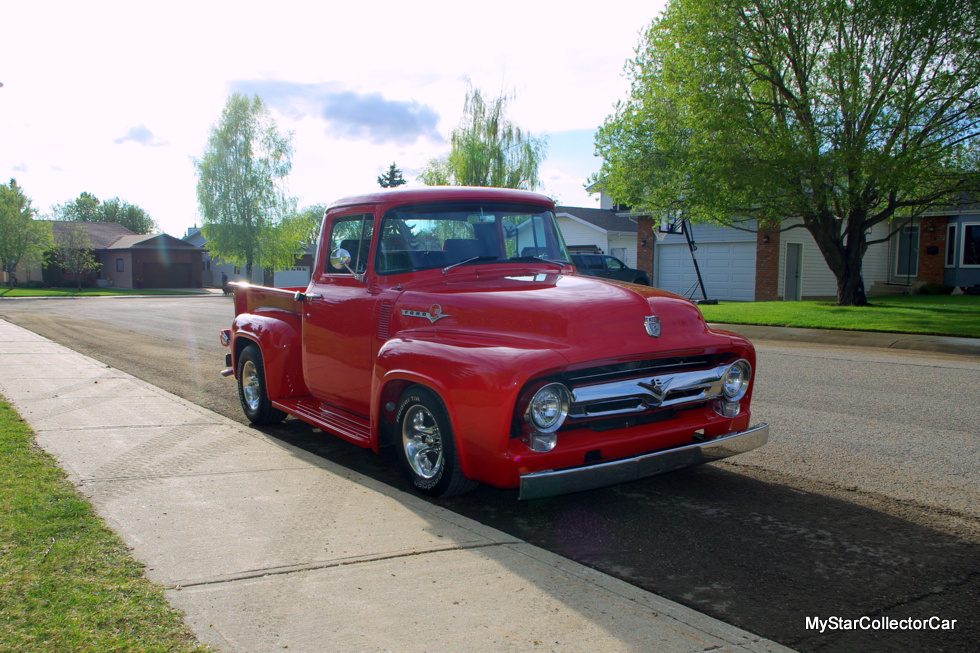 His kids know how Darrell feels about his truck and purchased a personalized license plate that reads Luv My 56 as a Father's Day gift for him to celebrate the relationship.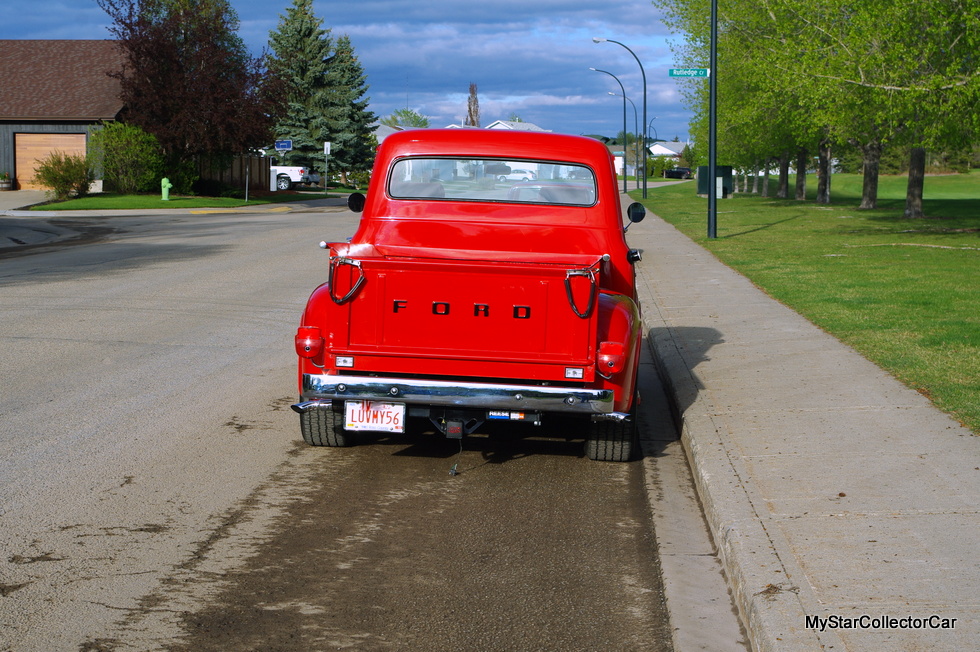 We at MSCC would classify this story as a one with a very happy ending for both Darrell and his F-100. 
Jim Sutherland