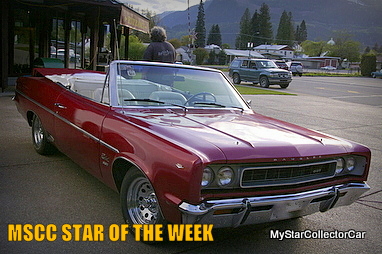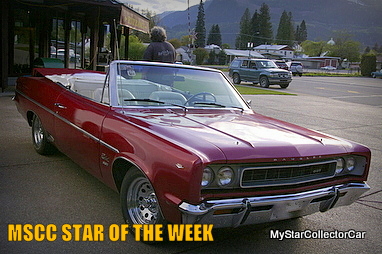 MSCC APRIL 12 STAR OF THE WEEK: '67 REBEL SST CONVERTIBLE—AMC'S PERFECT EXPO 67 RIDE
1967 was a huge year in Canada.
The country turned 100 years old on July 1st and they held the biggest party ever seen in the land of Mounties, mountains and hockey fanatics.
Expo 67 was the epicenter of the party and every red blooded Canadian kid would have traded his right arm and his kid brother for one day on the Expo grounds.
This MSCC Star of the Week 1967 AMC Rebel SST convertible would have been a dream ride for the trip to Montreal.
MSCC APRIL 11 STAR OF THE DAY: TIME WARP BACK TO THE RAT FINK ERA
There was an era when you could watch 77 Sunset Strip on TV and Ed "Big Daddy" Roth was the king of the hepcat cartoonists.
Rat Fink was one of Ed's most famous anti-hero creations and he sold a lot of Weirdo T-shirts thanks to this buggy-eyed, ratty-looking cartoon character.
Young hoodlums drove Bucket Ts during the Rat Fink era because they fit like a glove in the anti-authority, far out world of Ed Roth.
This MSCC Star of the Day Bucket T is a time warp back that glorious Rat Fink era.
MSCC APRIL 10 STAR OF THE DAY: AUSTIN HEALEY—FILE UNDER CLASSIC BRITISH SPORTS CAR
There was a style to British sports cars that was unlike any other cars built in the world.
They were low slung, all business rides so devoid of creature comforts they didn't even have side windows.
Austin Healeys were a step up because they did have side windows and a decent ride by vintage British sports car standards but they also retained the classic style of their forerunners.
This MSCC Star of the Day Healey in traffic five years ago is the visual answer to the phrase, "file under classic British sports car".
MSCC APRIL 9 STAR OF THE DAY: '6O BUICK CONVERTIBLE—A CAMELOT ERA RIDE
1960 was a pivotal year in many ways.
The space race was underway and people were adjusting to a new era where rockets were reality, not science fiction.
There was another impending era and it had everything to do with a new musical in 1960 called Camelot and a new President called John F Kennedy.
Kennedy's presidency was heavily associated with Camelot (he was a huge fan) and this MSCC Star of the Day '60 Buick convertible is a good example of what people drove back in the Camelot era.
MSCC APRIL 8 STAR OF THE DAY: '67 SHELBY GT 500—IT LIT JIMMY'S FIRE
The 1967 Shelby GT 500 was a legend on its own but the addition of the Jim Morrison legacy took it to another level.
Jimmy bought his Shelby to celebrate the success of the Doors single 'Light My Fire' and took it on a wild two year run filled with drunken crashes and a lot of mayhem.
Jimmy's car disappeared in 1969 and the betting money is that it's gone forever after a major frame destroying mishap.
This MSCC Star of the Day Shelby GT 500 was at a July 2010 car show-it wasn't Jim Morrison's.
MSCC APRIL 7 STAR OF THE DAY: '54 BEL AIR CONVERTIBLE – PRE ROCK AND ROLL STYLE
1954 was a transitional period for many reasons.
Rock and roll was just about to explode because Elvis had already done time in the studio and Bill Hailey released 'Rock with Bill Hailey and the Comets' in '54.
People like Rosemary Clooney, Doris Day, Perry Como and the Four Aces were on the back nine of radio play popularity.
This MSCC Star of the Day '54 Chevy Bel Air convertible is a great example of pre rock and roll style.
MSCC APRIL 6 STAR OF THE DAY: FIRST GEN CHALLENGER—THE CAR SO COOL IT MADE A COMEBACK
The Dodge Challenger was a direct response to the Plymouth Barracuda because Dodge wanted a piece of the action.
They wanted to (a) join the pony car wars and (b) get a piece of the new look E-body platform.
This was an experiment that clearly worked because the Dodge Challenger was an instant success in the Mopar world then and in 2008 when it made a comeback.
The MSCC Star of the Day Challey was on the street a few years ago to give everybody on the road a look at a car that was so cool it made a comeback.
For past MSCC Stars of the Day please follow this link.
CLICK HERE to Like us on Facebook
CLICK HERE to Follow us on Twitter
CLICK HERE to Follow us on Pinterest
Please re-post this if you like this article.
Star of the Day page sponsored by Southside Dodge