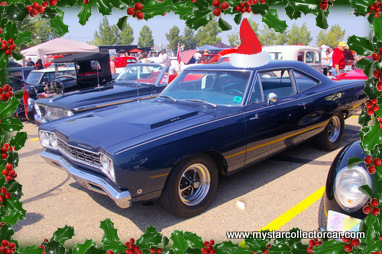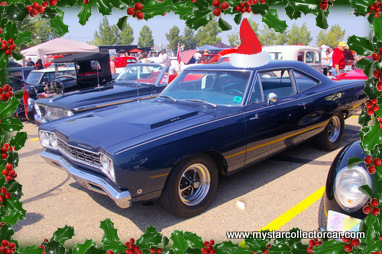 The Pontiac GTO is generally regarded as the first affordable muscle car.
The Poncho was in a price rage that any kid with a decent part time job could afford.
'Sure that combination of power and driver inexperience bought a few tragic endings, but the 60s was the"more power" decade and the trick was to make it affordable power.'
The  Plymouth Road Runner was the answer.
Because the Christmas season is the "fond memory" season (Hallmark cards have made an industry out of sentimentality), most of these 24 Cars of Christmas are based on fond memories.
In this case, the fond memory was born in the fall of 1967-that's when one of my older brother's party friends showed up in a brand new dark green Road Runner. This car looked like something my dad would have ordered-stripper bench seat, rubber mats, basic AM radio, black wall tires and dog dish hubcaps.
Except that the Road Runner looked ominous-my dad would never have ordered a car with a 4-speed on the floor plus those bulges on the hood told you that this car wasn't a slant 6. This was not dad's Belvedere-it just practiced the same cost-cutting efficiencies.
Another dead giveaway was the smell-the new Roadrunner smelt like burnt rubber and hot oil. For me this car was the ultimate, brute force Mopar and it looked tougher than Clint Eastwood. Most car guys will argue that the 66 426 Hemi Coronet was far more powerful-that's a lot like saying the earth is round, but the shoebox '66-67 Mopar street Hemis looked benign until you lit them up…
The Road Runner was different-it looked menacing and it meant business. That 2-door sedan structural strength was a factor drag racers had coveted for decades-plus it cut costs
So unlike those 66-67 Plymouth Belvederes and Dodge Coronets hidden behind bulky clothes, the Runner showed muscle…like a guy who spent 12 hour days in the weight room-with a little steroid magic.
The guy who owned the Roadrunner moved on in life-he became an accountant, got married and naturally the car was sold years ago. But to this day, he revels in the adventures he had in that brand new Roadrunner back in the late 60s-when he was a kid working at Safeway making payments on an affordable and potentially fatal muscle car.
Even an accountant couldn't put a price on those memories…beep beep.
Jerry Sutherland @mystarcollectorcar.com
Be sure and look around mystarcollectorcar-we have hundreds of car related articles..