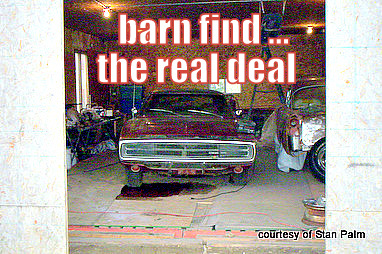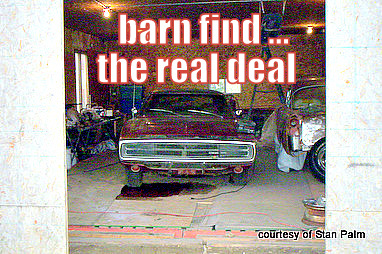 Most car guys have the same dream.
It's the one about opening an old barn door and finding a mint classic car under a pile of dust.
Myths have been built around this concept and in most cases the legend proves to be just that-a legend.
This is not one of those cases.
Stan Palm is no stranger to the 1968-70 Dodge Charger era. In fact, he's owned five Chargers including a 69 model-his first car at the age of fifteen. In every case, he regretted selling these various Chargers but real life intruded as he said, "I always had to sell them for various reasons like kids, wives, whatever-but I never wanted to sell any of them".
That could have been the period on the "Stan and his long lost Charger" story but Car Guy Karma is real and it surfaced recently in the form of this 1970 Dodge Charger 500. Stan was helping a buddy haul two Roadrunners to a car show in September when a woman approached them at a gas station and asked "if they were Mopar guys because her husband had a Charger for sale".
Naturally they were curious and the car was only few minutes away so Stan went to their shop and found a survivor 1970 Charger 500 with 108,000 original miles. This was truly a one-owner car and it was in surprisingly good shape.
The car well optioned with a full gauge package, console, bucket seats and Gator-skin vinyl roof. Stan didn't hesitate-he pulled the trigger on the $2000 Charger deal. Most sane men would…
Apparently the original owner had a carb fire on the 383 2-barrel engine after a misfire and that was enough to convince him to park the car for 2 decades. He'd done some amateur bodywork after an evening course convinced him that he could take on some of the Charger's rust issues. Stan is a journeyman body man and he's taken on a number of major restorations so his assessment of the amateur work was brief-it was "fixable".
Vehicles that have been in a family for over 40 years become part of the family so it was no surprise that the owner's wife was crying when the car was loaded up. She admitted to Stan "There's a lot of history in the car. I spent a lot of time on the console of this car next to my husband in our early marriage years and our daughter was probably conceived in the back seat so there's a big emotional attachment".
The sale of the car did solve one family debate because their son and daughter both grew up with the Charger and there was a big dispute about the direction of the car as an estate issue.
Stan made this a non-issue the minute he drove away from the Charger's former home but in reality the car needed more work than either kid could handle.
He fired up the 383 with some priming and a direct gas supply because the gas tank was "as rusty as any gas tank I've ever seen"-in Stan's own words. The rest of the car didn't intimidate Stan because under the excess of primer and fiberglass mud on the quarters is a very solid car. The interior looks like NOS with the exception of a hole in the driver's seat. Basically the car reflects its 40 years in a very realistic manner.
Stan wants to meander off stock in only a few ways-the 2 barrel carb is already gone in favor of a 4 barrel and the new paint is going to be Solar Yellow. Stan refuses to sell this, his 6th and last Charger because the pain of losing his first five Chargers is still fresh in his memory bank.
This Charger "barn find" scenario is a reality check because this is how they happen in the real world. You have to be, in Stan's own words, "in the right place at the right time" plus most barn finds won't be in showroom condition.
Barn finds will be more like this 1970 Charger 500– a solid starting point with some real advantages such as a near mint interior, interesting options and a complete car.
They'll also require time, expertise and money to bring them back to pristine condition.
Years of dust on a barn find can fire up the imagination but taking that same dust off the car can be a severe reality check…
If you don't have the talent of a Stan Palm.
Jerry Sutherland
For more car stuff click here-https://www.mystarcollectorcar.com/