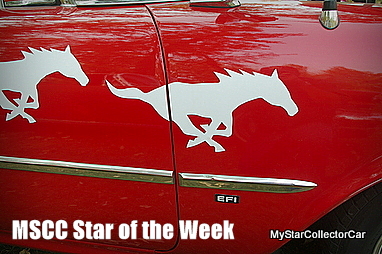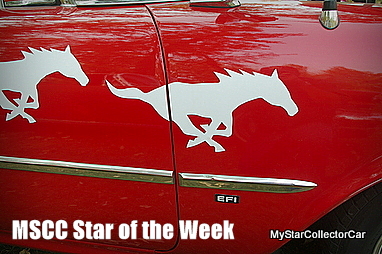 MSCC NOV 30 STAR OF THE WEEK: A CELEBRATION OF 102 YEARS – A GREY CUP EDITION '60 DODGE
Most people from outside Canada think of us as a country full of Mounties, fur traders and hockey players with French accents.
That's true in the sense that the United States is chock full of cowboys, Holland is full of guys in wooden shoes and Scotland is full of bagpipe players in kilts.
Clearly outsiders don't realize Canada has a 102-year-old football game called the Grey Cup.
The Grey Cup is a countrywide East-West tradition that's a lot older and infinitely more fun than the Berlin Wall.
This '60 Dodge was featured in a 2012 MSCC story because it had two things going for it. It was an Exner fin car and it's a Calgary Stampeder tribute car.
The Stamps (born 1909 and named Stampeders in 1945) are in the 2014 Grey Cup and they're going to duke it out with the Hamilton Tiger Cats—a football team that's been around since 1869.
We're not just Mounties and hockey players up here—we own the oldest professional football trophy in the world.
Today is the 102nd Grey Cup…that's why this Canadian Football League inspired '60 Dodge was the perfect choice for the MSCC Star of the Week.
MSCC NOV 29 STAR OF THE DAY: A MID-50S BUICK ROCKS HARDER THAN CHUCK BERRY
There will always be a fondness for the 1950s.
Rock and roll was born, life was simpler and anything was possible.
You could be the coolest kid on the block if you had the right ride because this was an era when your car defined you.
You could be cooler than Chuck Berry.
This MSCC Star of the Day Buick at a June show definitely made its owner the coolest kid on that block.
MSCC NOV 28 STAR OF THE DAY: A REVISED VERSION OF A BUCKET T ROADSTER
Bucket Ts were a hot item decades ago and their popularity never really faded.
You'll see them at nearly every medium to large car show.
They were stripped down to the basics and that pretty much summed up the philosophy behind a Bucket T.
This MSCC Star of the Day variation on a Bucket T went off the program thanks to fenders all around and some spanky signal lights on the front ones.
MSCC NOV 27 STAR OF THE DAY: '69 CAMARO—BECAUSE THEY CAN'T ALL BE AT CAR SHOWS
1969 Camaros were a hot item the first day they showed up at Chevy dealers.
Car guys were drawn to their clean look and imposing array of performance options and the other thing—they were a Camaro.
They sold over 243,000 of them in 1969 and if car shows are any indication, it looks like there are well over 200,000 of them still left.
They look good at car shows but the open road is where a MSCC Star of the Day '69 Camaro really shines.
MSCC NOV 26 STAR OF THE DAY: FORD GT40—A DARE TO BE DIFFERENT RIDE
Ford GT40s were built for one reason—to thump Ferraris on their home turf.
They did their job so well the name GT40 is still conjures up nightmares in Italy.
Ford didn't build them for the general public until decades later when they unleashed a civilized version of this racing legend.
They're a 50-year-old design but the classics are timeless so this GT-40 was like a rock star when it showed up at a September 2011 show.
MSCC NOV 25 STAR OF THE DAY: PONTIAC JUDGE – CAN YOU FIND A BETTER VIEW THROUGH THE WINDSHIELD?
There is a constant in today's traffic—it's boredom punctuated by occasional bouts of incredibly bad driving.
The cars come out of the same cookie cutter mold so that's a huge factor in the boredom factor.
Every now and then you get a real break and you see a classic ride right in front you—that view through the windshield just got a lot better.
That's what happened last summer when this MSCC Star of the Day Poncho Judge made a guest appearance on a warm summer night.
MSCC NOV 24 STAR OF THE DAY: ANGLIA-THE ULTIMATE CLARK KENT CAR
Anglias were never built for the track. They were designed to be affordable little people movers with a mandate to be functional.
Nobody said anything about the street monster side of an Anglia and it sure wasn't in the sales literature.
They were the ultimate Clark Kent cars because giant American big blocks turned these little Brits into 4-wheeled Supermen.
This MSCC Star of the Day Anglia definitely showed Superman's cape.
For past MSCC Stars of the Day please follow this link.
CLICK HERE to Like us on Facebook
CLICK HERE to Follow us on Twitter
CLICK HERE to Follow us on Pinterest
Star of the Day page sponsored by Southside Dodge
Please re-post this if you like this article.