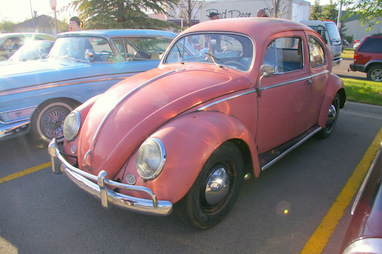 Adam Quigley is a young guy with a huge fondness for the Volkswagen Beetle-the older the better.
This car owned by an elderly owner who happened to be a cancer patient.
'His final wish was to see the car sold to a new owner-an appreciative new owner. Adam was the guy.'
Adam knows the Volkswagen Beetle inside and out and he prefers to keep them stock.
That's why this particular example of the "people's car" still has a 36 horsepower motor instead of the more muscular 40 horse engine. It still has the original turn signal arms and mighty 6-volt system-that's what the car came with so there won't be a giant sound system in this Bug's future.
Adam believes in the stock radio delete option.
Adam drives this Beetle. A lot. And he's not intimidated by the top speed of 60-ish-even on major highways. That's pretty amazing given the perception that Adam's generation wants everything on a high comfort level.
This VW Beetle refutes that argument because this car's biggest comfort zone feature is the fact that it has a windshield-this is not a brand new Civic, it's a real world Spartan econo-box from post-war mid-50s Germany.
'A 1955 Volkswagen is not for the faint of heart but Adam's commitment to this classic Bug is probably why its dying former owner saw him as a great candidate for taking on the legacy of the Beetle.'
Jim Sutherland