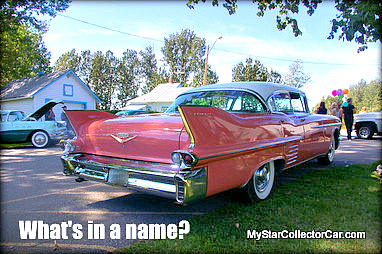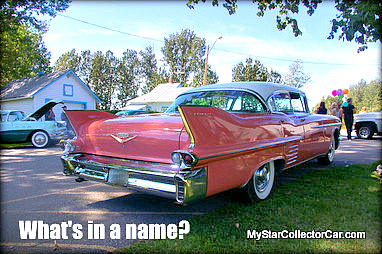 What exactly is in a name?
Plenty when it comes to preconceived notions about old iron.
We make large scale assumptions about the kind of owner behind the wheel of a brand of car, and sometimes we are more right than wrong.
Take Cadillac for example. These days a Caddy seems more like a high performance import because they are nimble and powerful BMW rivals that will run with the Euro crowd all day on the Autobahn. But I will always think of the giant land barges that wore the Caddy brand in the 50s, 60s and 70s.
They were massive cars that were typically piloted by shrinking old people who loved the sound of a signal light click while they lurched down the highway at 10 mph under the posted speed limit. They had all of the creature comforts available to seniors with a big budget for a big land yacht. That was a Caddy.
Plymouth was a car that practically screamed practical to the world. They were the sensible shoes of the car world and they went to Safeway on Saturday and church on Sunday. That was the life of a Plymouth until they discovered their bad boy side with Fury, Road Runner and 'Cuda. These villains were not your father's Belvedere and they took no prisoners on the street.
Buick was a name that suggested mid-range success in life. Its owners were either a mid-management kind of family guy with a bright future or an older buyer with Caddy tastes and a Buick budget. The Buick label still holds an upscale charm, but names like Wildcat, Riviera and Grand National helped make Buick a street warrior from an unlikely gang.
Studebaker was an oddball car brand built for oddball owners. The Studies were always a little outside of the Detroit in-crowd, possibly because they were built in Indiana on a tight budget. Somehow Studebaker was able to rise above the stigma of a small car manufacturer and build some very interesting cars like Hawks and Avantis. Studebaker died a quiet death with a bullet-proof boxy little sedan, but it had moments of greatness.
Oldsmobile was a kissing cousin of Buick, built for a slightly above average income earner, but not quite a Buick level income outside of the 98s. They were a notch above Chevys but not nearly as popular with buyers. Olds always seemed to have an identity crisis in the GM stable until they dreamed up the 442 and joined the street wars.
Mercury was Ford's answer to Olds and Buick. They were not quite a Lincoln, but they were more upscale than Ford. The Mercury brand also meant that its owners were slightly ahead of the Joneses in middle class world and a good choice for retirees who liked the Blue Oval brand but had slightly smaller pensions than the Lincoln crowd. Exception to the conservative buyer rule: Mercury Cyclone.
Last but not least, the Rambler/AMC models. Owner wise, the typical rule of owner thumb was Ambassador, a conservative sedan that was designed to serve a conservative owner that wanted AC as a standard equipment feature. The exception to the rule was the late 60s and early 70s when AMC turned out the AMX, Javelin and Rebel Machine to win the youth market.
This didn't work out for Rambler, but they added some legendary muscle car labels to a staid brand name before they were absorbed out of business.
Jim Sutherland
Follow us on Facebook at-http://www.facebook.com/MyStarCollectorCar
Follow us on Twitter at- https://twitter.com/#!/MyStarCollecto1