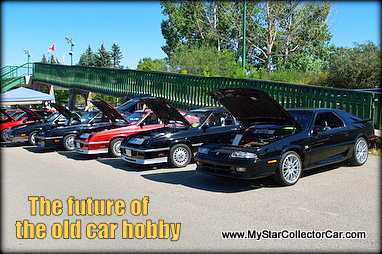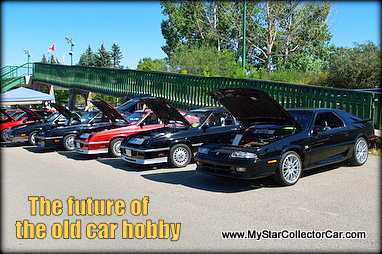 I was at a Mopar show last summer and it was packed with the usual suspects like B-body Road Runners, E-body Challengers and A-Body Dusters but off in a back corner of the show was a row of GLHS Chargers and a few Shelby Zs.
They were just past a row of AMC Javelins so you knew these cars were right on the cusp of acceptance with traditional Mopar muscle guys.
Hard-liners will argue that these cars have no place in a Mopar show because nobody looks at the 80s as the Golden Era for muscle but I don't see it that way for several reasons.
One of the reasons is pretty basic…these cars are all past the magic number of 25-years-old. That's the automotive equivalent of turning 21 and heading to Vegas.
Another reason is you can't ignore history and Chrysler was still in survival mode after a near death experience and many will argue that the minivan might be the sole reason it survived. Without the minivan, the Hemi Cuda would be the 70s equivalent of a supercharged '57 Packard.
That didn't mean Mother Mopar rolled over and played dead so they took the Horizon/Omni platform, added the Carroll Shelby name and engineering to the package and came up with a 14-second shoebox capable of 0-60 miles per hour in just over 6 ticks. They officially called them GLHs but most guys called them GLH for "goes like hell".
Again, purists will argue these cars were pale imitations of the mighty 426 Hemis and 440s but in the 80s, the Big 3 were working with less to get more because fire-breathing big blocks were nearly legislated out of existence.
The GLHS Charger was the next incarnation of the Mopar-Shelby marriage because despite its "sleeper cool factor", most guys didn't want to run cars that looked like something their Mom would drive to Safeway.
Another reason is the sheer cost of a vintage '70 Cuda or '68 Charger because these cars have spiked to the point where a disastrously bad project car starts at 10K. That's well past the comfort zone of a 22-year-old kid in 2013.
I can only speak from my own experience back in the mid-70s when I was going to college and I walked past a '68 Road Runner 2-dr post every day that winter. It was under snow and the "for sale" sign said $1200 or best offer for a really solid Runner.
The sign drove me crazy but there was no way a 20-year-old kid living at home could swing 1200 bucks because (a) I didn't have it and (b) my Dad would have immediately turned free room and board into "you can afford a car like that, you can afford to pay".
Cars like these GLHS Chargers or Daytona Zs are the next wave. A kid who was 12 years old in the 80s will buy into them because that's what he saw on the street. We saw 340 Swingers and SS 396s…they saw Charger GLHS's, Fox Body Mustangs and Buick Grand Nationals.
Ultimately the car hobby is an evolution in progress because you don't see fleets of Model As at shows and 1950s cars are becoming less common. Eventually these GLHS Chargers are going to migrate to the big stage and be replaced by the next version of affordable nostalgia for car guys in 2033.
Regardless of what a hard-liner thinks in 2013…
Jerry Sutherland