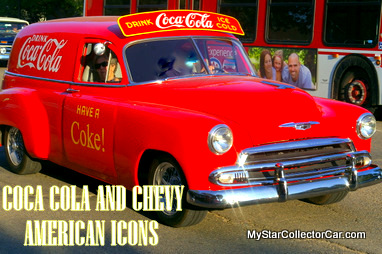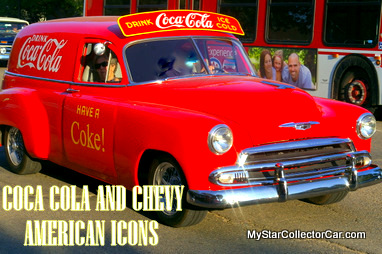 It's been said that America is baseball and apple pie, but a strong case could be made for an iconic 50s car and a famous soft drink as real American icons.
These days baseball has a decidedly international flavor while apple pie has food challengers such as Big Macs and KFC.
The 1957 Chevrolet was actually outsold by its rival Ford in 1957, but it became the last member of the Tri-Five club of famous mid-50s Chevy fame.
Coca Cola began its run as a mild soft drink stimulant with a cocaine ingredient that provided the stimulus for its early popularity-and loyally addicted customers.
Eventually it became a mainstream beverage that derived its kick from caffeine and sugar. Along the way, it grew into a soft drink giant that personified the American pop culture influence on the world.
These days a 1957 Chevrolet is one of the best investments available to a prospective buyer. The roller coaster ride of Wall Street has had little negative impact on the value of a '57 Chevy with two doors and a giant market of eager buyers.
The market for Coke memorabilia has also remained strong through the recession. The two guys on American Pickers get pretty excited when they encounter a vintage Coke sign or cooler from a bygone era.
There are plenty of buyers for the Coke blasts from the past, so the two pickers jump on the memorabilia with the famous red and white label.
So the question might arise about which is the bigger representation of the American way in a global sense?
Our best guess is the Coca Cola brand because it is still available to a thirsty world of eager consumers. They may not be able to pick out the United States on a world globe, but they sure know where their favorite cola got its start.
The 1957 Chevrolet has a disadvantage because the car was only made for one year. It became an automotive legend in the 60s as its admirers realized that it was a well engineered car with classic and timeless lines.
Age has served the '57 Chevy well and it has become a symbolic figure from the Elvis era that gains more popularity every year.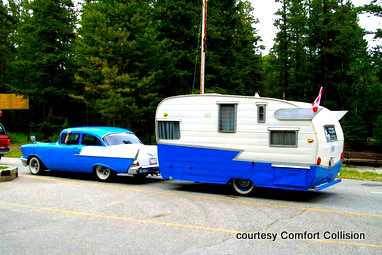 But a '57 Chevy is not found in every corner of the world (with the exception of Cuba) like Coca Cola. However both American icons are great investments for a collector seeking stability in his financial portfolio.
The big difference is that you can drive your Chevy investment and that is a huge plus for car guys/investors.
Jim Sutherland
Much more at–https://www.mystarcollectorcar.com/