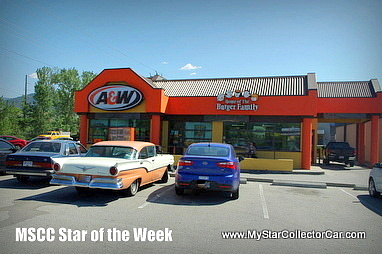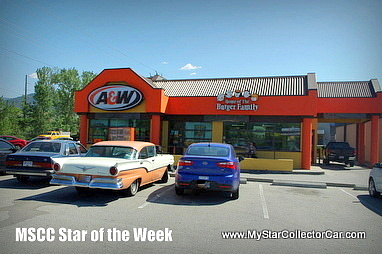 MAY 12 MSCC STAR OF THE WEEK: '57 FORD METEOR RIDEAU-A TIME CAPSULE PICTURE
There was a time when this Ford Meteor would have been a pretty common sight…it was called the 1950s and '60s.
"Common sight" is a relative term because that's a 1957 Ford Meteor Rideau so this would have been a common sight in Canada.
Ford built these Meteors as a distinct line for the Canadian market so they have unique trim that separates a '57 Meteor from a '57 Ford.
There's another piece of the nostalgia puzzle in this Star of the Week.
This old Meteor is in front of an A&W and the chances are really good that it was parked in front of an A&W back in 1957 but the cars beside it would have been a lot cooler.
MAY 11 MSCC STAR OF THE DAY: '69 HEMI CHARGER- WAY UP THE FOOD CHAIN
The 2nd Gen Charger is often recognized as one of the icons of 1960s muscle. Put a 426 Hemi under the hood and that's how legends are born.
This one was a September 2009 show and it emphasized understated cool because it had the dog dish hub caps and it was a very subtle color.
The Hemi badges on the fenders were the only clear indication that this was a monster in a plain blue wrapper.
In other words, this Star of the Day was a carnivore with stealth and that puts this Charger way up the food chain.
MAY 10 MSCC STAR OF THE DAY: '65 FORD FAIRLAINE + '65 MERCURY TRUCK= BLUE OVAL COOL
Most people who grew up in the 1960s think of the Beatles or the Ed Sullivan show as two of the highlights of that incredible decade.
Very few people regard the 1965 Ford Fairlane or the 1965 Mercury pickup as the high water mark in that memorable era.
These two examples of all that was right about 1965 were at a major car show last June.
The MSCC Star of the Day came down to one year that was so cool it had a mid-sized Ford and a Canadian version of a Ford truck as the highlight of a major car show in June 2012.
MAY 9 MSCC STAR OF THE DAY: 1975 GMC 6500 PUMPER TRUCK-BEST OF CLASS
This 1975 GMC 6500 pumper truck was a guest at a show that that took place last May.
There was no threat of fire that day because it was a soggy night but if they gave out best of class this big GMC would have won hands down.
They didn't because this is a drop-in show but the next best thing is an MSCC Star of the Day nomination so this former lifesaver got a post retirement award.
MAY 8 STAR OF THE DAY: 5 WINDOW GMC 9300 TRUCK-NORTH OF THE BORDER RARE
The late 40s-early 50s Chevy trucks never really went away. Their sheer numb: ers at any vintage car and truck show will tell you that a lot of these old classics are still alive and well.
Many of those Chevys aren't exactly factory stock now but you can't mistake those classic lines in any form.
This GMC 5 window 9300 pickup is another story. They built them in Canada and they're GMCs so the odds are slimmer that you'll see one at a show.
Happily, this MSCC Star of the Day was at a show last August where it attracted a steady stream of admirers.
MAY 7 STAR OF THE DAY: A BLUESMOBILE TRIBUTE CAR- SOME DETAILS ARE AMISS BUT STILL COOL
The Blues Brothers may well have built the highest body count for police cars in the history of movies.
The actual Bluesmobile was a ex-California Highway Patrol 1974 Dodge 4 door sedan.
The car was insanely fast because it had the legendary 440 " cop motor" under the hood and John Landis (the producer) wanted a car that could really take a pounding.
This is a tribute Bluesmobile and it misses the mark on many points-wrong year and it's a 4 door hardtop among other things but it's close enough to be an MSCC Star of the Day.
MSCC MAY 6 STAR OF THE DAY: CLASSIC ROD WITH A FARMALL TWIST
This rod was in the parking lot of a recent swap meet and at first glance it looked like a familiar version of an old school ride.
The Industrial 1st Generation Chrysler Hemi was a solid clue that this was a tribute to the old days when these legendary motors were choice number one for rod builders who wanted a lot of cheap power back in the 50s.
This was a very cool ride and it took the "make it work" philosophy of a 50s tribute rod up a notch with the Farmall tractor rad housing.
MSCC Stars of the Day typically represent a unique facet of the hobby and this Star of the Day is no exception because it encompasses all things cool about a retro-rod.
For a look back at past MSCC Stars of the Day please follow this link.
Jerry Sutherland