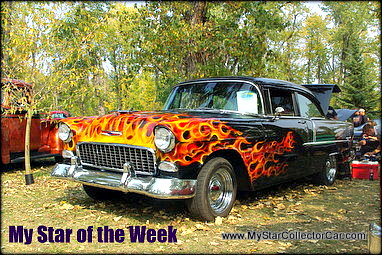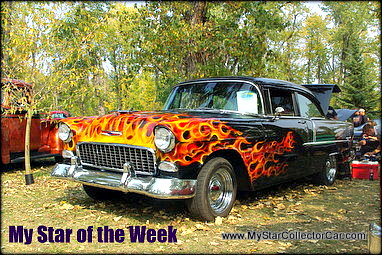 JANUARY 26 STAR OF THE WEEK:BLACK 55 CHEVY 2 DOOR POST-COOL FACTOR FOR THE AGES
Tri-five Chevys have been the gold standard for 50s cars since Milton Berle was a household name on TV.

There are many reasons for this cult following but it really distills down to one phrase…small block Chevy.
Chevy put an affordable, lightweight, efficient V-8 into a lightweight body and history was made. That was the perfect combination for buildable street machines and 58 years later, these refugees from the Eisenhower era haven't lost one ounce of cool.
Try saying the same thing about your Uncle Jim.
This Star of the Week '55 Chevy post was at show back in September and one thing was clear.
Your Uncle Jim was never this cool.
Take a look back at a great archived MSCC story about a '55 Chevy Nomad.
JANUARY 25 STAR OF THE DAY- 1940 DODGE LIGHTS UP A WEDDING CEREMONY

This picture was taken back in June 2010. June is prime time for weddings and that's exactly why this 1940 Dodge was leaving a wedding ceremony.
The bride's father/driver wanted to light up the old Dodge to mark the occasion even though his wife advised him against a spontaneous show of automotive mayhem.
He had the last laugh because right after this turn he put on a bit of a smoke show to put a period on the day.
That was a Star of the Day move.
For look back at the wedding day here's the link to the MSCC story about one of the world's coolest wedding cars.
JANUARY 24 STAR OF THE DAY: 1974 DODGE DART–WINTER WARRIORS ALWAYS ARE ALWAYS MSCC STARS
The Star of the Day is literally a moving target from concept to reality. The idea is pretty basic–find an old ride and make it a star.
These stars have ranged from 500-dollar rescue rides to six-figure investment level customs but most of them are mid range "average guy" cars and trucks.
99% of them are summer drivers so any old ride that takes on winter 24-7 is an automatic Star of the Day at MyStarCollectorCar.
That's the kind of gritty survival instinct that makes this hard working 1974 Dodge Dart a Star of the Day.
For a look back at another Dodge Dart doing real time in the real world here's an MSCC story from 2009.
JANUARY 23 STAR OF THE DAY–1957 METEOR…BESIDES HOCKEY THIS IS ANOTHER CANADIAN ICON
Canada has a fixation on the game of hockey that clearly transcends nasty labor actions that threaten a season.
The country embraces the game like a life raft and this gives the illusion that there is no other tangible identity to Canada.
That's not entirely true.
Canada had another distinctive identity with cars like this 1957 Meteor because you couldn't find them south of the border.
Canadian kids may have dreamed about life in the NHL but they also had other dreams…cars like this Star of the Day '57 Meteor.
This one was on the street last summer and it was also featured in a past MSCC story.
JANUARY 22 STAR OF THE DAY: '69 PONTIAC BONNEVILLE AMBULANCE-RETIREMENT ON THE ROAD
An old ambulance may be the best road trip vehicle in the world.
They have plenty of interior room, they loaf at 75 miles per hour, they ride like a cloud and if you're ever in an extreme emergency, the lights and siren will get you to a hospital at Warp Drive.
This 1969 Pontiac Bonneville ambulance has crossed Canada a few times and its owner has enjoyed every minute of life behind the wheel of this life raft on 4 wheels.
It's an MSCC Star of the Day simply because this old Poncho saved countless lives in its lengthy career and that makes it priceless.
Take a look at the January 2011 MSCC story behind this unique ride.
JANUARY 21 STAR OF THE DAY:A 1967 FORD TRUCK-IT'S TIME TO GET BACK TO THE BASICS
Last week was a lot of fun for car guys because old iron took center stage for a week on TV but now it's time to get back to the basics.
Car guys are typically people like your next door neighbor…average guys who go to work every day and come home every night to a modest home.
The only frivolous thing they do is invest in the old car hobby at whatever level they can afford so you'll see them behind the wheel of something like a '67 Ford pickup.
This one was on the road back in May 2010 and it wasn't going to hit the stage on a Saturday at Barrett-Jackson unless that's Elvis Presley behind the wheel.
It wasn't Elvis.
It was a guy who owned this old war pony for the purest of reasons…he really liked it.
That's also the purest reason to be an MSCC Star of the Day.
Jerry Sutherland
For a look back at past MSCC Stars of the Day follow this link.