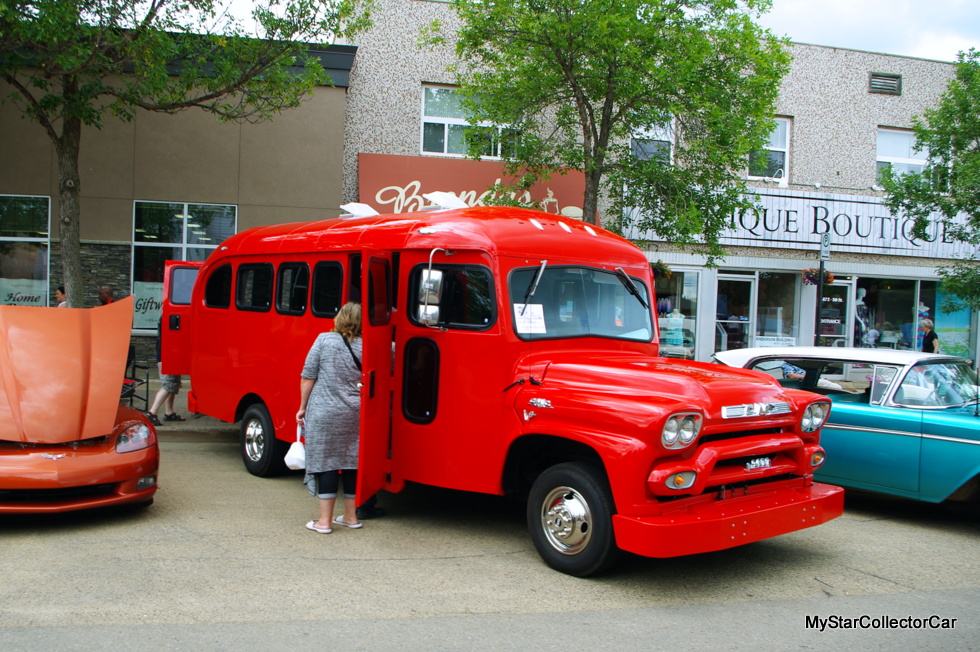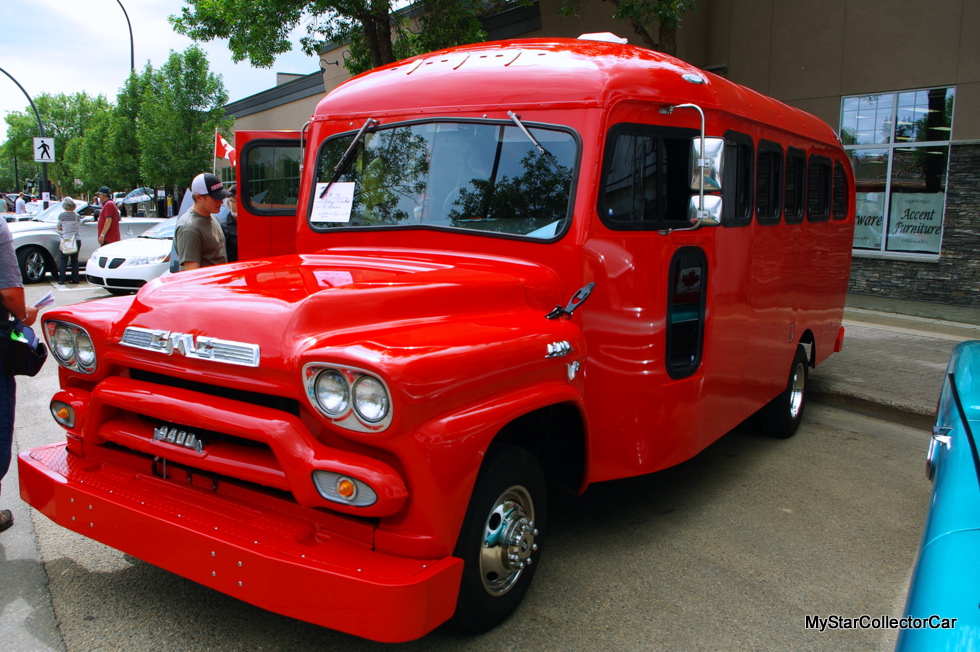 It is no secret MSCC follows the crowds at car shows.
We believe a vehicle that draws a ton of attention at a show will draw a lot of attention as a story for us and we are correct, based upon our reader numbers.
A bright red 1959 GMC 9400 school bus had a large lineup of curious people who wanted to have a look inside of this re-purposed kid-hauler.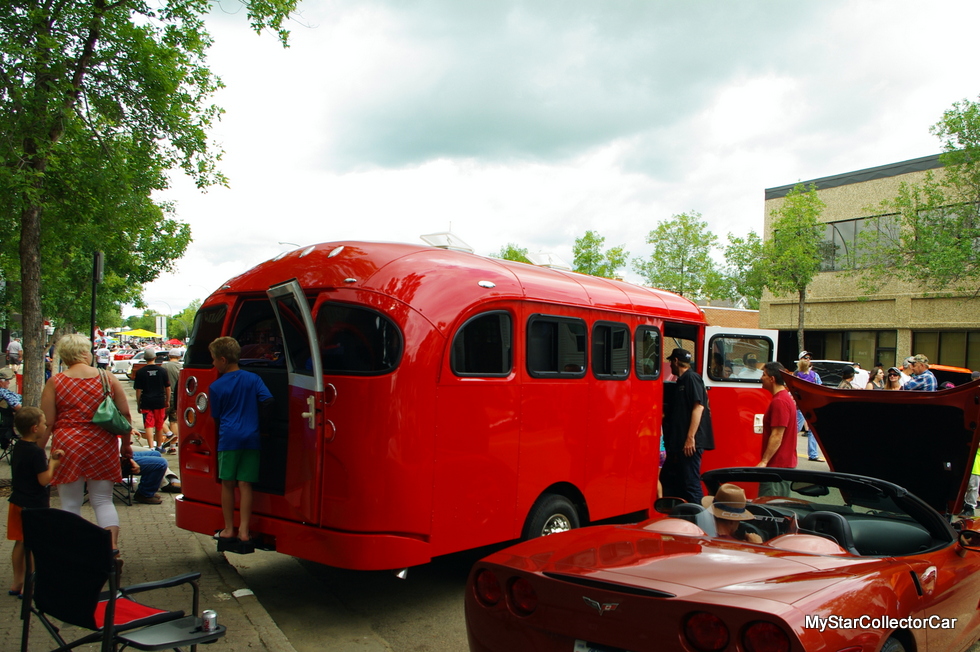 Many of us spent a lot of time on school buses during our childhood years and remember them as slow-moving vessels of complete boredom. The worst part of a school bus trip was getting on it every morning and the best part of trip was getting off the bus every afternoon.
Al Peterson's vintage GMC bus would even have made the morning trip to school great because his school bus has been converted into a cool bus. The giant big screen TV in the bus is a part of the cool conversion process for this former no-frills ride.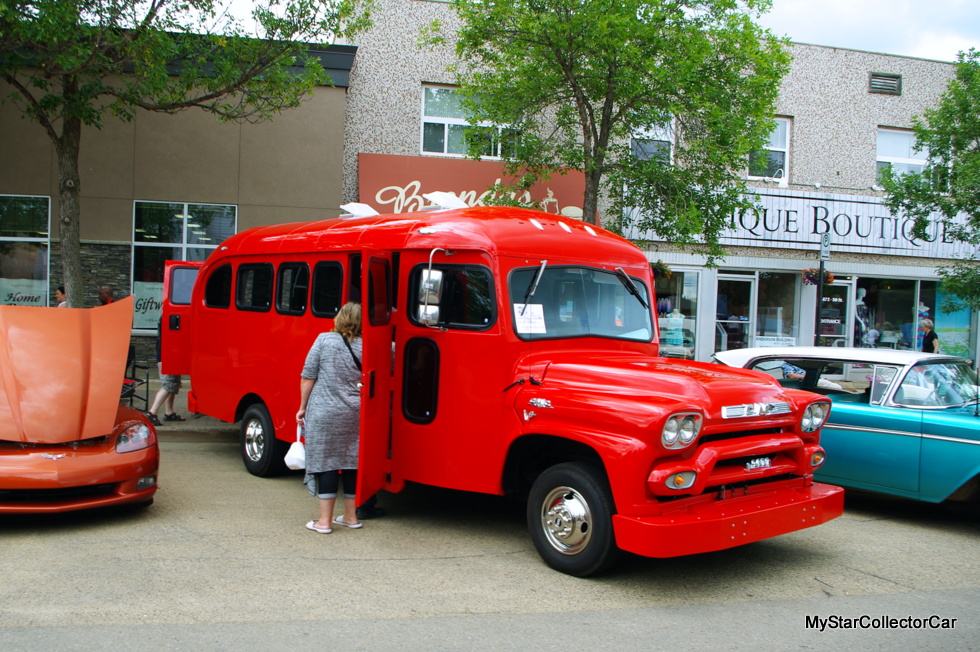 Al spotted the old bus at a neighbor's place not far from his rural home and his first thoughts were these; "Man that's a beautiful bus". It is clear Al is a man of vision because few of us who rode these buses saw them in that light.
Al owned a car dealership four years ago so he was able to purchase three outdated truck chassis platforms from GM at a fraction of their value. Two of the truck platforms were used for cube vans and Al decided to use the third one as the base for his '59 school bus project.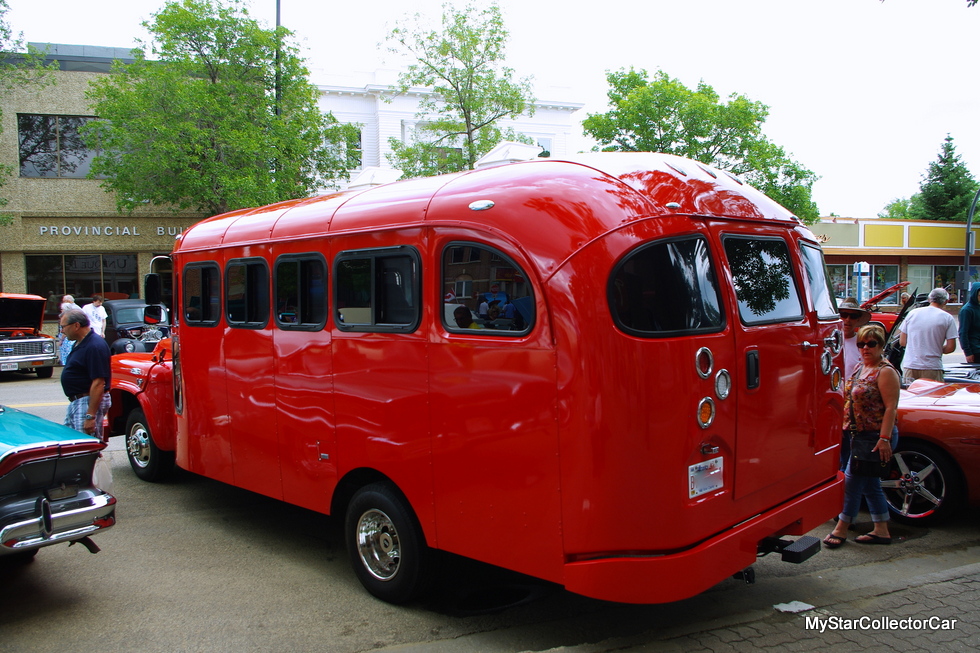 The platforms had all of the components needed to upgrade the ancient bus into a brand new road warrior. The platform's brand new Duramax diesel gave the old bus a serious horsepower upgrade and so did the new suspension on the platform.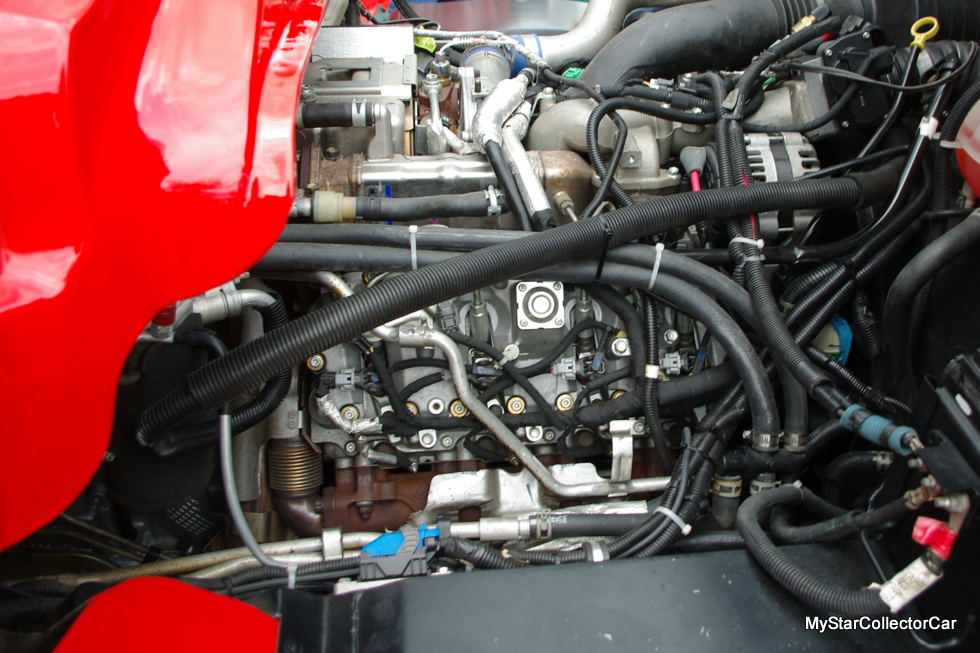 The project to meld the old school bus to the new school engineering began in 2012 and was completed in April 2016. The result is a stunning red machine that has completely abandoned its former life as a boring yellow school bus.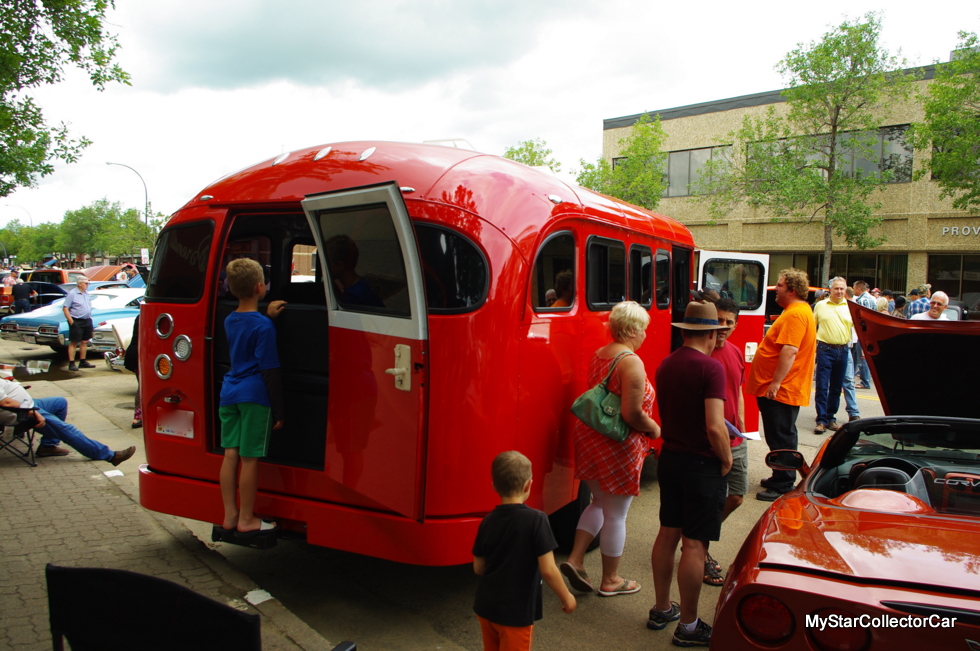 Al calls it a "family wagon" and has already used it to haul his grandkids on road trips. The big TV in his bus also has a DVD player and Al lets them pick the movies so they can be entertained along the way.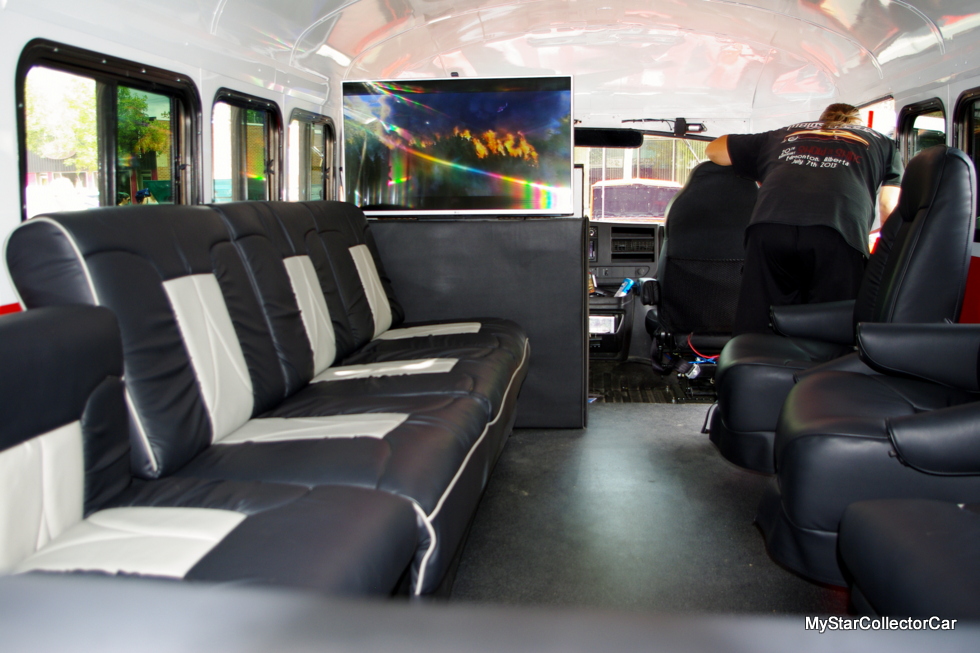 Most of us can remember the uncomfortable board-like seats in an old bus and they were not a part of Al's plan. Instead the bus has been upgraded with very comfortable new seats with actual cushion in them.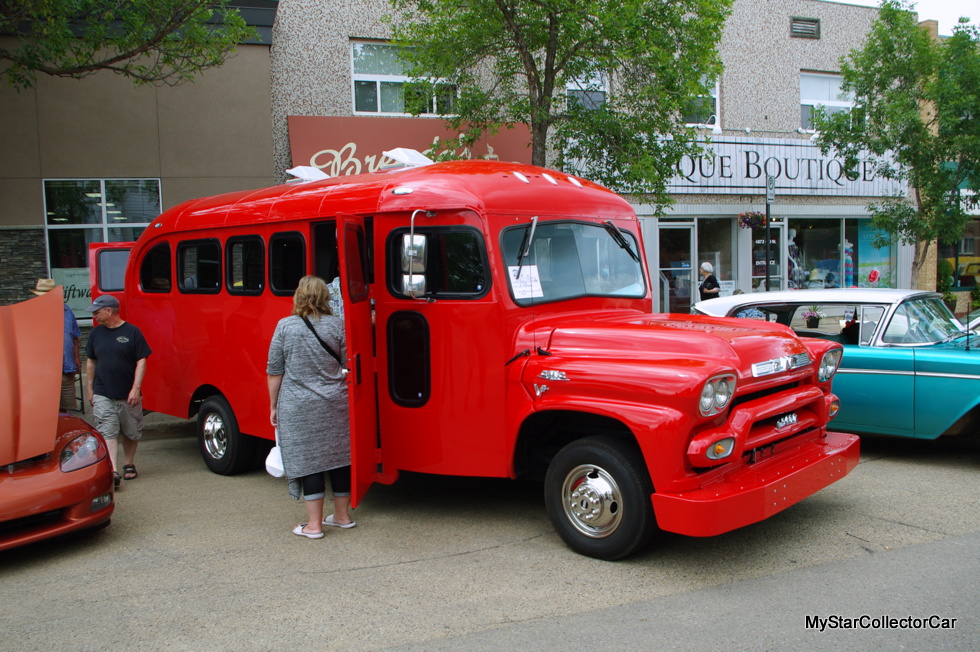 They are also designed with extra storage features, but Al found out he needed even more storage when he picked up his golf buddies in the bus on one of its early voyages. He plans to pull a vintage Boler trailer behind the bus after he guts the trailer for extra storage and paints it red.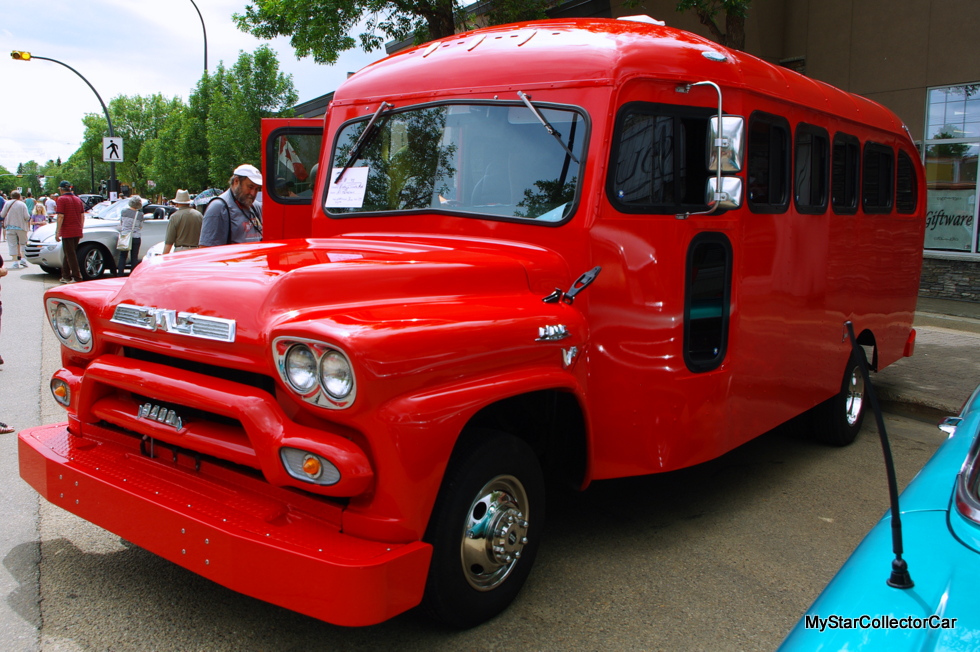 The bus has already performed very well on the road and breezed through the Rocky Mountains on its maiden voyage.
'It may still look old school-even with the bright red paint- but this 1959 GMC 9400 bus has a brand new 21st century attitude. '
Jim Sutherland
CLICK HERE to Like us on Facebook
CLICK HERE to Follow us on Twitter
CLICK HERE to Follow us on Pinterest

Do us a favor–if you like this article re-post it.