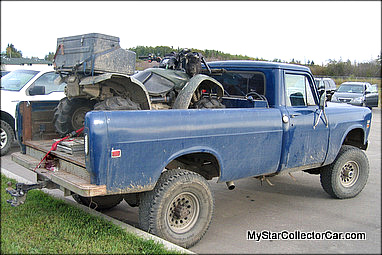 I went to northern British Columbia Canada for my nephew's wedding and found a very interesting truck story at the same time.
One of my nephew's wedding guests had a great story about his 1975 International Harvester 4×4 pickup truck, so I got his story down in writing before the celebrations got the better of me.
The owner of the Corn-binder is a young guy named Lee Anstiss and he definitely had something to say about how the IHC ended up with a 1991 Dodge Cummins diesel engine.
The story actually started with Lee's beloved 1991 Dodge truck that got killed in a crash and became a donor vehicle for the IHC when Lee bought the Dodge back as an insurance write-off. Lee calls the '91 Cummins "the best motor ever" and wanted to use it in another truck.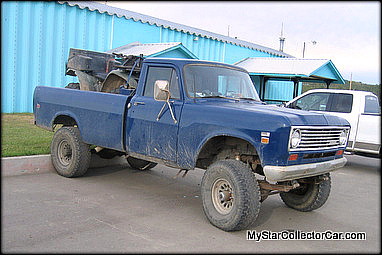 The International Harvester was a low mileage farm-use-only truck that Lee bought for a very reasonable price and drove as an original gas job while he put together his game plan. The truck showed only about 3 or 4000 miles when he purchased it and Lee felt the complete lack of wear on (and under) the pedals was a sign of authenticity.
Northern British Columbia is a wilderness paradise that caters heavily to outdoorsman and Lee is definitely an enthusiastic outdoorsman. The truck had to be a workhorse that could take a beating in the bush and still be a daily driver for Lee, so he decided to toughen it up for the rough roads and trails.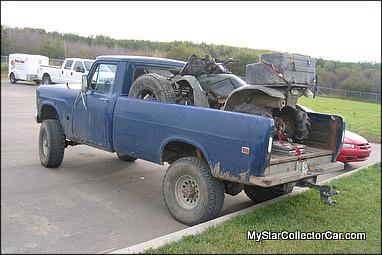 The process has taken about 5 years because Lee needed to use it as a daily driver, so he wanted to do the work in stages. The biggest stage was the Cummins transplant, a process that only took about two weeks when he enlisted the help of a mechanic buddy.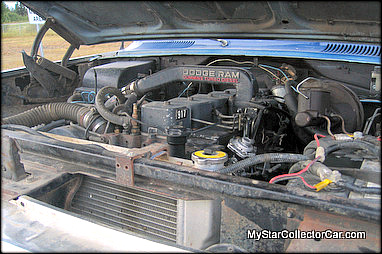 They were able to change the direction of the motor mounts and make the Cummins swap into a relatively easy process- their words-not mine.
They added Dodge front leaf springs and Dana 60 differential into the mix to beef up the truck's off road abilities because the IHC was living in a rugged part of Canada and owned by an avid big game hunter.
Lee learned pretty early that International Harvester parts are difficult to find, but he is a guy who knows how to improvise when faced with a scarcity of parts. Even the rocker panels are now composed of ¼ inch steel that have given the old Corn-binder enough armor to challenge any terrain.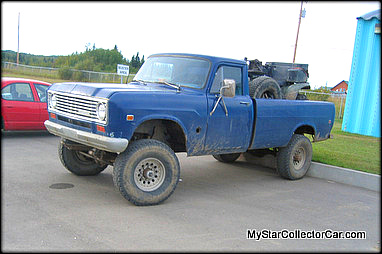 The taillights are off the parts shelf in a truck store and mounted in new housings that were custom built by Lee. They are also now pretty bullet-proof because Lee likes things to be tough enough for the heavy grind of the bush component in the truck's new life.
The message behind the entire IHC project is actually pretty simple: Lee wanted a 4×4 that could handle the very rugged life of northern BC roads, back roads and off roads, plus he wanted to do it on a budget.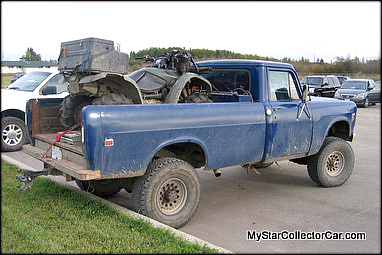 Mission accomplished on all fronts for the unusual old Corn-binder with a brand new outlook on life because of its ambitious young owner.
Jim Sutherland
Follow us on Facebook at-http://www.facebook.com/MyStarCollectorCar
Follow us on Twitter at- https://twitter.com/#!/MyStarCollecto1