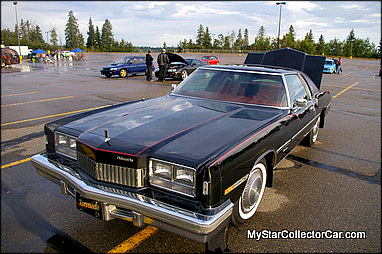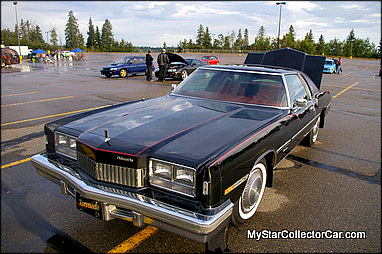 Don Durand has an affliction that's extended over 7 decades.
He has a chronic case of car guy disease.
There are no support groups such as Alcoholic's Anonymous or Gambler's Anonymous for guys like Don so he's left to his own willpower when an old ride is dangled in front of him.
That's why he owns this 1978 Olds Toronado.
Don spotted this mint Oldsmobile at a show in early August 2011 and less than week later he drove it to his local Thursday night drop-in car show. He saw the car, thought about it for the required few hours and he came to the same conclusion. He wanted this big Olds.
Don would have owned it sooner but his decision came on Sunday so he had to wait until Monday to complete the deal. His motivation was simple – this was a one owner, extremely well maintained Toronado and it was the last of the big ones.
Cars like this sometimes fall between the cracks and end up in the hands of an owner who simply wants to thrash the last few miles out of a once pristine car. This Olds had a much better future because Don is a meticulous guy who respects the history behind a car.
A woman bought this Toronado to cover thousands of miles in the course of a year. She was heavily involved in the cattle industry consequently she ran up 100,000 miles on the clock in a short period of time. She wanted a comfortable, stable car so the brand new Olds was the best option back in 1978. Front-wheel drive and lots of weight can be a huge asset in a winter climate.
The Olds did all those miles in the first ten years then it was unofficially retired for the next 16 years in storage. Don said, "It was pretty well looked after because they started it regularly and kept up the maintenance".
Don brought the Olds home and showed it to his wife. She bought in because as Don explained, "she drove it and was okay with it because she used to own a Lincoln Town Car. This car reminded her of that car".
Don looked the car over and found out that he had a fully loaded Toronado including AM-FM radio with the obligatory 8-track and box full of tapes in the trunk. He put the car on a ramp and started two days of scraping mud from the undercarriage. He admitted that this was "a dirty job but not surprising because the Olds had been driven down country roads".
He was impressed that the entire exhaust system was new and attributed that to the Toronado's twenty-year hibernation. Overall he admitted that this car was pretty well maintained—almost to his own exacting standards.
The Toronado was repainted in 1986 but it still shows well thanks to years of indoor storage. Don was not impressed with the detailing under the hood but he did recognize that overall this Olds "felt great. It was really road worthy".
In 2012 Don brought the car up to his standards after a winter of work on the big Olds. The car was nearly showroom pristine plus Don had taken care of the little details that drove him crazy in August 2011.
This '78 Olds Toronado won the lottery because Don is the perfect owner for a car that's led a good life.
Life just got better for it with Don.
Jerry Sutherland
Follow us on Facebook at-http://www.facebook.com/MyStarCollectorCar
Follow us on Twitter at- https://twitter.com/#!/MyStarCollecto1