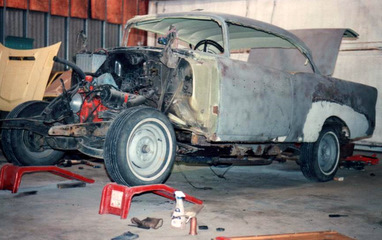 Dave was happy to learn that the 2-door hardtop style made the car significantly more valuable than a sedan.
Not surprising.
Dave came from a hard-working farm family where the only value from vehicles came from practicality not looks so a 4-door stripper sedan made a lot more sense to a big farm family than something like a flashy car only 2 doors-that kind of car was strictly "city-slicker".
Dave drove the car as-is for a few years while he assembled the cash for a restoration. This is reality for the average guy because life at a blue-collar level involves thinking about and saving for something as frivolous as a collector car. It takes a lot longer to plan and complete a project when your hourly wage is within site of minimum wage.
Dave compensated by taking on 2 more jobs to pick up the extra cash for the '56 Chevy project.
Dave had no problem with the extra hours-the car was that important plus he drove the car for a couple of years to get a real sense of what it would be like when the 56 was redone. In the interim he bought 2 parts cars from his brother including his original '56 for a '68 Chevy truck and some cash from Bernie.
He finally put a 283 in it in 1986, left it green drove it for a few months in the summer and it stayed like that-until late1986. Then he tore it apart, took it off the frame sand-blasted it in 87, added rockers, half quarters, floorpans, primered and towed it home in parts where it sat while Dave assembled more cash.At this point, Dave's brother's car contributed a hood, grill and inner fenders to the cause-Dave is really proud that those are part of his '56 Chevy.All part of the family links to that classic Chevy era.
Eventually the car was repainted (in red and white because Dave's dad always shopped at the Red and White Supermarket–Dave saw this as a great tribute) and in 1989 the car saw the light of day with a brand new red and white paint job, rechromed bumpers, Corvette Rally wheels and interior. It wasn't perfect but it looked great. It was appraised at more than 4 times the purchase price–not bad for an investment steeped in nostalgia over potential return.
The real benefit came in 1990 when Dave's car and 2 other '55-6 Chevys were invited to his sister Gloria's wedding. He couldn't think of a better way to celebrate such a profound family link to an iconic car than including his classic red and white '56 Chevrolet Bel Air in his sister's wedding party-600 miles away.
That was a 5000-mile break-in summer including a trip to a 5-6-7 show with his mom–she really got the idea that Dave had a special car when people kept coming up and asking her about the Bel Air.
Part three next week