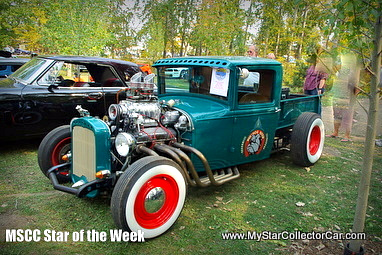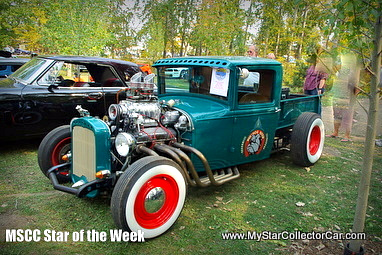 SEPTEMBER 1 STAR OF THE WEEK: '29 FORD-A LOOK BACK AT WHY TWENTIES IRON IS SO COOL
Late 20s iron has always been a favorite canvas for automotive works of art. Some of this is based on pure convenience because hot-rodders could pick up these Roaring Twenties rides for a song.
Fords were particularly common in the world of hot rods because they were common and the flathead V-8s were readily available in the late 40s.
An aspiring hot-rodder could put together a righteous ride in a weekend for a few hundred bucks, some trips to the auto wreckers and a lot of hard work.
This MSCC Star of the Week '29 Ford was at a show last September and there's little doubt that it cost a lot more than a few hundred bucks.
But it really cast a fond look back to where the hot rod culture began.
AUGUST 31 MSCC STAR OF THE DAY: 1957 T-BIRD AND CHEVY-LEGENDS ON FOUR WHEELS
1957 was a remarkable year in many ways. The Soviet Union launched Sputnik I and kicked off a space race that would reach its high point in 1969 when the US landed on the moon.
Humphrey Bogart died that year and Leave it to Beaver began a sitcom run on television run that would end in the sixties.
Elvis, Marilyn and these two MSCC Star of the Day cars were huge stars back in 1957.
This '57 Thunderbird and the '57 Chevy were at a show last year and they were conveniently parked beside each other that day.
Marilyn Monroe and Elvis Presley were nowhere in sight.
AUGUST 30 MSCC STAR OF THE DAY: '65 PONTIAC GTO-60S COOL THAT MADE THE BEATLES LOOK SQUARE
Pontiac started a 60s revolution that had nothing to do with Yippies, Hippies or any form of counterculture.
They called it the GTO and it answered the prayers of every kid with a driver's license and a full time job back in '64.
The concept was pretty simple-basic, mid-sized car plus big engine equals affordable ride. The GTO was all of that.
This MSCC Star of the Day '65 Goat was at a show last night and it underlined why these Beatles-era Ponchos are cooler than the Beatles in 2013.
AUGUST 29 STAR OF THE DAY: '69 HEMI ROAD RUNNER-BEEPER WITH A NASTY DISPOSITION
Wile E. Coyote hated the Road Runner with a passion because he knew he couldn't catch it even when he was wearing rocket-powered roller skates.
A lot of car guys felt the same way about the automotive version of the fast bird back in the late 60s.
The Road Runner was built purely for affordable muscle and it had plenty of that with the base 383.
The 426 Hemi option took a Road Runner from nasty to insane.
This MSCC Star of the Day '69 Hemi Road Runner was at a show last year and it answered the question, "why the coyote could never catch the skinny little bird".
AUGUST 28 MSCC STAR OF THE DAY: '69 CAMARO CONVERTIBLE-AN ICON FROM THE WOODSTOCK ERA
There were a lot of major events in 1969.
Two guys walked on the moon for the first time in the history of space exploration and someone threw a party called Woodstock.
Richard Nixon became president and Richard Petty became a Ford guy for a year.
Camaro was going into its 3rd model year and many observers tend to think that '69 was the milestone year for the Chevy pony car.
This MSCC Star of the Day Camaro convertible was at a show earlier this summer and it was great example of what was on the road when lunar landings and rock concerts made headlines.
AUGUST 27 MSCC STAR OF THE DAY: '57 FORD RANCH WAGON-OUTSTANDING LONG ROOF
Nineteen Fifty Seven Ford station wagons attracts a fair amount of attention at any car show but a pink one is like a rock star.
This one was at a small town show back in June and it was impossible to miss in the bright summer light.
They probably saw the reflection in the space station that day.
This old Ford wagon was a classic example of how a functional piece of transportation from yesterday can migrate to highly cool status today.
MSCC Star of the Day cool…
AUGUST 26 MSCC STAR OF THE DAY: PLYMOUTH-THE OTHER CLASSIC FROM 1940
1940 was a pivotal year for cars because the war years were ahead so automotive design went into limbo for six years.
Despite the break in the action, 1940 left a big mark on the world of custom rides via classics like the '40 Ford and the '40 Willys.
Those cars are the gold standard for hot-rodders because they exuded cool from the factory. It just took a few pioneer custom car builders with a vision to really take these cars to another level.
There was another less-publicized player in 1940 called Plymouth.
They're not as common but this MSCC Star of the Day demonstrated how well these cars work in the world of custom rides.
For past Stars of the Day please follow this link.
Star of the Day page sponsored by Southside Dodge.