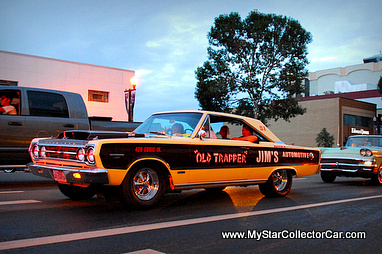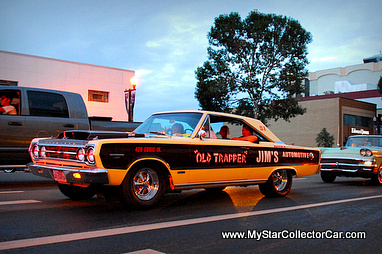 It seems appropriate that a famous western Canadian ¼ mile car should be called Old Trapper because this legendary 1967 Plymouth GTX SS/B track rocket was pure Canuck, with a lot of help from its Ramcharger friends in Detroit.
An old trapper would have felt right at home in the Canadian wilderness during the late 60s and Old Trapper felt right at home on a Canadian drag strip back in the late 60s.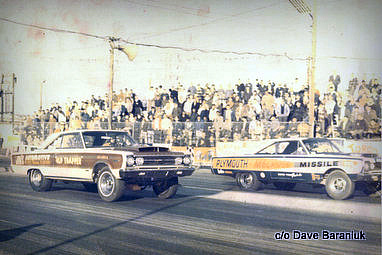 The first time Jim Baraniuk encountered Old Trapper was during time trials at a drag strip in 1968. Jim watched the legendary 1967 Hemi Plymouth GTX blow by his 1968 Road Runner on the ¼ mile track so fast that Jim should have just sat in the stands with the rest of the spectators at Shepherd Raceway in Calgary Alberta Canada.
The image of the powerful Plymouth made a huge impression on Jim because he vowed that "one day he was going to own that car." One day was still a long way in the future for Jim but he finally became the proud owner of Old Trapper in 2003.
Jim's road to Old Trapper's ownership was one of those long and winding roads because negotiations began in 1978 when the second owner of Old Trapper visited Jim to see if he had any extra Mopar parts. The man's name was Ken Edwards and he struck up a friendship with Jim because both men were true blue Mopar fanatics and quickly found out they had that common bond of interest in the Chrysler brand of street warriors.
However, the common bond meant both men were well aware of the history of Old Trapper and they both knew the car was a one of a kind legend for any Mopar fan who followed Super Stocks during the late 60s in western Canada and parts of the United States.
Old Trapper was originally purchased by Edmonton Alberta Canada ¼ mile enthusiast and Mopar fan Jim Ronaghan. Jim picked up the car from the plant in Windsor Ontario and immediately took the factory Hemi Plymouth to Detroit for a little magic from the legendary Ramcharger racing shop in Motown.
A factory Elephant was a beautiful thing on its own in 1967. A Ramcharger upgrade to a Super Stock engine and suspension configuration was the kind of makeover that made it beautifully unbeatable on the track and irresistible to Old Trapper's first owner Jim Ronaghan, as well as its future owner Jim Baraniuk. One man named Jim owned it in 1968 and the other man named Jim wanted it in 1968.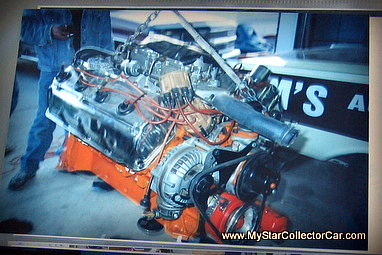 Love at first sight would be the correct way to describe both men's reaction when it came to the legendary 1967 Plymouth GTX.
Old Trapper was the only Canadian car to even qualify for the 1968 Super Stock World finals in Tulsa Oklahoma and it got to the Worlds a quarter mile at a time that season, including the first time Jim Baraniuk laid eyes on the Plymouth as it flew on by him on the Calgary track back in '68.
Old Trapper finished first in the 1968 SS/B Division 6 North point standings and earned its way to the big showdown in Tulsa town that year. In fact, Old Trapper's best time on the ¼ mile NHRA circuit was registered at a Division 6 North meet at Seattle's Arlington Drag Strip in '68 when driver Albert Branham did an 11.10 and 125.87 mph run.
It was very important to Jim Baraniuk for people to know he was only the self-described "caretaker" of the famous car when Jim finally became its owner. Jim Baraniuk was always quick to point out that the real credit for Old Trapper's fame belonged to its first owner, the late Jim Ronaghan and its drivers, Albert Branham and Dick Panter.
Unfortunately Jim Baraniuk passed away in 2009, but his favorite car remains in his family because they understood how much Old Trapper meant to him. His son Dave summed it up his father's feelings; "He never liked to brag, but he sure was proud of it when he got it." Every car guy in the world can understand why Jim was so happy when he got his dream car.
We discovered the iconic car at Rock 'n Red Deer, a show that featured a downtown cruise which had over a thousand vehicles cruising old style on Main Street. Old Trapper even stood out in this large crowd and we were also drawn to it because of its old school brute force appearance and real race heritage. This Plymouth was the real deal and we were happy to discover that its appearance on the street was a rare event these days and we were actually very fortunate to find it at a show.
These days Old Trapper spends most of its time out of the spotlight with the Baraniuk family as a pampered and semi-retired legacy to a husband and father who loved Mopars and racing.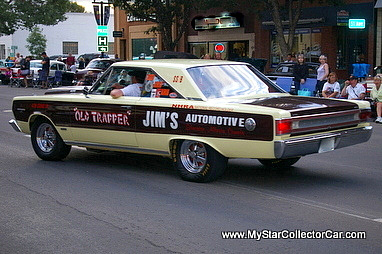 Jim's wife Irene is the current owner of Old Trapper and Irene has always known how much the car meant to her late husband. She was happy to share the car's history with us and we could tell that Irene also had a fondness for the Plymouth because of its close association with Jim. This same sentimental reason could be applied to Jim's son Dave because his attachment to Old Trapper was also due to his father's influence.
The car has full headers and still has a deep oil pan that runs very close to the pavement so the family chooses not to drive it on the street, even though it is now legally registered for the road. The important part of the equation for the Baraniuk family is to preserve the car in exactly the same configuration as Jim kept it.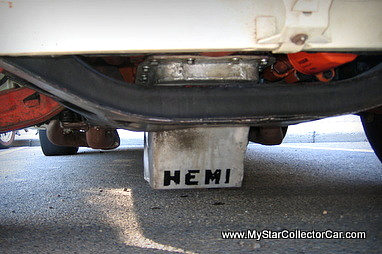 Jim respected its race heritage so he left the battle scars on Old Trapper because you do not mess with history when it comes to a track warrior. Old Trapper looks and sounds just like it did when it was rolling up to the lights on a drag strip in 1968. This Plymouth is loud and proud.
Old Trapper may not be ripping up the track anymore, but it will always finish first in the hearts of Jim Baraniuk's family.
Jim Sutherland