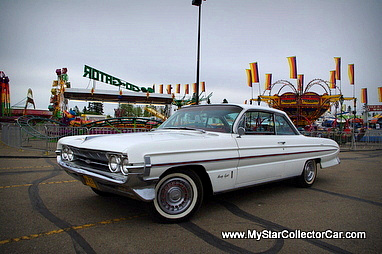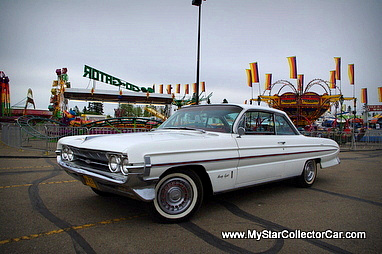 Most car guys are well aware of the spike in prices with the '61 Chevy Impala two-door hardtop.
There's something about a wafer thin C-pillar that really grabs the attention of anyone with a pulse and a penchant for old iron.
Randy Holt has a pulse and a penchant for old iron.
He's been around old iron his whole life and he's even expanded this interest into an old car buy-sell site called Grumpys.
He admits, "I always had a thing for the bubbletops" but '61 Chevys are so popular that the demand exceeds supply. Randy is a flexible guy so his options expanded beyond the bowtie and into the Oldsmobile lineup.
That was the right strategy as Randy recalled, "This Olds came up for sale from a collector so I saw it and made a deal on the spot".
The Olds in question was a 1961 Oldsmobile Ninety Eight two-door hardtop and this car proved to be far more unique than the coveted '61 Impala plus it had that same clean roof line and big greenhouse area.
He explained, "They only made 4446 of these Ninety Eights so this one was pretty special. They built this one in California".
This was a full load luxury car with an eye toward sportiness-essentially the kind of car that a banker with one foot stuck in middle age would drive back in 1961.
The Ninety Eight is a full load car with power everything including seats,windows,steering, brakes and a 394 cubic inch 325 horse V-8 because guys who drove these cars expected nothing less than power and comfort.
The result is a car is built for the turnpike. Randy has spent a fair amount of time behind the wheel but the first trip was memorable because of his wife's reaction.He admitted, "She got in the car and the first thing she did was look for a seat belt. She worries about stuff like that so she wasn't too happy when I told her she'd be looking for them for a long time".
Despite the setback on the safety features, Randy truly enjoys the feel behind the wheel of this 60s luxury ride, "This is a real highway cruiser, the first time I drove it back from Edmonton it drove like a dream. I was really impressed".
Randy's a veteran of the old car experience so he assessed the driving from a realistic point of view, "They drive totally different from new front wheel drive cars. That power steering is so light if you look at it, it turns that direction".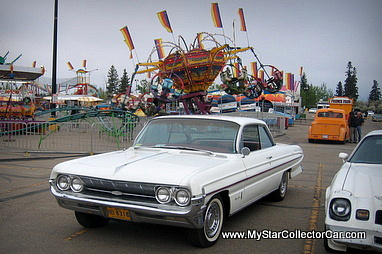 The only thing that really jumps out with this big Olds Ninety Eight is the sheer size of this big brute and Randy sheepishly admitted, "I haven't tried parallel parking it yet in a tight spot".
Car guys are well aware of the instant rock star status that comes with old iron and this Oldsmobile is no exception as Randy reported, "I get a lot of thumbs up with this car, especially from younger guys. It's got a low factory ride height so they think it's a low rider".
This big Olds Ninety Eight is a sheer presence car in 2013 because that's what it was back when JFK was a brand new President of the United States.
Moreover, it's cool, it's rare and best of all-it's a bubbletop.
Jerry Sutherland