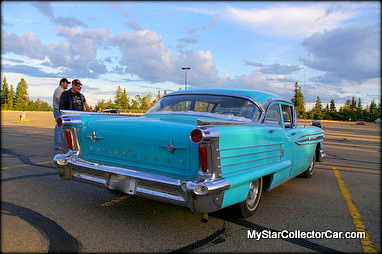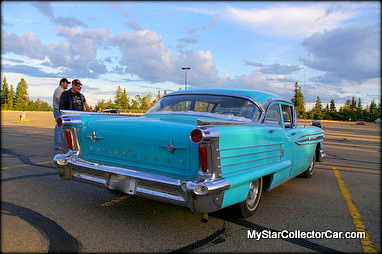 Sebastian Oana is not a typical owner of a car from the Eisenhower administration and a 1958 Olds Super 88 definitely falls into that category of late 50s chrome and fins.
A typical owner of a stock version is usually about double Sebastian's age.
We ran into Sebastian late one evening at a local car show when most of the cars had already headed home. His big Olds would have stood out in the crowd even with more cars around it, because you just do not see too many of these beasts on the road anymore.
The first question we like to ask every owner is "Why do you own your car?" That question was never more obvious when we saw Sebastian pull up in his big survivor Olds from the 50s. It turns out that Sebastian has a friend who owns a 1960 Impala that caught his eye.
He liked the excessive body style found in the late 50s and early 60s, so he went on a search for a car from the era and turned up the Olds. It was a car that was kept in one family after an uncle had bought it and used it as his wedding car.
The car spent 25 years in storage until a nephew decided to sell it to a new owner and that new owner was Sebastian. It is a well-documented survivor car that has worn its 54 years very well, likely because it enjoyed a comfortable 25 year time-out.
The Olds has only 87,000 miles on it and is completely original in almost every way, including the spare tire. The 371 V-8 runs very smoothly and Sebastian felt comfortable enough to use it as a daily driver when we met him early in the car show season.
Sebastian has added a few personal touches that he feels pay tribute to the 50s custom era, including a fuzzy dash. Sebastian has to interpret his touches from his view of ancient automotive history because he is too young to remember the actual decade by about 20 years.
We resist the urge to counsel car guys about what to do with their vehicles but, if we were to dispense advice to a young guy like Sebastian, we would recommend that he listen to Billy Joel's old hit song "Just The Way You Are" and take it to heart.
This is a beautiful car with an enthusiastic young owner and it may be the start of a beautiful friendship for both of them.
Jim Sutherland
Follow us on Facebook at-http://www.facebook.com/MyStarCollectorCar
Follow us on Twitter at- https://twitter.com/#!/MyStarCollecto1