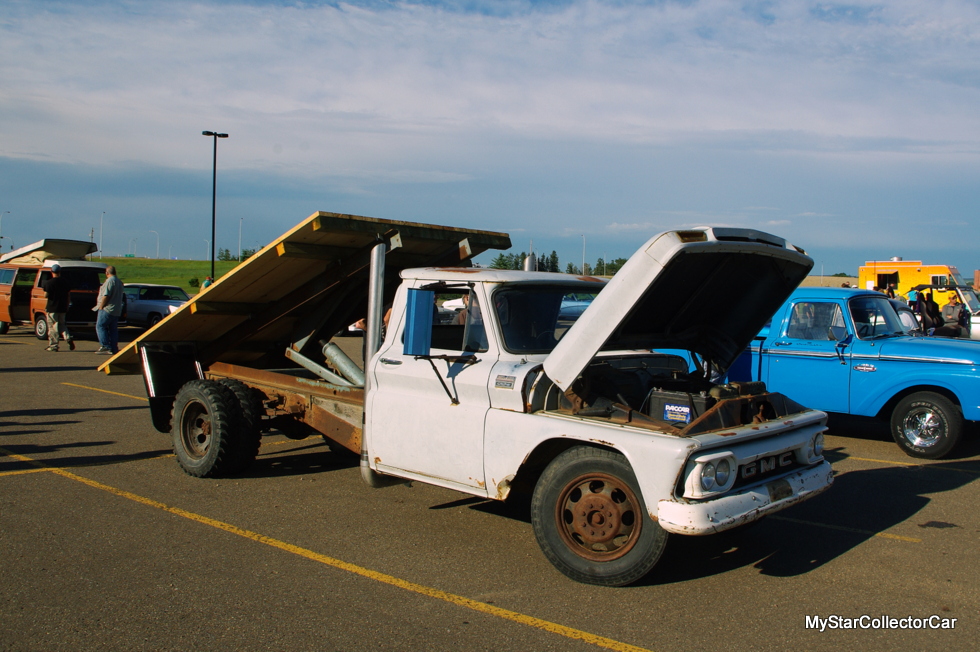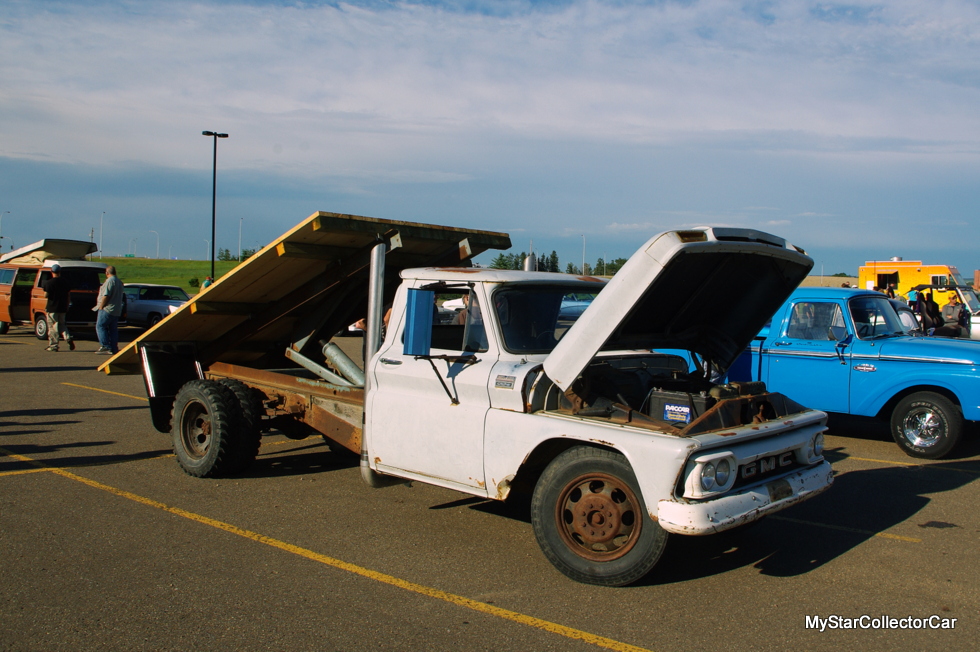 There is one reason why old farm trucks get shoved to the back 40 acres.
'Farmers see their vehicles as working machines so when an old truck gets a little less dependable or it can't handle more of a workload, it gets a one-way trip to an obscure pasture.'
There is no room for sentimentality on a farm, even if there's a long family history with an obsolete truck.
Dallas Larson had a different attitude about his grandfather's '66 GMC 1-ton farm truck because he had plenty of sentimentality about the old workhorse—enough to put it back on the road.
Dallas explained how he's "pretty sure" his grandfather bought this truck brand new (only option was the AM radio) but retired it when it couldn't handle demands of the bigger loads. Technology caught up early to the dependable old 1-ton so it only has 52,000 original miles .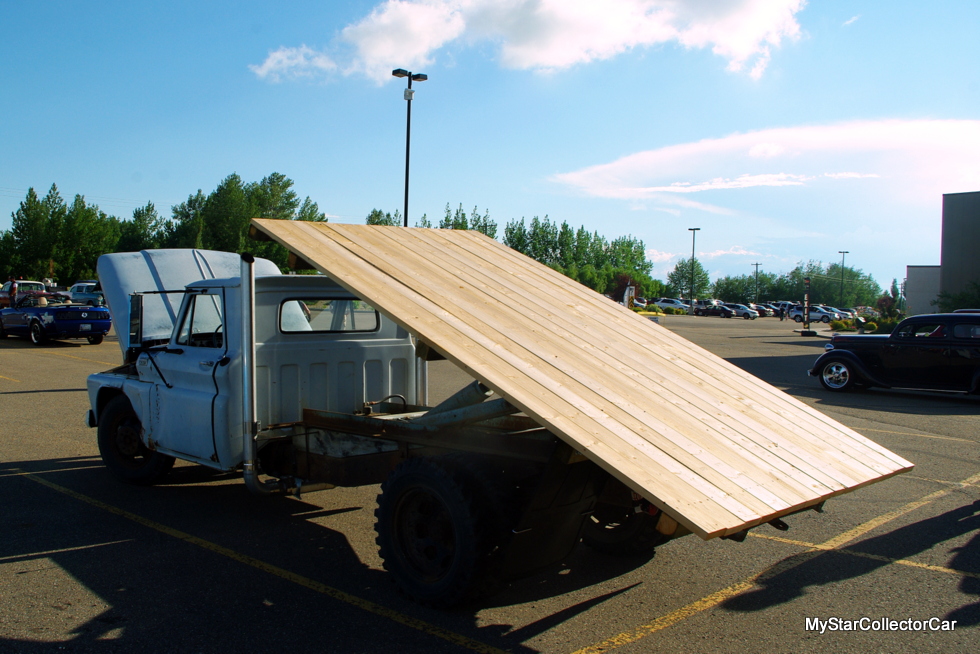 His mom "used to drive it" and so did his uncle and eventually his cousin ended up with the old grain truck. Dallas said his cousin "used it as a bush truck and had some fun with it but he blew up the original engine—ran it out of oil and coolant so he shoved it back into the bush".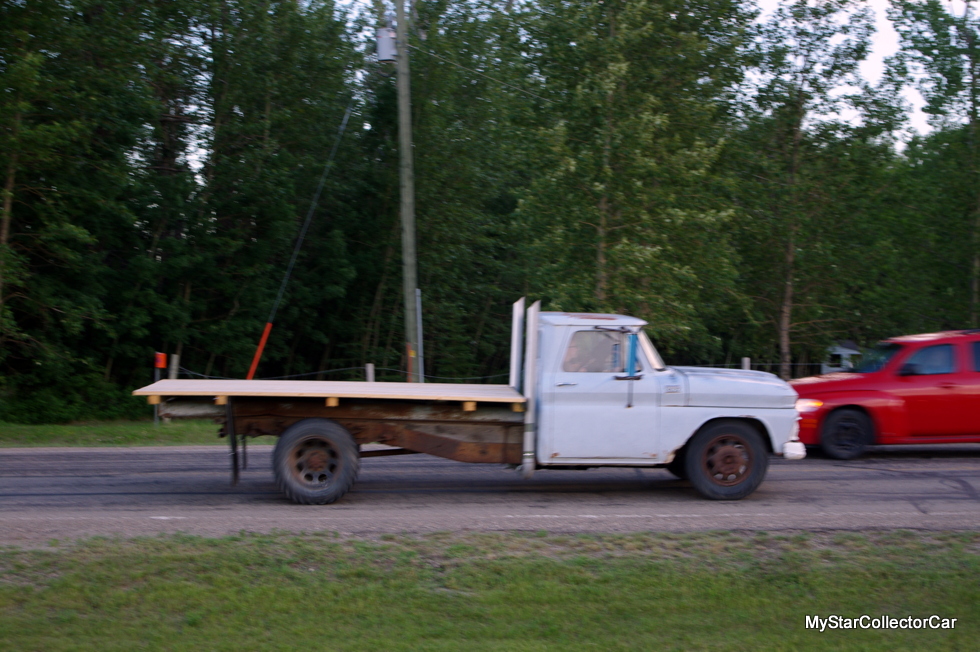 Dallas remembered the truck "sitting in the bush" from his younger days at the farm so he jumped at the chance to own the family legacy. He pulled it out of the bush and found a new heart for the 50-year-old GMC. He found an engine out of a 50s era Chevy and "had it slapped in in four hours".

Dallas came from the farm so he's a master at improvisation and he applied that to the old truck. The truck bed was gone—they "tore it off" so he built a new deck and fitted it on like it was factory. The lift still works because it "goes up and down—just a little slower" so this is a fully functional farm truck.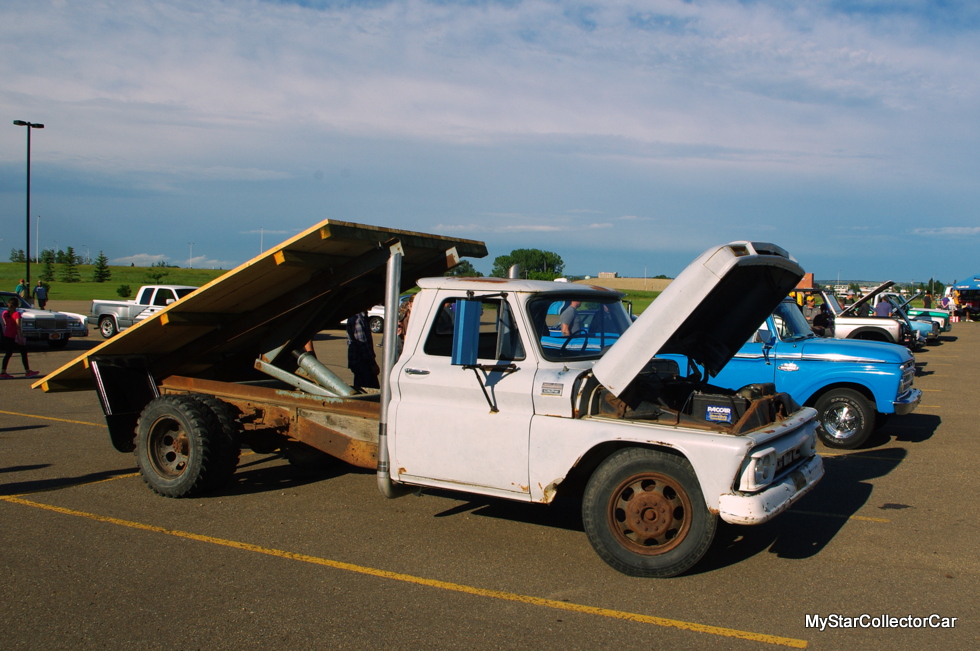 He ad-libbed with the dual exhaust system because it's from an IHC tractor and the steering wheel is out of a '67 Olds because he needed the signal light assembly and "it fit". The mirrors are replacements but they are in the original brackets so there's a definite retro-look to this old farm truck.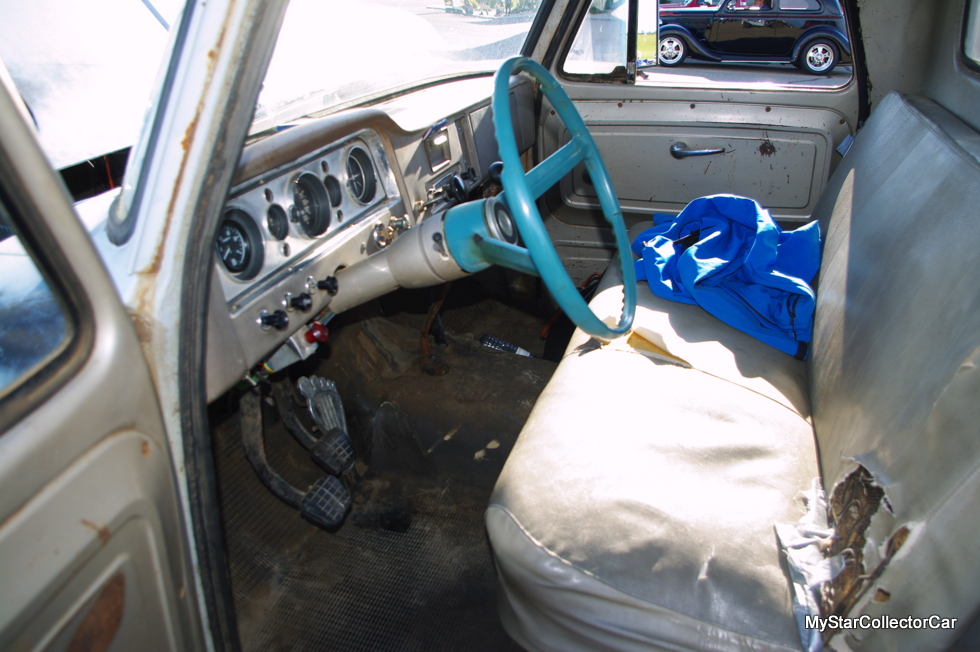 Dallas is a young guy but his farm experience has given him a fair amount of experience behind the wheel of vehicles that don't handle like Ferraris but he still described the truck's steering this way: "Lots of play, it's a little tricky".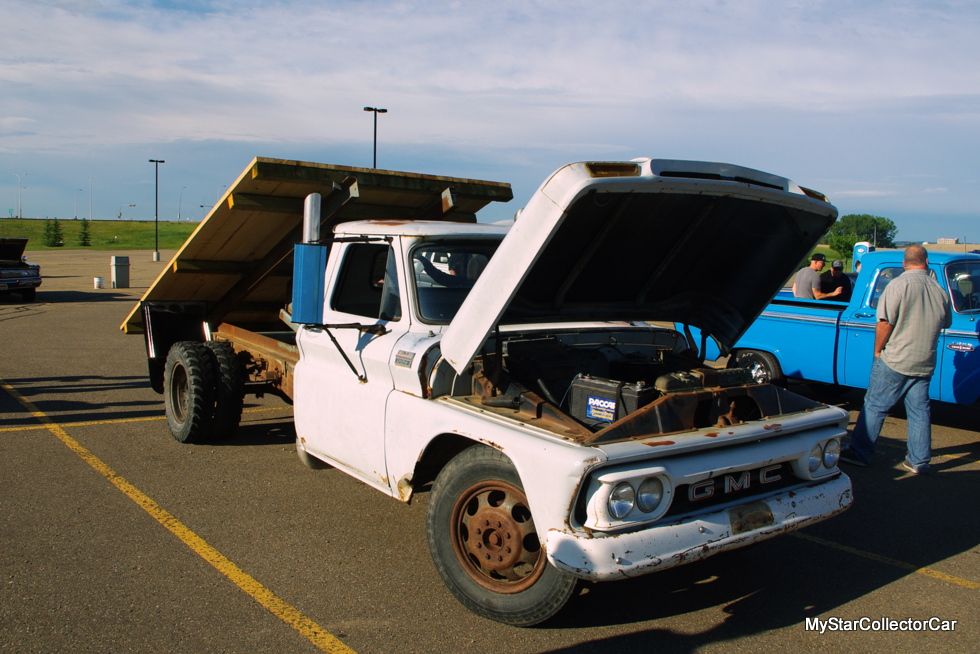 The old GMC is still old tech so there's only a single master cylinder. Dallas said it's plumbed differently so when you brake hard it "wants to pull to one side because that's where all the fluid is" but he copes with it because he understands the principles behind it.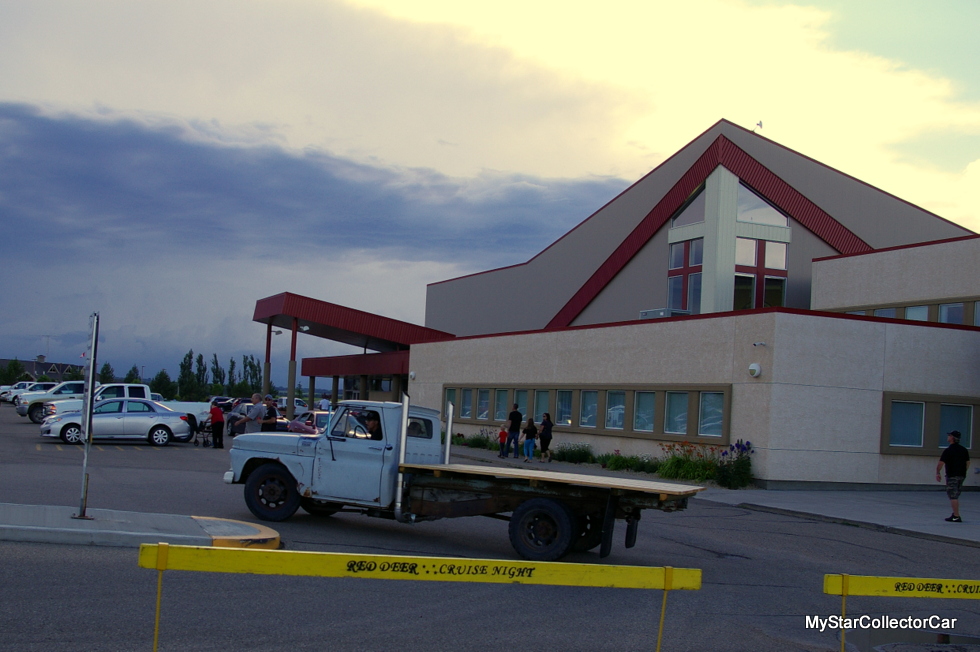 This truck is not a highway cruiser in any sense of the concept. It's got the stump puller rear end and farmer-low manual transmission so it's "screaming to do 55 miles per hour" on the road. Dallas is philosophical about that limitation too and he admits it's "actually pretty fun to drive".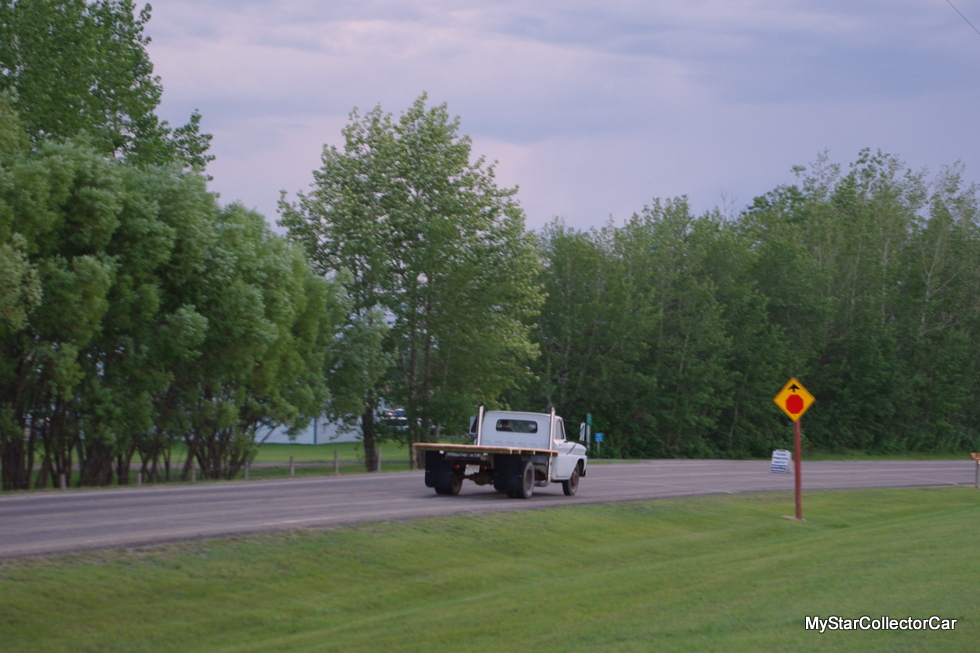 He's also very clear about why he saved the old truck.
"It puts a smile on your face, because this is the family truck—my grandfather, my uncle and my mom drove it".
Jerry Sutherland
CLICK HERE to Like us on Facebook
CLICK HERE to Follow us on Twitter
CLICK HERE to Follow us on Pinterest
**Please re-post this if you like it.