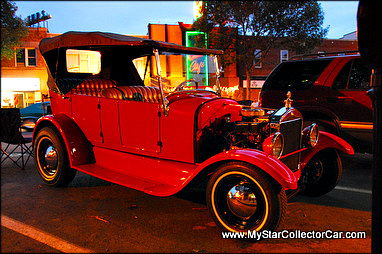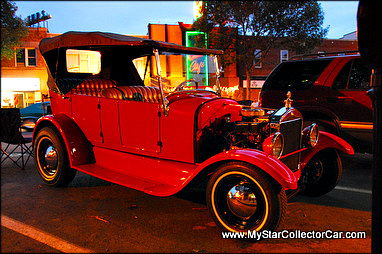 The first time we saw this car we wondered where we would find the redheaded high school kid named Archie Andrews of comic fame at the show.
This sporty little retro buggy had the classic look of Archie's set of wheels, but that was not the original inspiration for this car's previous owner, Pat O'Connor.
Pat was actually inspired by a Frankie Avalon and Annette Funicello flick called 'Muscle Beach Party' when he was an impressionable 13-year-old kid. The car made a very brief appearance at the start of the movie and a very big impression on Pat.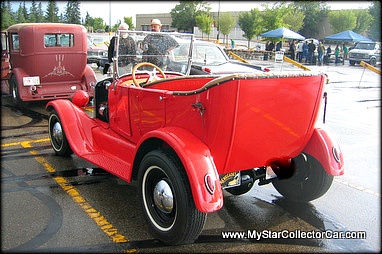 A 60s beach movie was typically based upon the numbers of bikini clad young babes in the beach scenes, acting, plot line and everything else was secondary to the hotties in the movie. Sure we eventually noticed other things, but it would take a true car guy to remember a fleeting glimpse of a  and Pat was a true car guy.
In 1980 Pat became the proud owner of a "field fresh 1927 Model T body shell and spent the next  23 years building it into what you see here", in his words. The little red rod was Pat's dream machine and he wanted it to stay in the family, so he decided to give it to his daughter Dana while he still had a choice in the matter.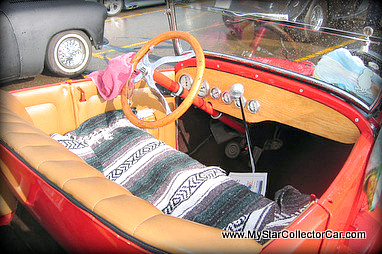 Dana was the perfect choice because she lives and breathes the car culture enough to jump right into wrenching on engines or grinding on body panels. The car had been around for most of her life and she knew how much it meant to her Dad.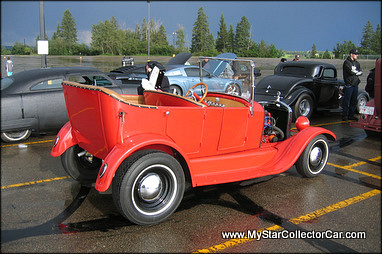 As stated earlier, Pat wanted to ensure that the car stayed in the family while he still had a say in the matter and he chose his daughter Dana as the new owner. Pat has other cars to occupy his time and Dana now has her own legacy car.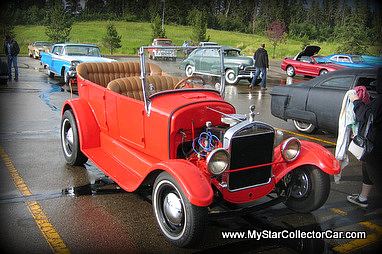 The little T has a peppy little Chevy II four-banger in it that gets Dana to a lot of car shows in a hurry. She is engaged to a fellow car enthusiast and the two of them attend as many shows as humanly possible during the summer show season.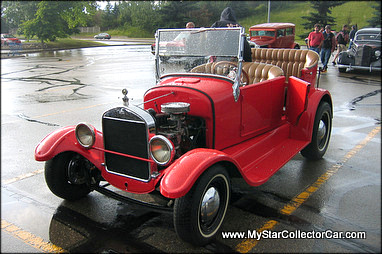 Her fiancé Joel has a chopped 1951 Ford that Dana helped chop before it made its debut this past spring. The happy couple is a familiar sight when they travel in tandem down the road to another show, preferably in sunny weather because Dana tends to travel with no roof to shows.
Clearly, it is always a good story line for us to find multi-generational ownership of a car and it is even better when the previous owner passes along the keys to somebody in the family that really appreciates the car. The fact that the new owner is Pat's daughter just makes the story a great one for us because car guys don't always have to be guys.
In fact, a story about a dedicated car girl is one that we will seek out at every show.
Jim Sutherland
Follow us on Facebook at-http://www.facebook.com/MyStarCollectorCar
Follow us on Twitter at- https://twitter.com/#!/MyStarCollecto1 
Follow us on Pinterest at- http://pinterest.com/jerrysutherland/classic-iron/