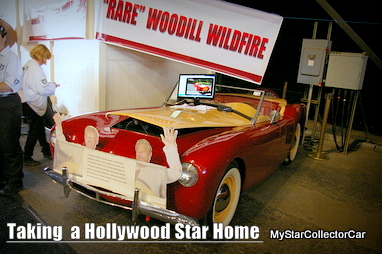 One of the most interesting stories of early 2015 was about how a 1950s movie star was bought by a guy at an auction.
Now that we have your undivided attention, we will explain how this story played out at Barrett-Jackson in January.
The star in question was a car- but not just any car.
This was a Woodill Wildfire and it was a limited edition fiberglass sports car built by the aptly-named B. Robert (Woody) Woodill for use as a movie car. In fact, the Wildfire starred with Tony Curtis and Piper Laurie in a racing movie titled 'Johnny Dark'.
Most people know Tony Curtis and most would best remember Piper Laurie for her role as Carrie's overbearing mother, a woman who was cured of her annoying traits by her telekinetically talented daughter. Few people would remember Tony and Piper starring in their 1954 movie- or the movie itself for that matter.
But it was also one of the first movies for the Woodill Wildfire sold at Barrett-Jackson and few cars are given the opportunity to become Hollywood famous.
The Woodill Wildfire was also featured in the 1954 comedy 'Knock on Wood'. This was a movie that starred Danny Kaye as an offbeat ventriloquist who gets tangled up in an espionage plot during an era when the then-young Cold War was heated up by the spy tactics employed by the United States and Soviet Union.
The final movie role for the Wildfire was 'Written on the Wind', a 1956 movie about a highly dysfunctional Texas oil family. The movie starred Rock Hudson, Dorothy Malone, Robert Stack and Lauren Bacall among others, but the car was also a star in the movie.
The car was retired from show business and spent 34 years as a feature car in a Las Vegas car and space museum. The information indicated designer Woody Woodill actually drove his namesake car to the Vegas museum in 1980 and included an authentication certificate with the Wildfire.
The certificate indicated the car was the only production model known to still exist when Woodill delivered the car in 1980, but there are likely a handful of others that still exist, according to various sources.
However, this Wildfire has a Hollywood heritage and one would expect it to command the most money of the remaining cars. This is where the plot takes a twist because the car was the surprise bargain of Barrett-Jackson at their 2015 Scottsdale auction.
For starters, it did not have a place among the other movie cars like Christine and the '55 Chevy from 'Two Lane Blacktop'. The Wildfire was placed in a less visible location and was less noticeable in a sea of highly notable vehicles.
It was easy to miss the car if you were not specifically looking for it and many people must have missed it, even the active bidders when it crossed the auction block, because this iconic movie star sold for a mere $17,600 to its lucky new owner.
This was not a mere bargain in our opinion here at MSCC, this was an out-and-out theft at that price. The car had two things that should have driven the car well south of 100k: ultra-low production numbers and a starring role in three movies.
We should have looked for the person with the biggest grin on their face after the car left the stage.
That person would have to be the new owner of a movie star bought for a song.
Jim Sutherland
CLICK HERE to Like us on Facebook
CLICK HERE to Follow us on Twitter
CLICK HERE to Follow us on Pinterest
*Re-post if you like this MSCC article…thanks.