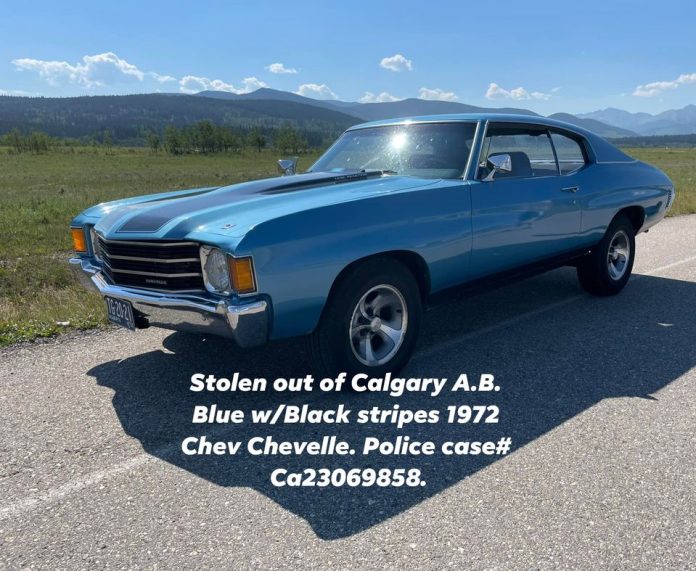 Please share the heck out of this. This is my family's car. It was stolen along with a 2012 Yamaha YZ450 out of my deceased brother in laws garage in Calgary A.B. It has been in our family for almost 40 years. This car means so much to the family. Let's get this shared and bring her home. Thank you. Please report sightings to the police or PM Dave Bott Cody David Bott. Thank you for all the help.
Stolen 1962 CHEVY C10 STOLEN IN BEND OREGON ON FEBRUARY 19, 2021
I just had my 1962 classic Chevrolet C10 truck stolen from a garage in Bend, Oregon, where it was being worked on, and they captured some rough footage of the thief. I'm hoping someone can recognize him and help me recover my family heirloom. This truck has been in my family for 56 years.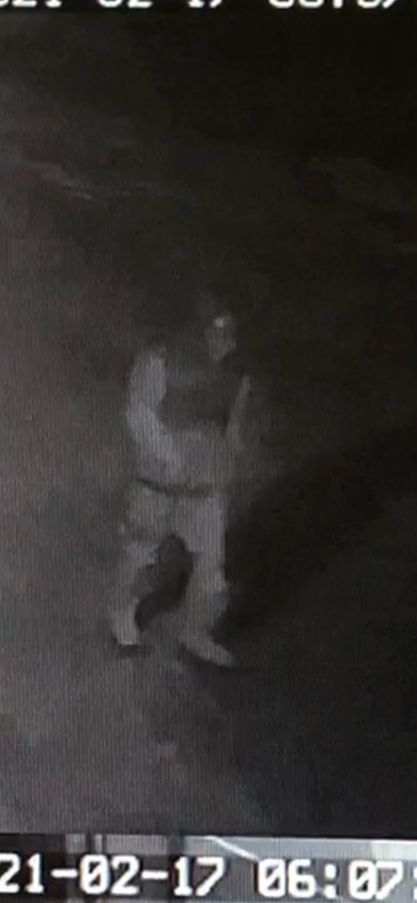 My father (who is 97 years old) bought it in 1965 as his work truck. When I was eight years old, my Dad sat me on his lap and let me drive it around our block (1968. Yeah I'm an old guy as well.) It was the first car I ever drove. The sentimental value here is heart-breaking.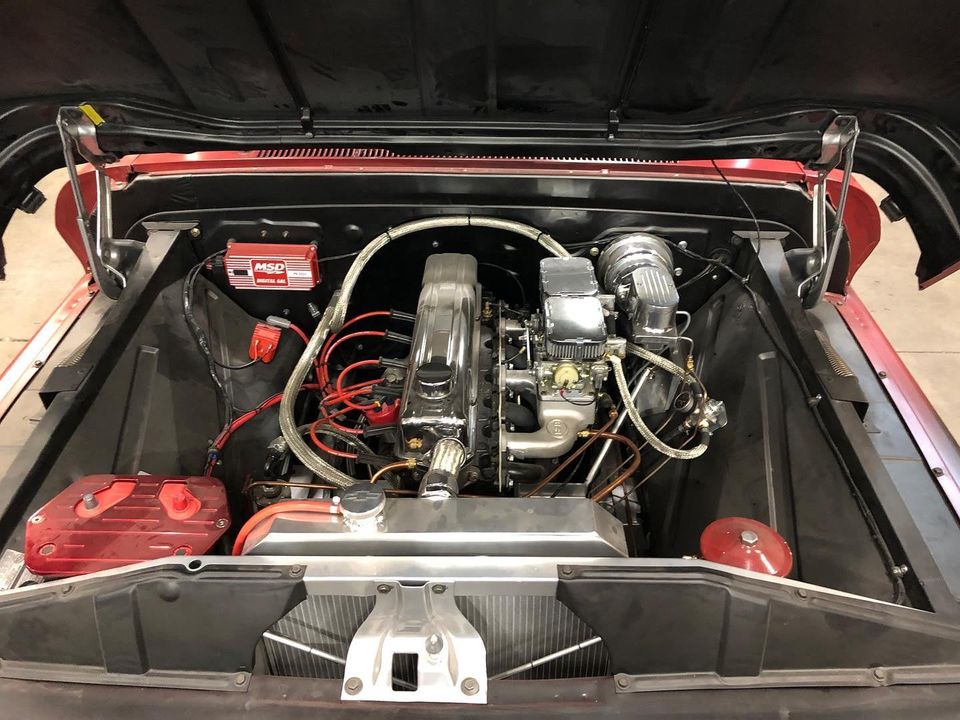 Then the truck was stolen from my Dad in 1995, and I did this same thing (I spent over a year locating and recovering it) and I finally recovered it. My Dad let me have it for my efforts, and I have been pouring my heart and soul into it since. When my son was 6- years old, I sat him on my lap and made sure it was the very first car he drove as well (he is 20 years old now)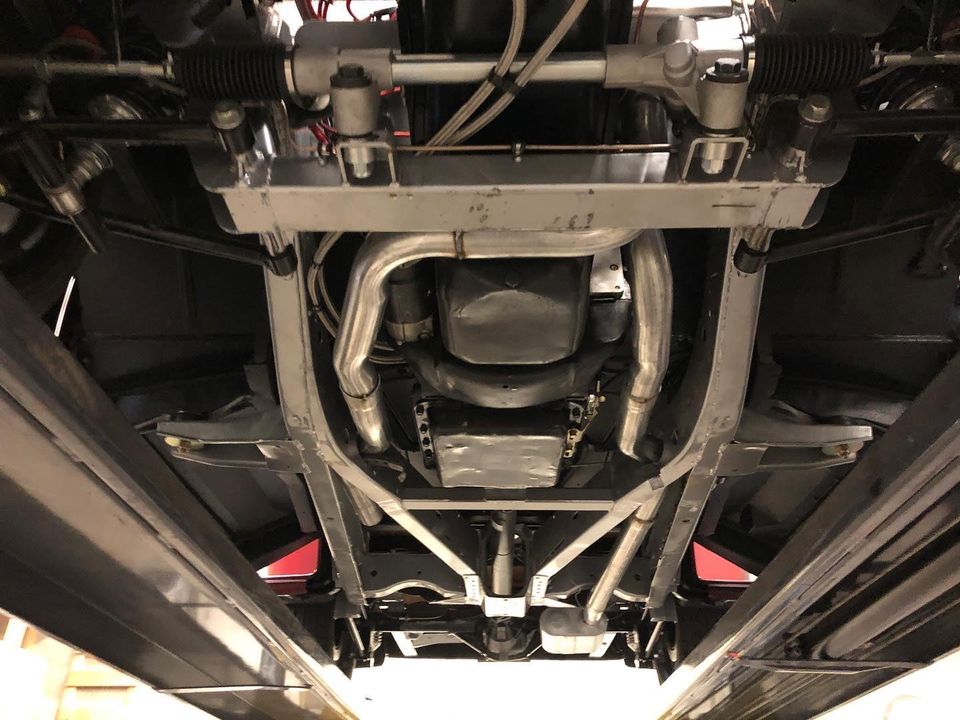 After years of pouring our hearts into it, we were at the finish line of completion of an amazing restoration and it got stolen again! I need help finding it again. Can everyone please post this everywhere they think it may help? I am offering a $10,000.00 reward for the arrest and recovery of the truck. Thank you to everyone in advance for helping us recover our family heirloom! CONTACT Curt Swanson.
Stolen 1975 CORVETTE CALGARY, AB NOVEMBER 5, 2020
Stolen! Stolen! Hey guys, my name is Jason Block. I own and operate Western Corvette in Calgary. Last night we had a red 1975 Corvette Convertible (license plate MAGGIE5), and a white 2005 Chevrolet Silverado 2500HD (License plate ZWX-171) stolen from our facility between 11pm-3am. They also took a bunch of rare and collectible Corvette parts. Anyone with information is asked to call Calgary Police as well as Western Corvette. Please see attached pics of the car and the low-life SOB that did it. Thank you for any help that you can provide. Let's keep an eye out and hopefully we can get this customer his car back and my dad his truck back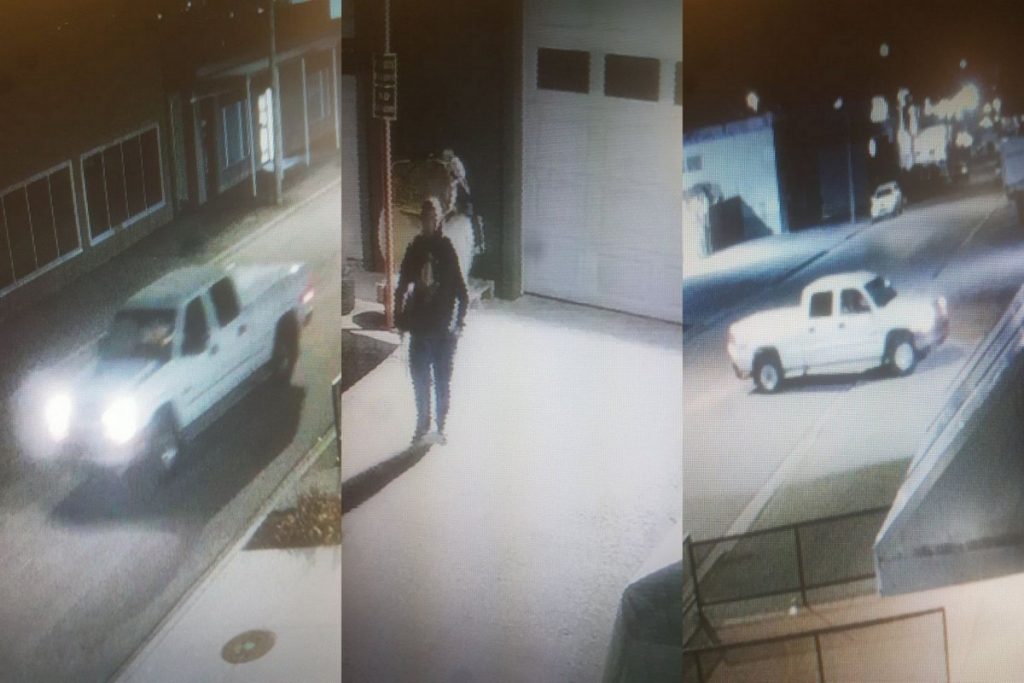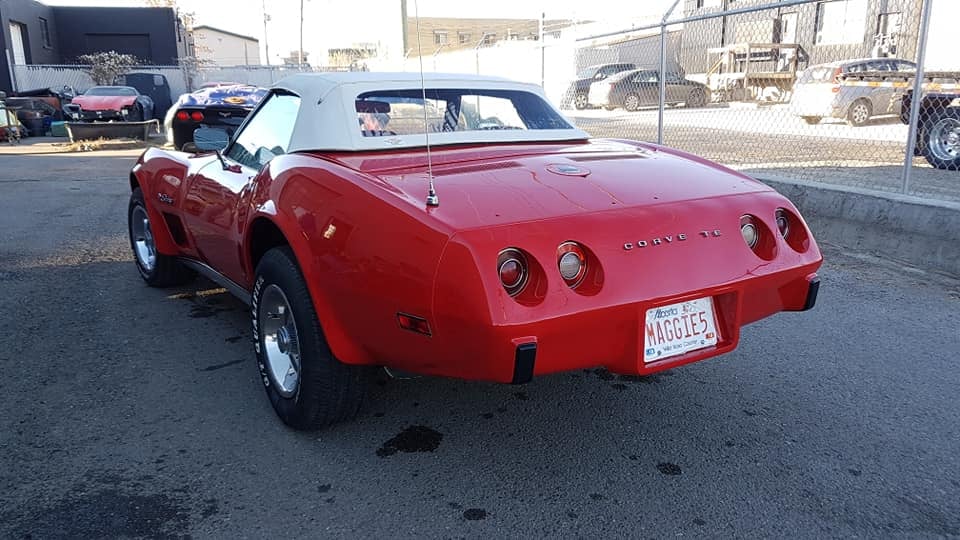 Stolen Truck Red Deer AB, APRIL 11, 2020
If seen please contact RD or Blackfalds RCMP Please keep a look out for this truck it was just stolen in Red Deer from downtown near the old Co op store and 7-11 … This truck is extremely special to everyone in my family as it was my late nanny and poppy's truck for many years and was passed down to my brother when she passed last may Please call 597-566-6490 or her brother at 403-392-8502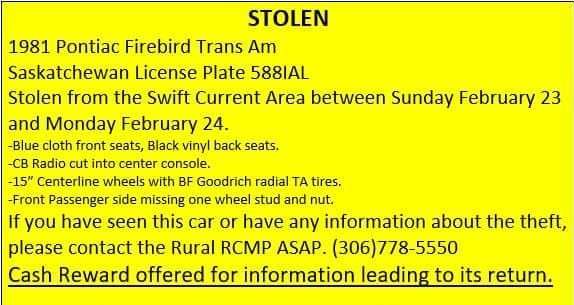 PLEASE HELP ALL CAR GUYS AND GALS…. BE ON THE LOOK OUT . 1961 IMPALA BUBBLETOP WAS STOLEN FROM A STORAGE YARD IN STRATHMORE

ALBERTA THE MORNING OF JULY 3, 2019 @ 5 AM.

THE CULPRITS VIEWED THE CAR EARLIER IN THE DAY AND CAME BACK IN THE EVENING AND STOLE IT. THE CULPRITS HAVE BEEN SEEN ON CAMERA.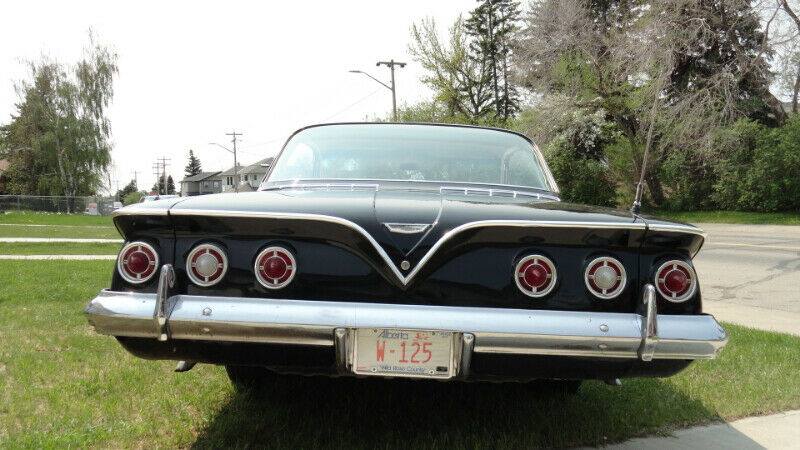 IF ANYONE KNOWS ANY INFORMATION LEADING TO THE RETURN OF THE '61 IMPALA BUBBLETOP THERE IS A $1000 REWARD… THANK YOU ALL FOR YOUR HELP… PLEASE CALL 403-901-1660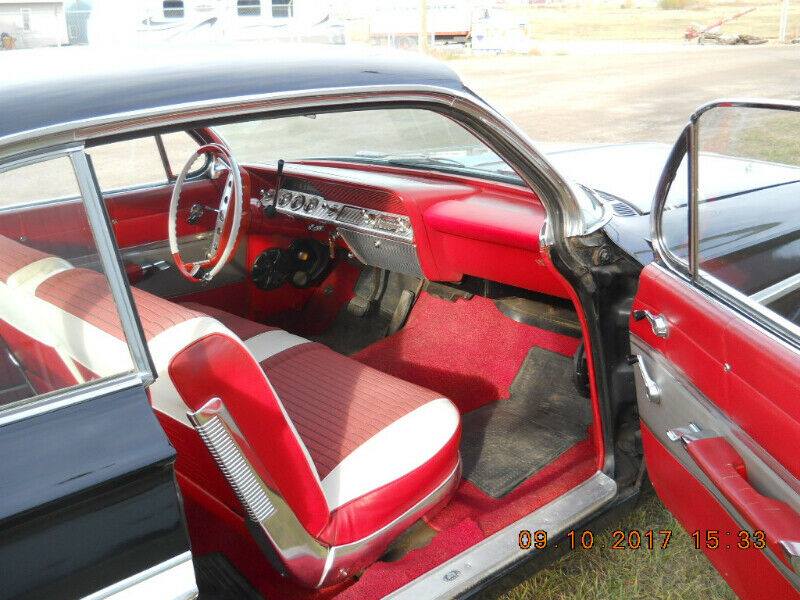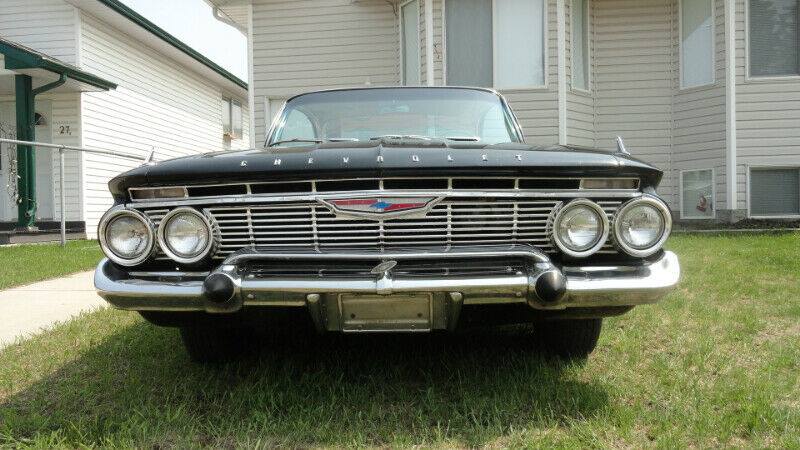 TOYOTA STOLEN IN COCHRANE, AB ON JUNE 3, 2019
FOUND!!!
This is the Show Your Ride For Brandon Toyota and it was his actual truck. Please contact Cochrane RCMP (403) 932-2211
You can find more updated information on the Show Your Ride for Brandon Facebook page:



STOLEN! 10,000.00 cash reward
Please repost!!
My 1972 Chevelle SS was stolen from Nisku warehouse October 29th.
I am offering a 10,000.00 cash reward leading to the recovery of this car.No Questions asked!!!!
PM Me if anyone has see's this car, or has any details of its whereabouts! Contact me via Facebook


My mom's boyfriend's car was stolen from Sandman hotel in Revelstoke last night(June 2, 2018) ! Please help if you see it…contact Revelstoke RCMP Phone: (250) 837-5255

B.C. licence plate on the vehicle reads B35-476, and the identification number is 124679N648614.
White interior, top and stripes along the sides, as well as ZL1 badges on the exterior.

STOLEN!

1966 Ford Fairlane in White Rock, BC, Canada on February 26, 2018. Please contact White Rock RCMP or your local police if you see this car.
" My parents car was stolen from White Rock area February 26, 2018. Please keep an eye out for this car and contact RCMP if you see it."

MSCC STOLEN CAR ALERT: 1966 E-TYPE JAGUAR STOLEN IN EDMONTON, AB CANADA
My burgundy 1966 E-Type 2 seater Coupe was stolen from my garage in the Bonnie Doon area at 12:30 AM on Thursday June 8. Two men were seen pushing it down the back alley then push-starting it and one man driving it away towards Connors Rd and the other followed in a late 90's / early 2000 ( thin rectangular headlamps ) green Chevy extended cab pickup with a small chrome push bumper on the front and a large metal job box in the truck box. The truck has a pink graphic design on the side with the outline of mountains. If you see this Jaguar E-Type or the green truck, please contact the Edmonton Police with the license plate of the truck and description of driver and any passengers. 780-423-4567 or # 377

MSCC STOLEN CAR ALERT: '68 CAMARO-STOLEN IN BALZAC, ALBERTA MAY 16, 2017
This '68 Camaro was stolen from a storage building on the morning of May 16, 2017 in Balzac, Alberta. License plate say "to be young" . Please share.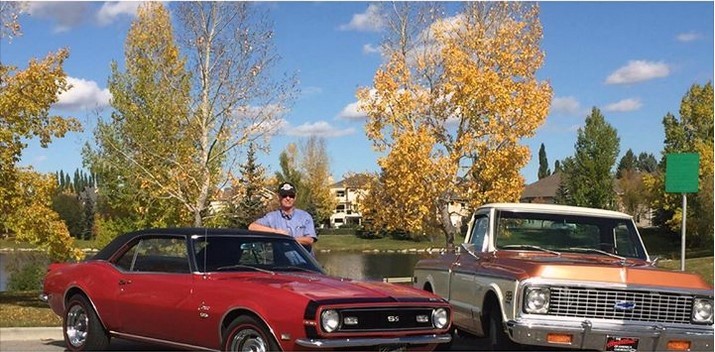 Please contact Airdrie RCMP 403-945-7200 if you see this car

STOLEN! APRIL 8, 2017 RED DEER, AB–PLEASE HELP FIND THIS TRUCK!
Here's a YouTube video of the truck last night.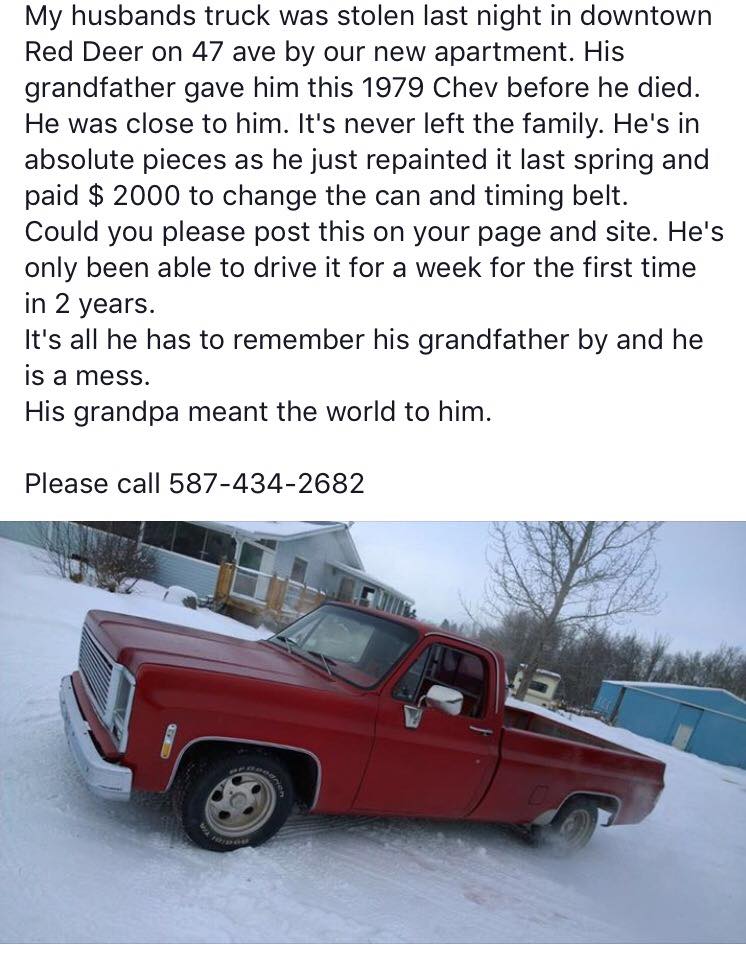 This

1978 Chev C/60 with Holmes 500 wrecker (as shown with Red Deer Auto Wreckers on the doors) was stolen February 23, 2017 at Delburne, AB.

MSCC STOLEN CAR ALERT: WILLYS CUSTOM STOLEN LATE JANUARY 2017 OSOYOOS (OKANAGAN AREA) BC
Can everyone I know in the Okanagan and Alberta BC HELP HELP HELP !!!!!!! This car was stolen out of my friends garage a few days ago !! It breaks my heart to know that a good buddy spent 15 yrs building this car to have it stolen by low life's …. it has to be close, but if you are friend of mine on Facebook , please share it anywhere in the world you live as it will make the post show up on more feeds .. SHARE SHARE SHARE !!!!'


Hello friends,
my beloved 1979 Ford F150 was stolen last night from the cliff bungalow area. If you happen to see t

his truck driving around Calgary or anywhere in Canada could you please call police?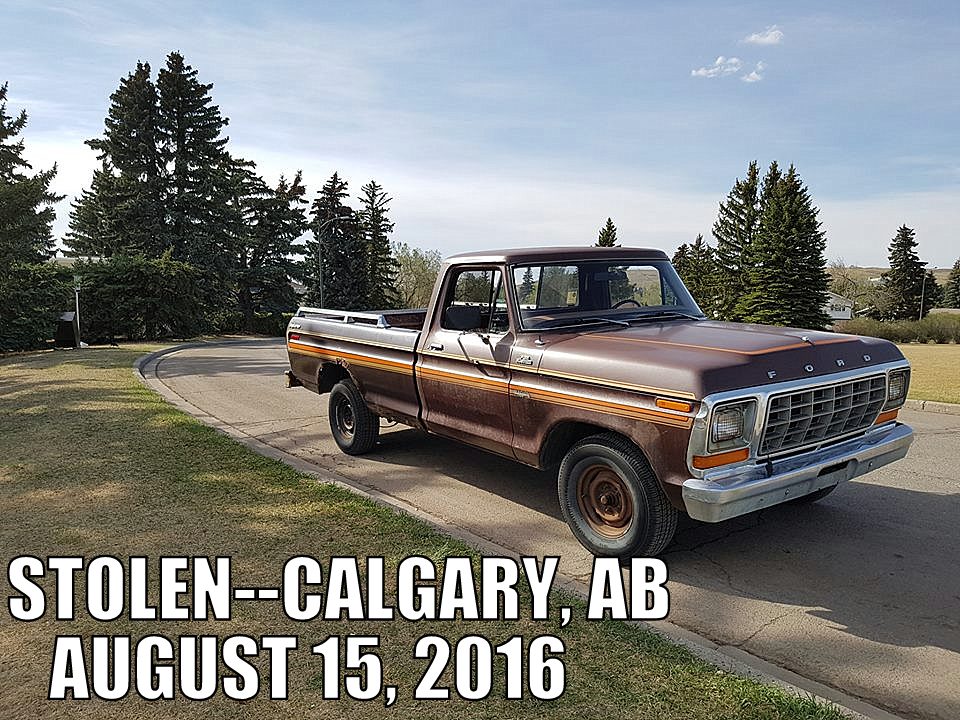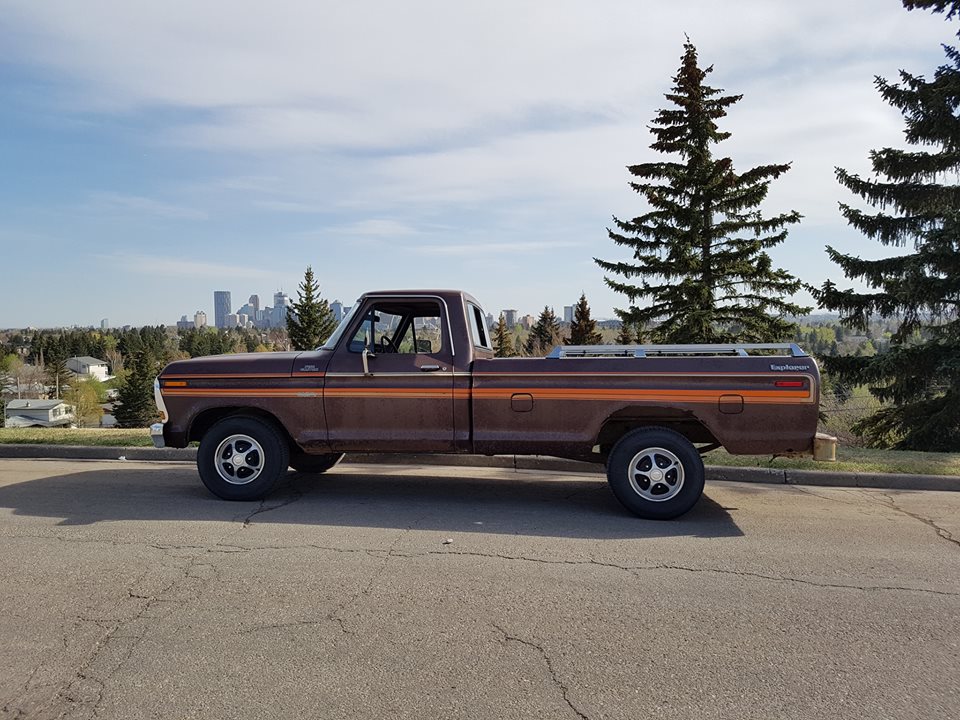 The file number is 16357882. There is a nationwide report on it.
It may not look like much but it has a lot of sentimental value and is my only means of transportation at the moment. if you could please share this it would be greatly appreciated. Thank you
STOLEN! APRIL 2016
1966 Plymouth Sport Fury Convertible
Maroon with white top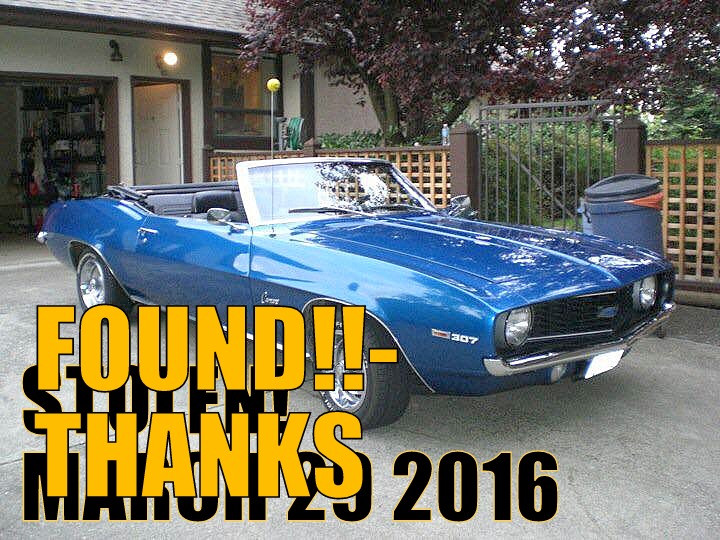 MSCC STOLEN CAR ALERT: 1969 CAMARO CONVERTIBLE LANGLEY, BC–MARCH 29, 2016
This '69 Camaro convertible

(see picture above)

was stolen yesterday in Langley, BC—not a lot of details yet but check out the picture and contact

Langley RCMP 604-532-3200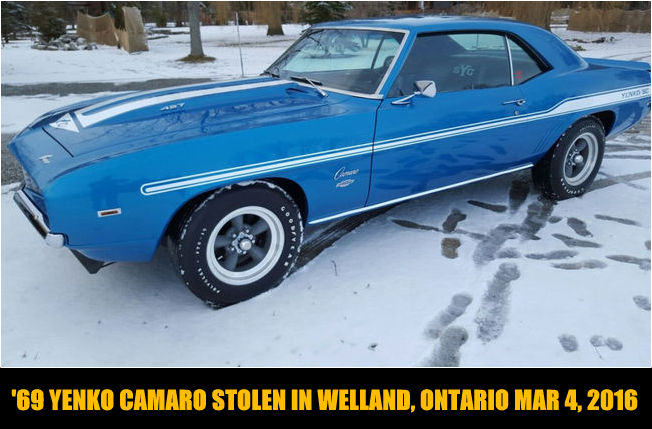 This '69 Yenko Camaro was stolen on March 4, 2016 in Welland, Ontario.

Anyone with information on this break enter and theft is asked to contact the Niagara Regional Police at 905-688-4111 extension 3314 or contact Crime Stoppers.
More information available here on the Niagara Police site or here on the Welland Tribute site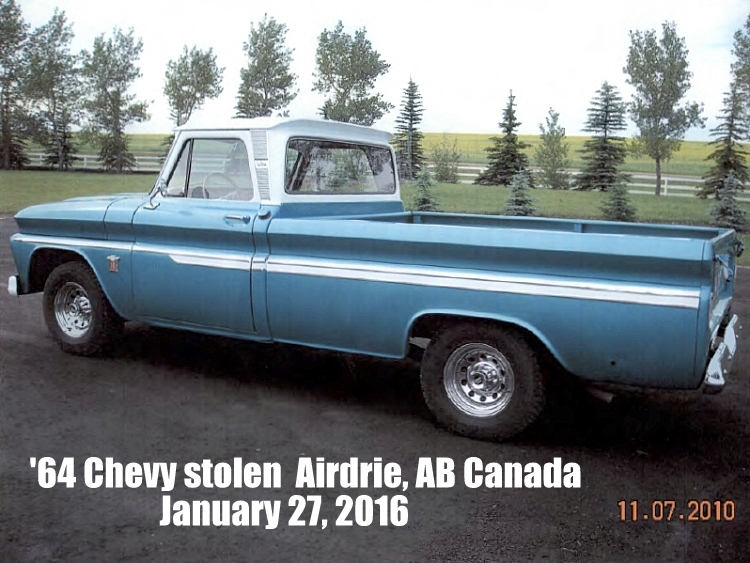 ***Information courtesy of Discover Airdrie and AIR 106.1 FM
The Airdrie and Calgary Crime Stoppers Association is seeking the public's assistance in a rural break and enter.
In the early morning hours back on Wednesday, January 27th, RCMP said that unknown suspects approached a property on Township Road 265.
Once on the property, police said that the suspects broke into a detached garage and stole multiple items inside.
It is believed that the suspects parked their vehicle on the driveway and loaded up various tools, a welder, and a 2006 Polaris ATV.
RCMP describe the suspects vehicle as a dark colored pickup truck towing a flat deck trailer behind it.
Once the suspect vehicle left the scene, police said that another suspect drove off with a classic 1964 Chevrolet Truck that had also been stored in the garage.
The total value of all the stolen items is well above $5,000.
If you have any information on this crime please call Airdrie RCMP at 403-945-7200 or Crime Stoppers at 1-800-222-TIPS (8477).
Leah Crawford – airdrienews@goldenwestradio.com

MSCC STOLEN CAR ALERT: 1970 DODGE SWINGER STOLEN IN SOUTH SURREY, BC MAY 4, 2015
Brian's car was stolen from our house in South Surrey at 7:50 am May 4, 2015
Couldn't believe it when I heard it start up !! Please share maybe it can be found.
This car has lots of memories for Brian 1970 Dodge Dart Swinger his family "hot rod"
Car was found! Thanks for all your help-Merry Christmas
This '71 Olds (AB plate number E-235) was stolen in Red Deer County on December 18, 2014.This car has a huge family connection so the owner is devastated by this theft.
It was featured in a Shaw TV video last summer.
Here's the link to the video-take a look at it because there are some great details in it that might help ID this car.
It was also featured in an MSCC article back in 2012.
Please help recover this family heirloom and contact Red Deer Rural RCMP at 403.885.3333 if you have any information.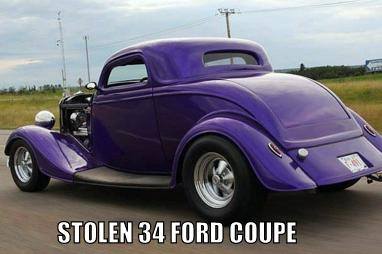 MSCC STOLEN VEHICLE ALERT '34 FORD COUPE -PLEASE BE ON THE ALERT

STOLEN!!!! A 1934 Ford Coupe Vin # 2AT5072925U40077. If you see this car please call police. Member of the Edmonton Street Rod Association
MSCC STOLEN VEHICLE ALERT-
1
956 CHEVROLET BELAIR SPORT COUPE"
1956 CHEVROLET BELAIR 2DR HT SPORT COUPE STOLEN FROM MY HOME IN LARGO, FLORIDA JULY 18, 2010 BETWEEN THE HOURS OF 1:30 AM AND 2:30 AM. THE CAR IS NASSAU BLUE OVER HARBOR BLUE METALLIC TWO TONE AND HAS A FACTORY INSTALLED CONTINENTAL KIT AND FENDER SKIRTS. THE CAR IS ALL "ORIGINAL" AND IS EQUIPPED WTH A 265 POWER PACK V/8 AND A 3 SPEED MANUAL OVERDRIVE TRANSMISSION AND AIR CONDITIONING. THE VIN# IS VC56K005395. THE SPEEDOMETER INDICATES APPROXIMATELY 84,000 ORIGINAL MILES. VIN# VC56005395I OFFER A $35,000 REWARD WITH NO QUESTIONS ASKED FOR THE SAFE RETURN OF MY CAR.PLEASE CONTACT ME @ RHARN2@TAMPABAY.RR.COM OR 727-420-1276$35,000 CASH REWARD
Please do the right thing and help me recover my stolen car. Your assistance for its safe return, with no questions asked, will earn you a $35,000 Cash Reward
Thank You
Ron Harn
727-420-1276
RHARN2@TAMPABAY.RR.COM

MSCC STOLEN VEHICLE ALERT:'56 CHEVY TWO DOOR HARDTOP, '57 CHEVY CONVERTIBLE
"These cars were stolen were stolen from Chris Cantrell's shop last night in Tulsa, OK. They have a huge sentimental value to him and actually several of us.Please keep an eye out for these two & PLEASE share to get word out! There IS a reward!!"
MSCC STOLEN VEHICLE ALERT 1993 CHEVROLET PICKUP WITH A 502BB CHEV & PRO CHARGER AT DELBURNE AB CANADA
THIS ONE WAS FOUND
Please be on the lookout for this truck-it was stolen last night (June 25 2013) in Delburne AB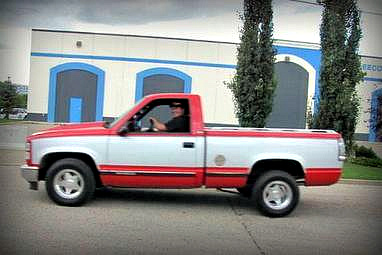 PLEASE CONTACT YOUR LOCAL POLICE OR RCMP OR PHONE RED DEER SPEED & CUSTOM @ 403-356-9195 IF YOU SEE THIS TRUCK

MSCC STOLEN CAR ALERT-1972 MUSTANG STOLEN IN OLDS, ALBERTA CANADA
Please help find this 1972 Mustang stolen in Olds, Alberta Canada on Feb 2 2013.
"This 1972 Ford Mustang was stolen from my shop last night!!
Please be on the lookout for this car….very few like it!! Reward
offered….(not a hot rod…. just sentimental value)
*Please contact Olds RCMP at 403.556.3323 if you have any information.
STOLEN CAR ALERT: HELP FIND THIS 1969 DODGE SUPER BEE-PLEASE REVIEW THIS INFORMATION
Here's another stolen car alert out of Edmonton Alberta so keep your eyes open-we all know how much a classic ride means to an owner.
This was stolen from a garage in downtown Edmonton in case you see it or someone trying to sell it.Vehicle stolen in a Break and Enter to a Garage between 12SEP24 – 12SEP25 at 11302 105 St. Vehicle was appraised two years ago at approximately $70,000.00.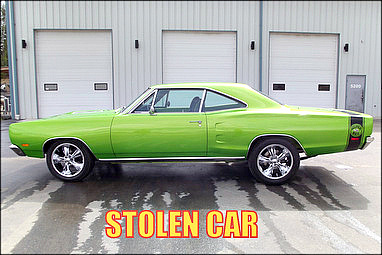 1969 Dodge Coronet Green (69SBEE) AB
Please contact the Edmonton Police Service if you have any information.

STOLEN CAR ALERT: 1972 DODGE DEMON – PLEASE HELP WITH ANY INFORMATION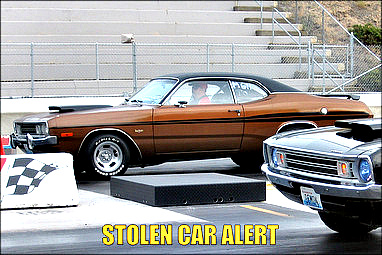 Here's some information about a stolen car—MOPAR guys in particular, if you can help out please review the following details.
Thanks
This 1972 Brown Dodge Demon was STOLEN on 9-24-2012 at 1:45a.m. from the north side of Spokane Wash. Two guys dressed in baggie cloths kept their faces out of the camera. One of the guys has a shaved head.
Broke into this car and then popped the steering lock and pushed it into the alley, then down the alley. Never trying to start.
It has a 360 motor and a 727 auto. Slot wheels, 2 month old small bolt Stainless Steel disc. brake set up. Black interior. TTI headers.
It does 13.5 in the 1/4 mile. If you find any parts let us know. Loren (509)276-5111
*Follow this link to another MSCC stolen car alert-this one is a '69 Charger and the owner contacted us a few weeks ago to ask if anyone had seen it