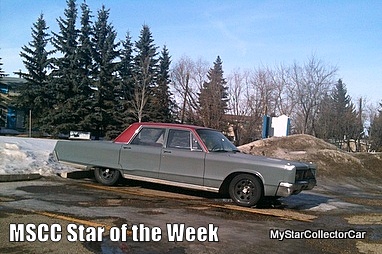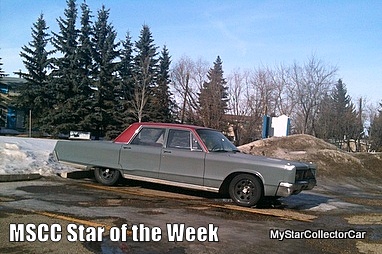 MSCC MARCH 8 STAR OF THE WEEK: '67 CHRYSLER-THE ANTI SUMMER OF LOVE RIDE
1967 was best known for the Summer of Love because hippies tuned in, turned on and dropped out in record numbers.
They headed for cities like San Francisco where Love-Ins and psychedelic drugs were so popular, California almost put it in the tourist brochures.
The cool hippies made the trip in old busses or VW vans for a few basic reasons ; they were cheap, they really looked good decked out in Flower Power paint and you could pack 40 or 50 of your best hippie buddies into them.
None of them got there in an anti-Summer of Love ride like this MSCC Star of the Week '67 Chrysler 4-door sedan.
MSCC MARCH 7 STAR OF THE DAY: PLOWING THROUGH WINTER IN A MASSIVE BUICK
This has been a brutal winter for many parts of North America because it's come with a ton of snow and bone chilling cold.
People with more than a nanosecond of life experience might call it a typical winter, while others see it as some kind of climate change doomsday.
Regardless of your perspective on winter 2015, the most obvious MSCC question is what kind of ride would get you through a long, cold, snowy season?
This MSCC Star of the Day massive Buick on the road a few days ago is how you plow through winter.
MSCC MARCH 6 STAR OF THE DAY: '79 FORD TRUCK—DISCO ERA WORKING STIFF
Late 70s Ford trucks are in a gray area for collectability.
They're too new to be considered a classic era truck but they're too old to be a realistically functional workhorse.
This doesn't rule these tweeners out as a great addition to any show because 36-year-old trucks are cool in every sense of the world cool.
This MSCC Star of the Day '79 Ford truck is a pristine example of a disco era working stiff.
MSCC MARCH 5 STAR OF THE DAY: AMC JAVELIN— THINGS HIDDEN IN PLAIN SIGHT
Car guys live for the spontaneous find.
Some pots of gold at the end of the rainbow are found in carports, back alleys and the legendary barns.
Others are found hidden in plain sight behind a fence and a few tree branches.
That's exactly where this MSCC Star of the Day AMC Javelin was hiding.
MSCC MARCH 4 STAR OF THE DAY: TRI-FIVES-THEY'RE AN INVESTMENT AT ANY STAGE
5-6-7 Chevys are the US dollar in the currency of old cars.
Tri-fives can hold their own in any economic environment from recession to runaway inflation.
They're popular in Sweden, Cuba, Australia, Germany and several affluent Middle East countries with lots of oil.
That's why they're an investment at any stage like this MSCC Star of the Day Tri-five Sedan Delivery.
MSCC MARCH 3 STAR OF THE DAY: '39 FORD—A HEAVY HITTER IN THE CUSTOM WORLD
Ford dominated the world of customs for decades.
The trend started with the humble Model T and it continued into the 50s with the shoebox Fords.
Hot rodders loved the 30s era and the '32 Ford was at the top of the heap for guys who loved adding a little performance to classic iron.
Ford never really had a bad year in the 1930s and it ended with another heavy hitter in the custom world— this MSCC Star of the Day '39 Ford.
MSCC MARCH 2 STAR OF THE DAY: '68 DODGE CHARGER IN PURE DRIVING FORM
There are many versions of old iron.
Some guys take a car to standards far beyond the ones seen at the factory and win a ton of trophies.
Other guys find old classics in mint, original condition, keep them pristine and win a ton of trophies.
Then there are the guys who want a pure driver status car like this MSCC Star of the Day '68 Charger, so they don't worry about the paint or the trophies.
They just have fun with their old ride.
For past MSCC Stars of the Day please follow this link.
CLICK HERE to Like us on Facebook
CLICK HERE to Follow us on Twitter
CLICK HERE to Follow us on Pinterest
Please re-post this if you like this article.
Star of the Day page sponsored by Southside Dodge