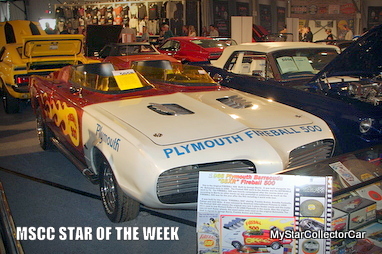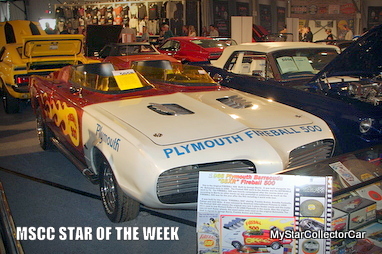 MSCC JAN 18 STAR OF THE WEEK: FIREBALL 500—GEORGE BARRIS, FRANKIE AND ANNETTE = 60S CLASSIC CUSTOM
Nobody on the face of the planet will confuse the movie Fireball 500 with an Oscar winning picture.
This was a drive-in classic because it featured the Beach Blanket Bingo duo of Frankie Avalon and Annette Funicello but the real stars were the cars in this movie.
Frankie was a stock car driver in this movie and he drove an electric blue '66 Plymouth Belvedere that looked suspiciously like King Richard Petty's legendary NASCAR ride.
Frankie's street ride pulled his blue Mopar stock car on a trailer and it was the coolest car an 11-year-old kid ever saw back in '66.
This custom was the aptly named Fireball 500 and it was based on a First Gen Barracuda. George Barris added his magic to this A-body Mopar and the result was this classic 60s era custom.
This car sold for $134,000 at Barrett-Jackson this week and it was worth every penny for a 1960s icon.
MSCC JAN 17 STAR OF THE DAY: '54 VETTE-FROM HUMBLE BEGINNINGS
Most people think of the Corvette as a flat-out monster in 2014 but this Detroit icon came from very humble beginnings.
The Vette was a 2-seater sports car but it used the venerable Blue Flame 6-cylinder as its only power plant for its first two years.
This MSCC Star of the Day '54 Vette was completely stock so it did have the 6-banger under the hood.
Those were humble beginnings.
MSCC JAN 16 STAR OF THE DAY: CROSLEY FIRE TRUCK—FROM THE WHEN WAS THE LAST TIME YOU SAW ONE? FILE
Barrett-Jackson is the world's best car show because it doesn't follow strict formats.
They put together a show that defies any kind of conventional logic so you'll see pretty much anything that moves on wheels.
This MSCC Star of the Day Crosley fire truck is high on the "when was the last time you saw one?" list and one thing is certain for the new owner.
He's going to win best of class at every show.
MSCC JANUARY 14 STAR OF THE DAY: TWO GOLF CARTS THAT MAKE GOLF A LOT MORE INTERESTING
There are many ways to spend time when the weather is good; some guys embrace golf like a religion during those lazy, hazy, crazy days of summer.
This isn't a competition or even a judgment call, but time behind the wheel of a classic ride is infinitely more rewarding than a day at a golf course.
What happens when a car guy has to split time between two summer hobbies?
The official MSCC position is very clear on the golf versus classic car debate, but one guy managed to mesh the two hobbies with these MSCC Star of the Day classic golf carts.
It's not perfect but it sure makes golf a lot more interesting.
MSCC JANUARY 13 STAR OF THE DAY: HAVANA DAYDREAMING IN A '55 CHEVY
There was a recent announcement about the thawing of relations between the US and Cuba.
Politics aside, car guys were immediately drawn in by the possibilities with all that old iron on the streets of Havana.
This MSCC Star of the Day '55 Chevy was on the streets of Havana back in November.
To quote Jimmy Buffett, 'Havana Daydreaming' is alive and well and on the road in Cuba.
MSCC JANUARY 12 STAR OF THE DAY: '66 CHRYSLER—NIGHT MOVES IN A C-BODY
Few things light up a summer night better than an old ride.
Sure, you may have average headlights compared to today's high-tech lighting, but the sheer presence of old iron at night automatically makes that night better.
This MSCC Star of the Day '66 Chrysler is an excellent example of that theory in practice.
It's all about night moves in a classic Mopar C-body.
For past MSCC Stars of the Day please follow this link.
CLICK HERE to Like us on Facebook
CLICK HERE to Follow us on Twitter
CLICK HERE to Follow us on Pinterest
Star of the Day page sponsored by Southside Dodge
Please re-post this if you like this article.